Are you born with a widows peak hairline? Or have you developed this pattern baldness as you age?
Either way, we've got great news: a V shape receding hairline is not a sentence anymore!
With today's styling techniques, hair products, and treatments, you can either hide or highlight it with the right hairstyle.
And truth be told, you've got a big choice of awesome hairstyles to suit widows peak hairlines: pompadours, rugged medium-length styles, buzz cuts, and combovers. The main rule is to keep the sides tight and build the texture with layers on top.
Chris Hemsworth looks hot in the photo above, doesn't he? So will you if you find the best widow's peak hairstyles in this gallery of pictures:
Best Haircuts for Men with Widow's Peak
Long Hair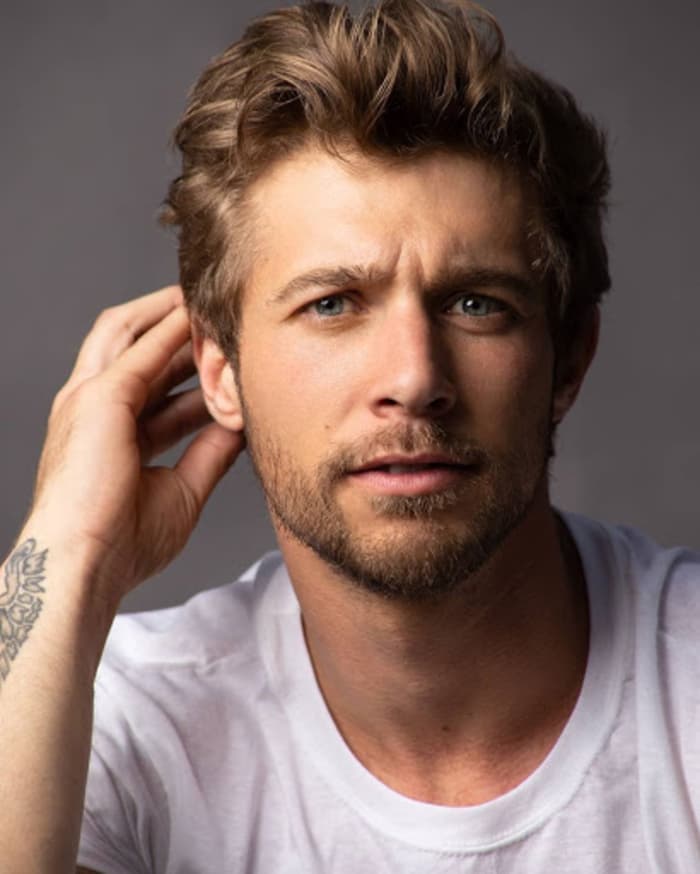 @mattbyrom13
This is the most predictable, obvious, and simple version of the widow's peak hairstyles for men. Medium length and longer hair, if texturized and messed up a little bit, is a great way to hide the receding hairline. Versatility is another advantage of such hairstyles.
Crew Cut

@ascionehair
In this V-shaped crop cut – on the contrary, the widow's peak is simply an integral part of the hairstyle. The crew cut gradually fades down, while the front hairline is edgy and sharp.
Pompadour

@barber.josh.o.p
Pompadour hairstyles for men also don't cover the widows peak. However, with asymmetrical edgy hairlines, they do look harmoniously and elegant together. Indeed, the right styling can turn even the most simplistic look into an image, which will take all the attention away from the widows peak issue.
Undercut

@gentlemanjaxs
The undercut is a one-size-fits-all warrior at the barbering battlefield. For this reason, we can't but demonstrate how good slicked back widow's peak undercut hairstyles are. Masculine, intriguing, and alluring – the best widow's peak hairstyles to try.
Widow's peak for receding hairline

@reuzel
Definitely, widow peak haircuts are an inevitable solution for balding men too. But how handsome and graceful you can look wearing a neat and clean slicked back widows peak haircut!
Buzz Cut

@thegreatbritishbarberbash
A buzz cut will look extra spicy if you add an edgy shaved angle at the widows peak hairline. Copy the silhouette of your natural widow's peak but make it more angular and distinctive. If you don't have a natural widows peak, ask your barber to make it for you like in this picture.
Short hair

@barberlessons_
Short widows peak hairstyles are often slicked back with faded sides and back. What makes this silver fox widow's peak stand out? The color contrast, for sure: consider wearing widow's peak hairstyles for men in white with an absolutely dark full beard. Among the benefits, there's a fact a widow peak hairline is less noticeable with blonde hair.
Shaved Widows Peak

@omithebarber_
High skin fade plus a buzz cut or a crew cut and a longer hair fringe in front smoothen the hairline, making the widow's peak less outstanding than in a typical slick back. You can vary the length, thickness, and texture of the fringe to cover the widows peak zone and not ruin the balance of the face shape.
Widow's peak with mid fade

@menshairs
Middle fade, medium-length crown, and a massive beard make the widow's peak hairstyles masculine and kinda wild. If a slick back and a side part are too boring for you, add some height to your look with a spiky upswept thick crown.
Curly hair

@kvenzo.barber.cuts
Widow's peak hairstyles for men with curly hair can be this unpredictable. Tapered sides and disconnected curls make up a cool combination with a zesty widow's peak detail.
High fade with a line-up

@barber.josh.o.p
So edgy and bold, with a thick and even aggressive lineup, widows peak hairstyles like this are hard to resist at all. To make the image maximally individual, take a bit of hair gel and spike up a couple of tiny strands somewhere in the crown.
Mohawk

@thegreatbritishbarberbash
Surprisingly enough, but a widow's peak gives extra curves and charm to a good old Mohawk. With a widow's peak, this hairstyle looks even more sophisticated and intricate.
Comb Over

@ascionehair
This one is a very common look for guys with a widow's peak hairline. One side is swept to another in a carefree manner, without a hard side part. To achieve this extra volume at the roots in the top section, apply some styling product with a comb, use a hairdryer, and a round brush.
Deep Widow's Peak

@ghenceacristian
Here is another way to make a deep widow's peak an integral and harmonious part of the whole hairstyle. Make the front section of the top long enough, sweep it forward and cut in a V shape, partly cover the widow's peak area with the fringe, make the front section gradually blend into the high fade on the sides.
Man Bun with Widow's Peak

@hairstyle.hub
This is how you can wear widow's peak hairstyles so that it doesn't fall down on the eyes without sacrificing the hair length. For doing sport, for physical work, or just for a scorching sunny day – comfort and style, two in one.
Slicked Back

@pirate_paulus
Johnny Depp, David Beckham, Andrea Raffin, Lev Radin, and Keanu Reeves… this list of celebrities can be much longer. All of them look super sexy despite having widow's peak hairstyles. With a perfect slicked back cut, you can do that too.
Low Fade

@xbigwesx
Widows peak hairstyles with low fade look cool on thick dark hair with a gentle transition from the cut to the massive beard through this fade. Make sure your barber keeps the fade clean, and the hairlines – sharp.
Thick Messy Hair on Top with Short Tapered Sides

@internationalbarbers
Well, this widows peak inspired haircut is not your average bear. If you're ready for wild and juicy hair experiments, here is some advanced inspiration for you.
Long Hair Quiff with Short Sides

@menshairs
Short sides and long quiff widows peak hairstyles work great for guys with round, oval, square, and triangle face shapes. Here is just another example of how handsome you can look with a widow's peak hairline.
Vintage waves

@reuzel
Long hair on top allows for endless experiments with shapes and textures. What about this retro widow's peak look?
Widow's Peak with a Beard

@barber.josh.o.p
The artistry of this widow's peak style is truly mind-blowing and humbling. Refreshing, creative, eccentric, this hairdo will definitely turn a lot of heads!
What is a Widow's Peak?
What does a widow's peak mean?
It's a descending V-shaped point in the center of the hairline, which makes a heart face shape. The forehead or cheekbones are the widest parts of the face, and they go down to a significantly narrower jaw.
Why do I have a widow's peak?
Like other hairline shapes, it's a genetic trait, but it can also develop with age and hair loss. Both men and women can naturally have it.
Why is it called a widow's peak?
This name comes from English folklore, where it was believed that this hairline formation was a forecast of an early widowhood (actually, there is no scientific evidence behind it, maybe the myth was started because the V-shaped hairline resembles those hoods widows used to wear after the deaths of their husbands.)
As for men, in TV and movies, men's widow's peak hairstyles tend to be a feature of a "bad guy".
What do you do with a widow's peak?

@reuzel
How to style hair with a widow's peak?
First, you need to make a choice: either you wanna blend into your widow's peak without hiding it, or to cover it slightly with longer hairstyles.
The first variant is much easier in maintenance as it hardly requires any styling on a daily basis: it can be a buzz cut, a slick back, or a combover in combination with a high fade or shape up on the sides and back.
The second option involves a quiff, a fringe, and a brush-up. To style these you're gonna need to keep the hair longer on the top and tight on the sides, create texture in the crown, and finish it with a stronghold clay or pomade.
Can I have a middle part with a widow's peak?
If it's your natural parting, a middle part will work for you. However, if you try to get it by combing damp hair with a brush and a blow dryer, it's less probable to work for you. But give it a try.
What to ask my barber with a widow's peak?
The most popular solution is scissor cut on top, slightly disconnected and textured. If your hair is thick, ask to take out some weight too. Sides and back should be cut with a clipper, especially neat around the ears.
Are widows peaks attractive?
Absolutely! If the face proportions are well-balanced. A triangle hairline with a mild widow's peak gives an eye-catching definition to the hairstyle. However, a too deep or overblown peaked haircut can sometimes look bad on guys.
The key to success is to find your own perfect widow's peak style for your face shape, hair type, and appearance.