Using 1930s Hairstyles to Inspire Looks Today
1930s hairstyles did not change much from the styles in the 1920s. Sophisticated styles for short hair were the popular choices that many men used. Using these hairstyles, men today can be inspired to try something different than what they are used to.
Side Part    
Instead of focusing completely on the center part like men in the 1920s, men in the 30s often opted for a side part. This is a common practice today, as it is a simple way to change up a look without much effort. The hair can be parted on either side, with the rest swept to the side or styled into a short quiff.
Slicked Back
The slicked back look was still viable in the 1930s. The sophisticated look was desired by all at the time. The classic style kept hair back and out of the face. Oil could be used to make it stay back in place for some time. Some men would style their hair in this manner each and every day, not only on special occasions. Men today can pair this look with an undercut to make it more contemporary.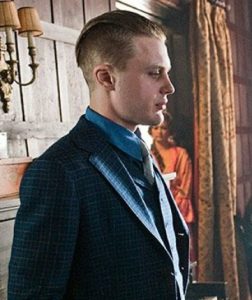 Slightly Styled Bangs
The bangs would sometimes appear slightly styled in this period. The hair would all be kept short, with the bangs sometimes styled to the side. Oil would help slick the hair and make it stay. The bangs were often kept tightly to the side. Today, many men style their bangs in a loose manner, letting some stay to the side, and allowing other pieces of it to fall to the face.
Combed Back
The combed back style from the 1920s continued on into the 30s. Men with thinned out hair could easily use this hairstyle to help cover spots they did not want others to notice. A small amount of oil worked well to comb back the hair and keep it in place throughout the entire day. Men today sometimes brush the hair back and even up, without using much product.
Slight Wave
One 1930s hairstyle included a slight wave. Men would often form their bangs into a wave with the help of some oil product. It gave them a slightly different look than those with simply straight and parted hair. Men nowadays have more waves throughout their hair, rather than just their bangs.
Men's hairstyles have been altered greatly throughout the years. The 1930 hair style options from the past are much different than what is offered in today's time. Men can use these past hairstyles to find some inspiration for looks to try today. These previous hairstyles are easy to maintain and simple to create, unlike many hairstyles today that require frequent maintenance and upkeep.