Hey, lady!
Are you in your 60s and looking for a cute short haircut to flatter your face shape and hair type?
Among all short hair solutions for older women, a pixie haircut stands out due to its versatility, volume, and playfully graceful vibe.
Easy to maintain and easy to manipulate, pixie haircuts allow giving the illusion of hair density to your thin hair.
To make sure that pixie haircuts for women over 60 can provide you with multiple modern styling options, take a look at the collection of hairstyles below:
The Best Pixies for Women Over 60

@iris.apfel
Talking of the variety of pixie styles for over 60, you can choose and try different tricks and alterations:
Keep your natural salt and pepper or white hair color, which is such a big trend among the youth today;
Or experiment with bright colors, on the contrary. It's fairly easy to style different colors on top of white hair.
As for the styling, you can try out countless ways to tame your short layers: spiky, smooth, edgy, side-swept, with an undercut, messy, curly, with wispy bangs, or with extra volume on top.
Short hair is a lot of fun! Explore these pixie hairstyles ideas and get inspired:
Pixie Cut with Fringe Hairstyle

@vitorhugostudio
A pixie cut with a side-swept fringe is a simple and elegant option for fine hair of older women. If your hairstylist also adds some layers, you'll get extra movement and texture to your grey hair.
Very Short Pixie for Over 60

@britta.bodo
Short hairstyles for fine hair over 60 look awesome if combined with that salt and pepper natural shade. For ladies that are always on the move and looking for something simple , yet striking, similar textured short pixie hairstyles are a great solution.
Feathered Pixie Hairstyle with Highlights

@catherine_delzenne
A feathered pixie is a rather classic style that can be texturized with blonde highlights and lowlights. Gently sweep shorter layers to one side and get ready to have all eyes on your short hair.
Natural Curls Pixie

@visualiseandbloom
Women with natural curls are born with a privilege. A short Afro pixie is a convenient and striking cut. And when those grey streaks start breaking into that natural black hue, the curly pixie starts looking even more unique.
Asymmetrical Pixie

@kymlive13
Older women who don't fancy traditional hair solutions, may wanna try asymmetrical pixie variations. If the angles are chosen right, they can flatter all face shapes, straight hair, and wavy locks equally.
Long Pixie Cut with Bangs

@karenpersson
When it's time to go short due to thinning hair issues, you might feel worried about your completely different look. That's why it's better to start with longer options. For example, short pixie bob haircuts for over 60 might be a great kick-start.
Swept Back Pixie Cut

@irosebyrosaliesliedrecht
Sometimes, you're just in the mood to sweep your bright pixie undercut back, put on massive accessories, and make a flirty accent on your lips.
Pixie with Glasses

@dolorescouceiro
Older women can also alter their gray hair look by switching their trivial glasses to stylish ones.
Spiky Pixie for Thin, Grey Hair

@beautifullyauthenticwithmel
Your age is your best accessory and the experiments with your hair will make maximum out of your age. A spiky pixie can look rather feminine and soft despite the stereotype. To style a spiky pixie like this, sweep the top section of your spiky pixie undercut up with fingers using a lightweight wax.
Layered Pixie Cut

@and.bloom
It's a good idea to slightly mess up layered haircuts for women over 60 to get a truly lively look. If you wanna have more fun, try washing your hair with a purple shampoo for a temporary change.
Smooth and Slick Side-Parted Pixie

@gabrielebudinsky
The most outstanding features of this simple but alluring hairstyle for older women are the gracious color and the subtle side part.
Pixie for Wavy Hair

@irosebyrosaliesliedrecht
With wavy hair, you won't ask questions about how to style your pixie hairstyle. The waves falling naturally will solve the issue.
Blonde Pixie for 60-Year-Old Women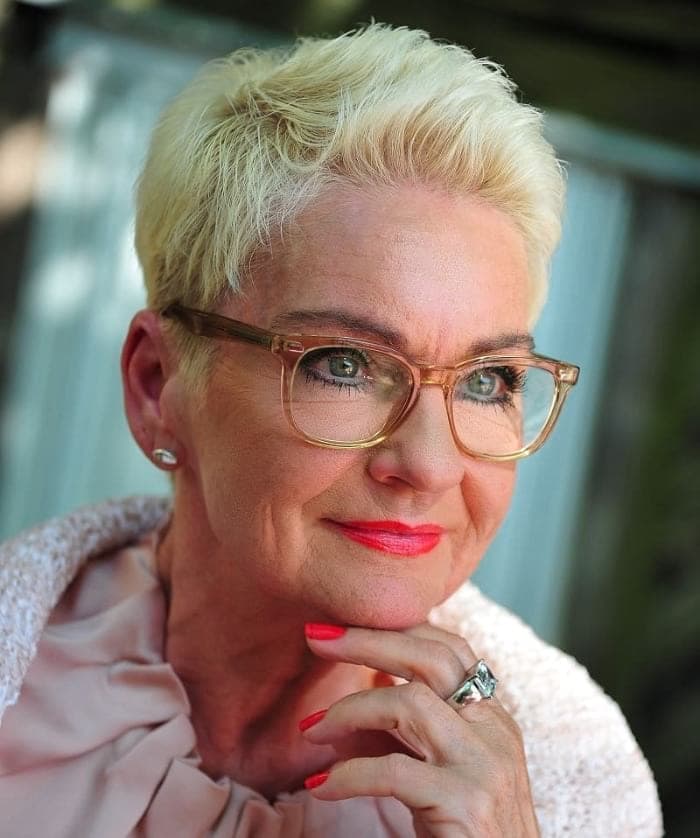 @zauberfee_52
Being over 60 means not to care about keeping your blonde color fresh, and the roots bleached – now you're a blonde queen that needs no hair dye to keep the style.
Pixie Afro

@paulinemortlck
This curly pixie cut is a longer version of an Afro hair pixie. However, all the benefits are the same. Just remember to moisturize your locks to keep the curls lively and fresh.
Pixie Cut for Thick Hair

@prueleith
If you're a lucky one who hasn't lost half of your hair throughout the years, and your full hair needs a touch up, consider medium haircuts for women over 60.
Thus, you'll balance the length and thickness of your hair. Pixie cuts for thick hair over 60 can be mono-colored or refreshed with highlights like in this pic.
Choppy Pixie Cut for Over 60

@salonjustincharles
Naturally straight hair is the reason to rock an edgy short pixie cut. Choppy layers will add graduation and movement to straight thin hair of older women.
Pixie Cut for Round Face

@gilliana
Not only does a side part changes the look of older women dramatically but also gives a modern touch to all sorts of short haircuts. Among all face shapes, square and round faces benefit from a side part with longer locks most of all – such cuts visually elongate the face, add some asymmetry, and soften the angles of the face.
How to Care for Your Pixie Hairstyle
Here are some simple but not always obvious pieces of advice on how to make your pixie hairstyle look perfect with the care for your hair in mind:
Comb your hair less. Since it's getting more and more fragile, better use your fingers or buy a bristle brush.
Minimize using heat-styling tools. A hair straightener and a curling wand will damage your thin hair even more, ruining the hair color as well. Try to use a blow dryer less frequently as well.
Use good texturizing products.
Take care of your scalp. To avoid dryness and irritation, do an exfoliating scalp treatment.
Give it a trim every 3-6 weeks. In order to maintain the shape, length, and unique little details of your pixie.
Wash your hair regularly. The shorter your hair, the more often you have to wash it. But don't forget about proper moisturizing as well – buy a moisturizing masque.
FAQ
Does a pixie cut make you look older or younger?
Pixie cuts for women over 60 are meant to make elder ladies look younger. But in order to avoid quite the opposite result (which is rather realistic,) you should properly choose the right shape, length, style, and color of your pixie hairstyle to match your facial features (the shape and size of your eyes, eyebrows, nose, chin, forehead, and face).
Can older women wear a pixie cut?
It is the style itself that matters, not your age. And we hope the photos of short sassy haircuts for over 60 from our gallery have convinced you of this.
What is a good haircut for a 65-year-old woman?
The best haircut for a woman over 60 is the one that works magic with her natural hair texture and flatters her face. You can easily find the ideal style among cute pixie cuts above.
Conclusion
Who said hairstyles for mature women mean a boring short haircut that is more of an out-of-date hairdo than a simple classic style?
When you are over 60, you stop rushing between extremes and know how to shine in the best life. Thus, a pixie is just a tool to highlight your special charm, sophistication, elegance, and sense of taste.