Top Five Emo Hairstyles for Guys
Some men choose the emo look, often based on their interest in punk rock music and the desire to stand out among the crowd. Many emo hairstyles embody a funky, but cool look that allows men to show some individuality. Long locks are a common theme, although there are at least five top emo hairstyles for guys to choose from that help them encompass the emo culture.
Swooped to the Side
A popular emo hairstyle is having the hair swooped to one side. According to pop music fans, this is Justin Bieber's signature 'do. The look has been around long before Bieber though, and is actually a favorite among men in the emo culture.
Up and Over
A second popular choice is to have the hair pushed up from the back and fall over the front of the face. It gives men the look of having a full, thick head of hair on top, with shorter hair shown in the back. Some keep the back longer as well.  It takes quite a bit of length to pull this look off well, so men interested in trying it out need to be prepared to grow their hair out for some time.
A Streak of Color
One streak of color can go a long way in making hair stand out. Many opt for black hair with a streak of a bright color, such as blue or purple. Blonde is an alternative option. Sometimes more than streak is needed, and highlights are added instead to a portion of the hair.
Bob Cut With Slanted Bangs
The bob cut isn't only for children. Guys can wear it too, with a slight variation. One of the top emo hairstyles is a bob cut with slanted bangs. The hair sits below the ears and goes all the way around the head. The bangs are cut shorter and then slanted across the forehead.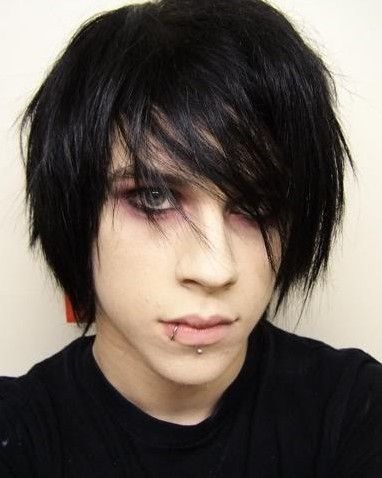 Stuck Up or Spiked
The final hairstyle for emo guys is the stuck up or spiked look. Gel usually helps hold the spikes in place so they can last all day. Some spike up their hair all the way, while others simply stand up a few strands to give them the look they're going for.