Top 50 Men's Short Hairstyles for 2020
While short men's hairstyles may still be the norm for most, a lot of us don't realize just how much can be done with a short hair length. So, we've gathered 50 photos of some of our favorite short hairstyles for you below. Please use them for ideas and inspiration.
What are the best short men's hairstyles?
These are the Top 50 Short Men's Hairstyles that will have you racing to make an appointment with your hairstylist or barber. These hairstyles and haircuts are the most popular all over the world. Many of them are timeless and can be worn in just about any era. Have fun and enjoy!
High & Tight Men's Hair Style
The high & tight works well on most face shapes and looks good no matter if you are wearing a suit or relaxing in jeans and a t-shirt on the weekend. What's great about the high & tight haircut is that you can choose to style it how you like, or you can wear it natural and messy and it will still look just as good. If you do choose to style it, we recommend using a matte pomade, like Suavecito's Shine-Free Matte Pomade for Men. Simply take a nickel-sized amount of product in your fingers, and run it throuugh your hair until evenly dispersed.
Classic Crew
It is hard to go wrong with a classic. For pure simplicity and style, there is the classic crew cut. A staple at any barber shop, this all-American look is the pure vintage style at its best and is one of the most popular and timeless short haircuts for men. Just like the high and tight haircut, the crew cut can be worn with your hair's natural texture, or you can choose to style it. We recommend using your favorite matte product because one with shine may show off your scalp - and nobody wants that.
Undercut
David Beckham's hair never fails to give us inspiration. The Undercut is one of the most popular short hairstyles for men on the scene today. You can do a lot of variations of the undercut. The undercut is especially great for men with thick hair because it reduces volume on the sides of the head.
You can try this short men's cut regardless of which face shape you have, but we love it for guys with rounder faces because the height and volume of the top of the hair elongates the face, while the short sides slim the face. Add a little stubble to the mix, and you'll look like a new man.
Short Pompadour
This is one of the classiest short men's hairstyles. The pomp is a lot more than a vintage cut. For guys that have a good sense of style, this is a cut that gets attention and wears well both at work and out on the town. And while we're convinced the pompadour will never go out of style, there are a few variations that we have seen a lot of this year. The short pompadour fade, like the one in this photo, is especially popular in 2020. It works best on guys with medium to thick hair so you can achieve the volume on top. Pair it with a bald or high fade to provide beautiful contrast. A short beard completes the look.
Short Curls
Curly hair is not hard to tame with the right short cut. For those that want manageability but still want to show off natural curl, going short has a lot of advantages. Plus, you won't have to worry about styling or maintenance as much when you opt for a short curly haircut. The most important piece of the puzzle is conditioner. If your curls dry out, your hair will look frizzy so it's essential to use a regualr conditioner in the shower, as well as a leave-in conditioning product if your hair is naturally on the dry side (which many guys with curly hair tend to have). We love this Shea Moisture Leave in Conditioner for men with short curly hair.
Caesar Cut
The Caesar cut enhances strong features and can look handsome with a beard. For guys that want to call attention to the eye and jaw areas of the face, the Caesar is a great option. This short men's haircut works well with all hair types. If you have thin, silkier hair, be sure to use a matte product on the top, like a pomade to ensure your locks don't look greasy. You can also opt for a men's dry shampoo to prevent oil build-up. However, if you have curly and/or thick hair, you can leave it styled naturally if you'd like.
Side Part Pompadour
It's hard not to love the different angles of this cut and how it gains length as it goes towards the forehead. With a beard, it offers a lot of charm and class. With a short men's haircut like this one, you can put your own spin on things. For instance, you can try a skin fade, a mid fade, or a high fade with a side part pompadour. You can also experiment with an undercut, or for something a bit more subtle, you can simply try shorter sides that are buzzed with a 1-guard. It's all up to you!
As for styling this cut, you'll want to find a strong-hold pomade. Whether it has shine or is matte is totally your call.
Side Part
This classy gentleman's cut is a sure hit for those that need to look well put together and want something beyond a short spiky cut. Just enough length is left to do a nicely structured combover. The way you part it is up to you.
Unless you've got thick, course hair, you will likely need to style this short haircut with product to hold your strands in place. We recommend using a hair clay, like Smooth Viking Styling Clay for Men. It's a thick product that will add texture and shape to your hair without weighing it down or making it look greasy. Go for a matte product for a naturally messy look.
Simple Short Cut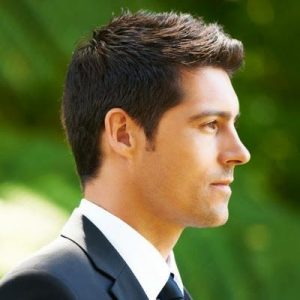 This very basic cut should be a go-to look for any guy that wears short hair. The simple short cut is suitable for guys of all ages, whether you're just graduating college or nearing retirement. The best part? It requires little to no styling.
Slicked Back
Out of all of the styles we've showcased on our site, this is one of the most popular short men's hairstyles. Slicking back your hair makes it look instantly more polished, and you look more put together overall. This undercut shows what you can get when you leave enough length on top to do something with.
Keep in mind, slicked back styles are best for men with thicker hair that can achieve lots of volume. To style it this way, blow dry damp hair while combing it back into position. After it is 80% dry, take a quarter-sized dollop of hair wax or pomade and run it evenly through your hair. Comb through once more to make sure the product has coated the hair.
Undercut With Design
While the top of this cut is not technically short, you can choose whatever length you want for the top. This mandala style design is going to get you a lot of attention. To keep it looking sharp, be prepared for the occasional touch up at your stylist.
It's also a good idea to consider your beard when you go in for this haircut. Clean-shaven and full-bearded are polar opposite looks with an undercut like this. If you've got a beard, be sure to have it faded properly into your haircut so everything flows together.
 12. Super Short High & Tight
The slightly longer on the top look makes this a high and tight even though there is not much hair to speak of in other areas. This is also a great hairstyle for balding men because it only requires a little bit of hair on the top. If you're Tom Hardy for example, you can pull off just about any short men's haircut, but not everyone will like the "wet hair" look that's pictured here. If you want something a bit more natural looking, use a matte pomade. But, if you'd like to rock this slick, shiny haircut, use a hair gel.
Faded High & Tight
This well done fade almost borders on a shorter high top style but the rounded shape is softer and more approachable for a lot of guys. It is a super clean haircut that pairs perfectly with a chin strap, full beard, or even clean shaven. With a fade this short, you'll have to head to the barbershop every other week to maintain it to perfection.
 14. Super Slick Wing Back
This is a different approach to a slicked-back style because there are four distinct different slicked back areas. It gives off old-school vibes, but it's a fun way to approach slicked back hair. Keep in mind, you'll need to have thick hair to be able to pull off this short haircut.
Short Sides Textured Top
Short men's hairstyles like this one have been extremely popular in 2020. A bit of product and a comb are all that is needed for this style each morning. This cut is easy to get at any hair cutter and great for guys that want a basic short cut with a little something to comb.
Bonus: you can change up this short haircut by adding a beard or opting for a fade.
Shaggy Short
This shaggy razor cut is good for guys with round faces or prominent foreheads. A razor comb can be used for touch ups and highlights or lowlights can add interest around the face-framing layers.
Wavy Texture Fade
The wavy texture of this cut is tricky to get yourself so make sure to leave this to a professional stylist. This cut is customized to fade accordingly depending if you have facial hair or not.
Curly Texture Cut
If you have a natural wave or curl to your hair, this is the perfect short men's haircut for you. It's timeless and works for men of all ages. Since it's a bit longer on top, you'll want to make sure you take maintain a haircare routine to keep your locks moisturized and shiny. Nobody likes a dull flow.
If you don't already have a routine down, start by adding a leave-in conditioner and pomade to your stash of products.
Fringe Crew
This crew cut is a good mix of longer than usual and the traditional short lengths. You can always ask for more feathered bangs. The blunt cut bangs may not be for everyone but on some this is a good look. Crew cuts like this look best on men with long faces, whether that be oval, diamond, or heart-shaped. It's a good idea for guys with round faces to stay away from short haircuts with bangs like this because they will only add width to your face.
Swept Up
This style is so carefully combed and has amazing texture. A good comb, dryer, and styling product will have you looking like this in minutes if the cut is done well. You can pull off this haircut regardless of what your hair type is, too. If you have thin hair, simply style it with a thickening product like Boldify. Then, blow dry with a round brush, apply pomade throughout dry strands, and style as desired with a comb.
If you have thick hair, skip the Boldify and apply the pomade to damp hair, then blowdry. You do not need to use a round brush unless you want to achieve tons of volume.
Natural Flow Crew
Ryan Reynolds has the best hair and grooming tricks. In this short men's hairstyle, he has a unique hairline and this style is cut to accentuate it. For those with a slightly receding hair line, this is a stylish choice. The taper directly around the face is what makes this cut what it is.
It's a great short haircut for men of all ages, especially if you've got thinning hair and don't want to grow it out very long. Because of how short it is, you do not need to style it. It also looks great with a full beard, stubble, or clean shaven.
Faux Hawk
The secret to a faux hawk is a lot of texture and length that goes from short to long in the front. To style, take a dime-sized amount of styling balm or product and run your fingers back to front. It is supposed to be a messy short haircut, so don't worry about getting it perfect. The best part about this cut is that it can be cleaned up and styled into a combover or slicked-back style. Sometimes a faux hawk is a bit too informal for places like work, so it's nice to be able to change it up when necessary.
Short Spiky Hawk
To pull off short men's hairstyles like this one, you have to have thicker hair. This particular faux hawk is a lot spikier than some and doesn't have as extreme of a taper from front to back. This fun style can be worn lower on the head as well if you want to comb it down. It's one of the best short haircuts to pair with a fade, too. Many men like to do a bald fade on the sides to create contrast.
Hawk Fade
For two styles in one, there is this look. While an airplane might not be your choice for stencil designs, you can see there is a lot of potential for this cut. You do not even have to have a design cut into the fade - a clean, bald fade with the mohawk on top is a slick look in itself. This short men's cut, however, requires a lot of maintenence. You can't go more than a week or two without get the sides cleaned up.
Arrow Crew Fade
This is definitely and interesting take on the undercut. While there is something to be said for the arrow design, having hair cut this way opens up a lot of creative design opportunities. You can customize your undercut however you want, but just keep in mind - it will require a lot of maintenence if you want it to look fresh.
Spiky Textured Short Cut
The spiky textured short cut is edgy and fun. You will need some serious styling gel or product to get the height the gentleman in the pic has but styling really takes just a few minutes. All you have to do is apply hair product all over to dry hair. Use your fingers to tousle it, and spritz with a bit of sea salt spray for added texture. The spiky textured short cut works best with second-day hair, so do not feel the need to use shampoo every day with this cut.
Ultra Short Textured Top
This cut is good for shaping the face and for those that do not want a lot of thick hair on their head. Older, active guys look good in this cut. If you are in school and want a basic style, consider an ultra-short length.
This is also a great style to aim for after you get a buzz cut. If you do not want to stay buzzed, you can easily grow your hair out to be this length. Add a small, dime-sized amount of texturizing product to your strands to style it, but not too much or it will look greasy.
 28. Asymmetrical & Short Sides
A good asymmetrical cut with short sides and a long top looks modern but is not over the top. For an edgier look then you might consider some highlights. This cut is best for guys with thick loncks and an oblong, diamond, or oval face shape. It is not the most flattering on round faces because the long bangs make the face look wider.
Curly Textured Mid Top
The way this cut takes control and defines curly hair while making it manageable is amazing. For guys in school or the work place, this is a look that will make you look put-together no matter what. You will need to use a specialty hair product that is specifically for curly hair, like Koils by Nature Herbal Curl Defining Fragrance-Free Gel.
Major Short Texture Cut
Guys with round faces can look to cuts like this to add more dimension to their face. The short sides elongate the face (which is great for guys with rounder faces), while the long top gives you something to style numerous ways. If you want to get the matte, messy look like the one in this photo, you'll need to use a product without any shine. We love a good sea salt spray to add texture and create the tousled look. It is a super cheap product to buy, too.
Short Tight Curls
Here is the solution for guys with kinky curly hair that want manageability and style in the same cut. A curl defining line of shampoo and styling products is recommended for maintenance.
Short Sides High Slick Cut
While this style looks a lot like a pompadour, the lines are not quite that. This rockabilly vintage style is a winner for the fashionable guy that wants to look sharp and not look like he is trying too hard. Of course, with a hairstyle like this, you've got to have tons of thick hair and experience styling it.
Start out by using a volumizing mousse on damp hair, and blow dry with a round brush. You will want to use the round brush to lift the top of the hair and create the brushed-back style.
Faux Hawk Flow Fade
This unique cut is like having two or three awesome styles at once. The tribal like the design on the fade part of this look and the longer on top fringe gives a guy the option of having a low spiked mohawk or slicking hair forward or back.
Short & Spiky All Over
Short spiky hair is great for fun-loving guys that just want a short style they can wash and run their fingers through and still look good. It can be styled for a casual look or cleaned up by combing it down and taming it with some product. If you're not a huge fan of the spikes on the sides, try doing something a bit more clean-cut like a fade. You can still keep the spiky texture on top, but it won't be as messy looking.
Wavy Slight Undercut With Side Part
This cut is different because of the unique style of parting the hair and the volume on top. For those that want some hair to style, this is a very handsome option for the fashion savvy man. And while it is a clean-cut hairstyle, it pairs well with a beard or a bit of stubble.
Barely There
While you might not want to shave everything off, there are times when a very short "barely-there" cut can be more suitable to your lifestyle. The perks? Absolutely no styling, you won't need to get it cut very often, and it can grow out to a good-looking crew cut or French crop. Wear it clean shaven like Brad Pitt does in this photo, or pair it with a rugged full beard for a manlier look.
The Blow-Out
There is a lot of texture to this cut. To get this feathered front look, you will need a hairdryer and comb or brush to shape with. Texture spray is a major help. We often see this short men's cut on younger guys in high school or college, but as long as you've got a thick head of hair, any age can pull it off. If you pair it with a clean-shaven face, it'll look a bit edgier, but add some stubble or a beard for a more traditional, manly look.
Square Blunt Bangs Texture Cut
This is one of the most interesting styles of cut coming from the best hair stylists in Europe. The square cut look can be rocking, but if you have a very prominent forehead, you might avoid this look. It is best suited for guys with oval or diamond face shapes, not those with round ones because the blunt bangs will make the face appear wider than it is. It's a very androgynous style that you've got to have a lot of confidence to rock.
 39. Short Mid High
The short mid-high hairstyle is one of the most popular short men's haircuts of the year. It's classic, easy to maintain, and pairs well with any kind of hair type, face shape, and facial hair. The volume on the top sets this short cut apart from a lot of others. Super short sides add the illusion of more height than there is.
Super Slick Side Part
If you want to look like a happening guy, then consider this slick and cool style. Major shine is a component of this thanks to styling balm. If you are not a fan of shine, you can use your favorite pomade or hair clay to create a more matte look. This style is best for guys with silkier, straight hair, as well as those with medium to coarse thickness. If you have thin hair and try to pull this off, you may be able to see straight through to your scalp!
The Short Texture Ear Taper
This short and shaggy little cut shows off hair that is in great condition. The taper is very important with this cut as it is a more face-framing look. It's a youthful look, so unless you're going through a mid-life crisis, we tend to recommend it for teens or young adults who haven't sprouted much facial hair yet.
 42. Highlighted Major Texture Surfer Cut
Surfer style is hot, but unless you have hair that is naturally full of highlights, you might need some help from a good colorist to get this look. If you're not so much into the highlights, the style itself is one that women love on men. It's purposefully messy and can be accomplished with the help of a hair clay and some texturizing spray.
 43. The Flats
While a very high flat top is not something a lot of guys are into, this offers the flat look at a reasonable height. If you like to get outdoors and have manageable hair, then consider The Flats.
The Depp
While this is a little longer than a lot of short cuts, it is great for guys with thick hair. This 1990s look still has a place in the world of great hair today.
Slick & Part
This style presents a very prominent part to anyone looking at you. For those that work in the public arena a lot, this is a fashionable look that can be worn slicked over as you see here or simply combed over.
The Ombre
The ombre is named because of the different colors in this short cut. While this color scheme is more opal, you can achieve ombre color by going light to dark or dark to light from crown to tips.
The Well Tapered
The lines on this cut are simply amazing. The taper shapes the face well and the longer length at the front offers something to style.
The Front Line Fade
This style is often seen on stylish black men but has a lot to offer any guy that is looking for a manageable solution to thick or curly hair. The line at the front gives definition and catches the eye.
The Marcel Fade
We call this a Marcel fade because the curl pattern and style are similar to the highly popular Marcel curls of the 1920s-30s.  This blocky around the face fade is one to remember.
Wavy Pomp & Fade
For guys with naturally curly or wavy hair, this is a retro style that is stylish, handsome, and it goes well with facial hair.
Narrowing Down The Options For Short Men's Hairstyles
If you made it to the end of this list, your head is likely swimming with short men's hairstyles for a whole new look or at the very least, a revamp, of your style. All of these looks are simple enough to achieve and were chose for their unique classiness, fun style, and manageability. We suggest choosing the top three you like the best and discussing which one is best for you with your stylist.