The reality is, all face shapes are not made equal. As much as you want to rock Demi Lovato's waist-length locks, there may be another hairstyle that would suit your face shape even better. We're here to help… to help you avoid the devastation of a pixie-cut gone wrong. But first, let's find out what face shape we're working with.
How to Determine Your Face Shape
As a kid, you think squares, diamonds, and hearts are such simple shapes to understand, so why is it so hard to determine which shape your face resembles? If you've ever wondered what your face shape really is, you've probably tried to decipher one too many cartoon faces.
Hairstyles for Round Face Shape
Center Part
Middle parts are face-framing and accentuate the features of a round face.
Layered Bangs
Straight-across bangs offset a round face shape, adding dimension to your look. Keep the volume at the top of your head with some voluminous waves and a bit of teasing.
High Updo
To add length to a round face, try a topknot, messy bun, or high pony. Show off those round, pretty features, but whatever you do — avoid volume that adds width to the face.
Hairstyles to avoid if you have a round face:
Adding width to your face
Blunt bangs
Layers that fall near the cheekbones
Chin length cuts
Hairstyles for Diamond Face Shape
Ponies/Buns
Lucky for ladies with diamond faces, high ponies and buns are other styles that show off angular, gorgeous cheekbones — no highlight required.
Hairstyles to avoid if you have a diamond face shape:
Super short styles
Volume at the top of the head
Straight-across bangs
Hairstyles for Oval Face Shape
Center Part, Long Layers
An oval face is arguably the most symmetrical, balanced face shape, so long, voluminous curls won't elongate your features. You'll look flawless, no big deal.
Pixie
With an oval face, you don't have to worry if a daring pixie cut will be flattering on you.
Chin-Length Haircuts
Try out a bolder look with a chin-length blunt bob. No matter what your features are, chin-length haircuts look stunning next to an oval face.
Lob Haircut
The universal hairstyle is a perfect match for the universal face shape. The lob is never overdone in our eyes.
Hairstyles to avoid if you have an oval face shape:
Nothing. Lucky you. Focus on your hair type because oval face shapes allow you to do whatever you want.
Hairstyles for Square Face Shape
Long Waves
Loose waves soften square jawlines, adding a feminine touch to a structured face.
Shoulder Length
Tousled layers softly frame a square face, and when they're shoulder length, the ends naturally curl.
Voluminous Curls
Complement an angular face shape with wild, voluminous curls. The bouncy locks will sweeten strong angles for an overall feminine, sexy look.
Hairstyles to avoid if you have a square face shape:
Blunt haircut
Haircuts that cut off right at the jawline
Hairstyles for Oblong Face Shape
Bangs
Bangs add the allusion of a wider face, balancing out long, drawn-out features.
Loose Chignon
A loose, low bun avoids adding volume to the top of the head but softens the face with romantic curls.
Waves and Curls
For ladies with oblong face shapes, it's a great idea to add width by showing off voluminous hair. It's easy to accomplish with big, bouncy curls and waves.
Medium Length hair
We always want what we can't have, and for oblong faces, long hair is typically a no-no. Waist-length locks may be the dream, but they only make a face look longer than it already is. Instead, opt for a medium length or short haircut to complement your features.
Wispy Layers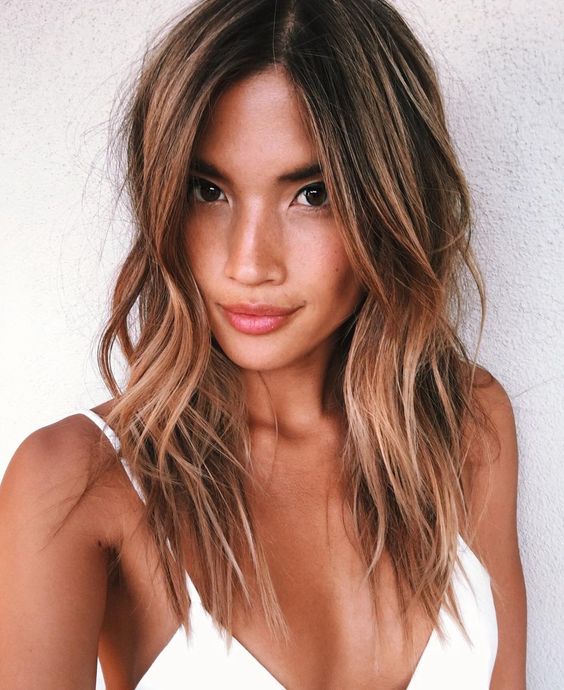 Posted on Instagram by @rocky_barnes
Face-framing, wispy layers accentuate a naturally soft face structure, making it appear more angular.
Hairstyles to avoid if you have an oblong face shape:
Super long hair. It will just drag out your face shape.
No volume. You need to add some width.
High buns or ponies that add height to face.
Hairstyles for Heart Face Shape
Shoulder Length Layers
Shoulder-length layers draw attention to strong jawlines — in the best way possible, that is. The soft waves add just enough feminity to this sexy style.
Middle Part Loose Waves
This style elongates a heart face shape, making the forehead appear smaller because the front pieces are draped over the outer face.
Messy High Bun
Pulling the hair away from the face into a high bun highlights the striking features women with heart face shapes tend to have.
Lob
Even though a lob is a short-medium cut, it elongates a heart-shaped face while beautifully framing sharp jawlines.
Hairstyles to avoid if you have a heart face shape:
Now that you know what face shape you're rocking, as well as which hairstyles to try out (and to run away from), you should be able to sort through these styles if you need some more hair inspiration.
If you choose to try out one of these styles, share a picture with us by tagging @hairstyleonpoint on Instagram or Facebook. We're dying to see what you come up with.