Stylish Taper Fade Haircuts for Men in 2020
tigrao_stylus_barber_
The taper fade is one of the most popular men's haircuts today… And for good reasons, though!
This style is characterized by sharp and edgy hairlines, cool blend on the sides and back of the head, and a super clean, neat, and stylish finish. The best part is that a classic taper is a core of all modern haircut ideas, including faux hawk, quiff, fade pompadour, flat top, comb over, and Mohawk. Thus, all taper fade haircuts for men are meant to be a success.
What are the different types of taper fades?
There are three main types of taper fade haircuts: low fade, medium fade, and high fade. All three feature short sides and back, longer hair on the crown, and a smooth transition from the longest to the shortest hair.
High, medium, and low fade refer to how high the fade goes up the head. Neck taper, temp fade, and burst fades are very low. Drop fade features a very steep and dramatic transition. Bald fade looks smooth and is usually pretty high.
In this full guide of the best taper fade haircuts for men, you'll find the most up-to-date images and good advice on how to rock your perfect taper fade haircut in 2020:
What is a Taper Fade?
Instagram: barbeirosd
There are numerous options of taper men's hairstyles that vary from a classic taper slick back to a crazy taper fade Mohawk. If we need to give the "taper fade" definition, it could be described as a basic cut with longer hair on top that gradually changes the length to shorter down to the nape of the neck.
These days, the majority of men's hairstyles involve some elements of taper fade. Thanks to the short hair on the sides and back, it's super easy to style the fade haircut in the morning. On the other hand, taper fade haircuts for men require regular visits to a barber in order to keep the transitions fresh and clean.
However, if we compare taper VS fade, what's the difference between them?
They are similar as they both form a gradient reducing the length of hair from top to neck. But taper is a longer version of fade, it can even partially be made with scissors, whereas fade is possible only with the usage of a razor, it often ends up in a skin fade.
What is a low taper fade?
It's a kind of taper fade haircut where the sideburns start from a lower level, just above the ears. Low taper fade variations will only expose your neckline and the temples without fading too close to the skin.
What is a high taper fade?
A high top fade, on the contrary, starts at 2 inches maximum from the crown down to the sides and back. It can be paired with trendy undercuts, but it also works perfectly with a classic crew cut and a traditional buzz cut.
Why are haircuts with fades so popular with men?
The thing is taper fade haircut never goes out of style, it's easy to maintain, to style, and to cut, it's always cool, masculine, and neat. And longer hair on top allows for endless experiments with your image every day.
How to Ask for a Taper Fade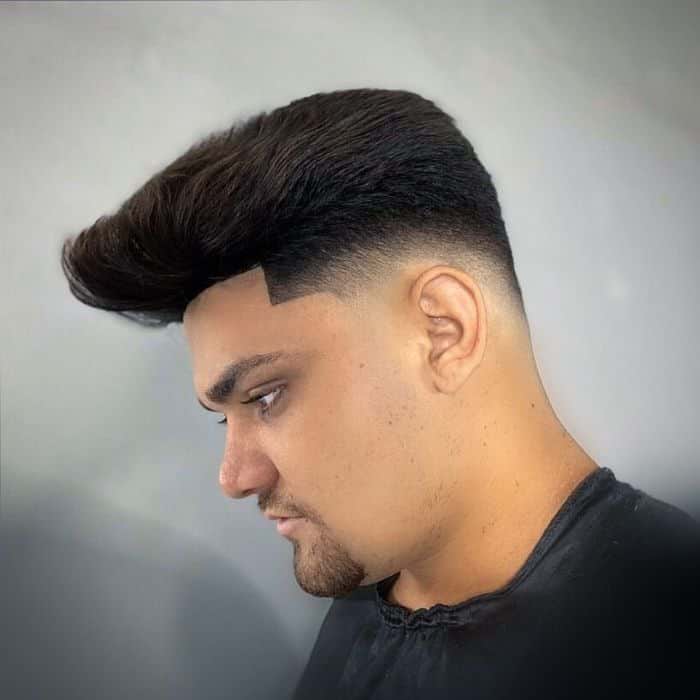 Instagram: marciodubay
How do you ask for a taper fade in a barbershop? Definitely, if you're bad with hair terminology, find it difficult to answer the hairdressers' questions or, even worse, explain what exactly you wanna get, it's better to get ready in advance ad save a couple of celebrities pictures or hairstyle examples from some barbershops' Instagrams.
Actually, we've already done most of the work for you and in this gallery, you'll find the hottest clean fade haircut ideas for any taste. Just pick up your favorites and show your hairstylist to help them visualize what you're looking for.
However, if you want to communicate clearly and efficiently before the cut, discuss your future taper fade haircut in detail, watch this short video guide on how to tell a barber what kind of taper fade you want.
If you find your perfect barber and stick to them, you won't need to explain what hairstyle you want each time. Since tight taper fade haircuts should be maintained every 2-3 weeks, the hairstylist will quickly learn all your requests, likes, and dislikes.
How to Cut a Taper Fade
Instagram:alemaobarberoficiall
First, decide, if you want a low fade or a high fade. After that, think about the length of the sides you'd prefer. Choose the necessary guard - the smaller the number, the closer the cut. Remember that the guards should be paired in this way: take number 1 for a 3, number 2 for a 4, no guard for a 2.
Start with the bottom hairline - cut maximum ½ inch of hair around the sides and back with the shorter clipper guard.
Next, change the guard to one size bigger and clip the bottom inch of hair. Make sure that you don't have any messy lines or shelves - only a smooth taper transition.
Finally, use the biggest guard to finish up your taper fade. But don't hurry up, take the hair off little by little so that you don't cut off too much. You can always go shorter if you need.
For better comprehension, check out this video on how to do a taper for beginners or this video to give yourself a clean taper fade.
Best Taper Fade Haircuts
Instagram:jeffersonhair_oficial
Low Taper Fade Afro Haircut
Instagramauthenticusbarbearia
If you're a lucky owner of naturally curly Afro hair, your black taper fade with curly top can have any shape and height you wish. This crazy authentic volume and thickness of the Afro taper fade allow for numerous outstanding experiments with your crown for a daily WOW effect.
Classic Taper Fade White Guy
Instagram:vikingsbarbeariafrei
This white boy taper fade is probably one of the most loved taper fade looks. It's neat and simple, but masculine and sexy at the same time. It makes this pompadour taper fade a very versatile solution for numerous occasions: from job interviews and business meetings to a romantic date with a dream girl or a crazy night out.
Taper Fade Wavy Hair
Instagram: kevinstrengbar
This is an example of a timeless classic taper fade with a wavy touch. Perfect for guys with thick, textured, full hair, this low fade haircut is one of those long-lasting taper fades that don't force you to see the barbers every 2 weeks.
Mid Taper Fade Cut
Instagram:_eron_barber
A medium taper fade can sometimes seem boring or old-fashion. If you feel like this, consider adding a sharp hairline to make the image doubtlessly unique. Another significant feature of this taper fade haircut is a low, but very smooth fade, which frames the whole haircut, turning into a true piece of art.
Taper Fade with Long Hair on Top
Instagram:christian_goldenhand
Another cool thing Afro men can do with their black taper fade to stand out is to rock long dreadlocks. First of all, dreadlocks look neater, when the hairlines are cut sharp without any fluffy strands sticking out. Secondly, it's just a cool twist that follows the trends.
Men's Taper Fade Short Hair
Instagram: brunoo_careca
You may be misled by a huge amount of taper fade undercuts with a long hair top, complex and pompous crowns. Nevertheless, taper fade hairstyles can also be short and neat, following the best traditions of buzz cuts.
Undercut Taper Fade
Instagram: brunoo_careca
This taper fade curly top hairstyle is making a comeback as an easy- maintenance hair trend for business professionals with unruly long curly hair. Here, we have a pretty high taper fade that blends gradually into a short clean beard and a mustache.
High Skin Fade Taper Hairstyle
Instagram:bihsouza_barber
Short sides, high taper, and fade skin - classic details of today's men's hairstyles. But how do you feel about sweeping the crown forward into a Caesar - inspired haircut instead of sleeking it back?
Low Skin Taper
Instagram:hellb_barber
It is a perfect Afro taper fade for black men with curly hair. This style is easily matched with beards and any mustache. The low short taper fade is V-shaped at the back.
Side Part Taper Fade
Instagram:brunoo_careca
Everything you need to do to add some spicy vibe to your clean fade haircut is to have a sharp side part shaven. And voila - the taper cut which was supposed to be formal and modest now looks hot and juicy. Just the perfect balance for the full range of life situations.
Temple Taper Fade
Instagram:cr13dinamus
This short sides long top cut demonstrates how similar modern men's hairstyles are to each other. This high fade is on the edge between a taper fade style and an undercut. The thick hair on top has a bit disconnected texture, which complements the clean short tapered sides.
All-around Taper Fade Haircut
Instagram:sinhobarbershop
Meet another option of a classic white boy taper fade, which is appropriate for men with any lifestyle, age, and job. This hard fade has a traditional silhouette with short hair on the sides and upswept longer small pompadour variation on top.
Curly Hair Taper Fade
Instagram:ranierbarber_
The main highlights of this curly taper fade is a large volume crown with fantastic texture, which can be achieved only with some smoothing hair products, and artistic curves right behind the ear. This curly hair is natural, however, this magnificent effect can also be achieved for any hair time with the help of a curling iron (but you'll definitely need a lot of time to do that.)
Fresh Taper Fade with Line Up
Instagram:focanocortee
The popularity of men's braids keeps growing, so why not mix the two best trends in gentleman hairstyle fashion and combine old good cornrows with an edgy detail of a taper haircut. This combo works for all hair types and also features versatility and comfort. Skin fade on the temples and the angular hairline make the whole haircut so eye-catching.
Taper Fade with Lines on the Side
Instagram: brunoo_careca
Wanna add some creative ingredients to your casual buzz cut? Taper Fade with Designs will make a huge difference. The sidebar design can vary from small elements and single lines to huge patterns and pictures. It's all up to your imagination - a great way to highlight your individualistic, unique style.
Taper Fade Slick Back
Instagram:thiagoo_barber
Clean, smooth, and rocked to kill - these are the best words to describe how breathtaking, flawless, and incredible this taper fade comb over is. The skin taper fade is another key detail here, so it's essential to keep it fresh and clean. This intriguing slicked back taper fade works great with tattoos and piercings.
Spiky Hair with Taper Fade
Instagram:negosbarbearia
Wow! This hard fade is definitely not for the meek. Among all long top haircuts for men, this one needs the most time end efforts to style. The challenge is to apply enough styling product (wax is the best option) to keep the mohawk solid and well-fixed, but not too much so that the hawk doesn't look sloppy or glued.
Keep the hair long enough to get this spiky taper style for guys with straight hair.
Taper Fade Blowout
Instagram:eduardo_stylebarbearia
Blowout taper fade stands out of all popular men's haircuts and styles. It's aggressive, it's bold, it's assertive, it's sexy… so thick, so high - this retro low taper for men is a magnet for women and adoring cheers from the crowd.
Indeed, it's never a bad day to pomp your crown up - nobody will be able to resist your ideally sleeked pompadour. Btw, it's not that hard and time-consuming to style it up. All you need is a hairdryer, a round hairbrush, and some texturizing spray to make the pomp thick and solid.
Mini Afro Taper
Instagram:barber_negaba
And what do you think of this mini black taper fade? Short curly hair and small tapered sections at the sides and back are refreshed with two neat and narrow razor lines, which actually make a huge difference. Use this trick to update your favorite hairstyle in a rather creative way and have some fun too.
Taper Fade Haircut with Beard
Instagram:barbearianilsonsouzaoficial
Low taper fade haircuts for men with disheveled hair on top like this, ideally blend into a carefully trimmed light beard. But if you wanna play against the rules, here is a win-win idea for you: add a couple of lines on the sides and extend them to the beard. The wow effect is guaranteed, so is increasing attention to your low taper fade.
Taper Fade with Dreads
Instagram:eduoliverbarber
Among all haircuts for men, long hair dreadlocks style is probably one of the most controversial. Some men hate it and consider scruffy and old-fashioned, others adore and enjoy the haircut's versatility.
However, when it comes to a dreadlocks style with a taper fade twist, there are much more fans and supporters than haters. That's because a low clean fade transforms the whole image dramatically. And if you add some contrasting trendy color to your dreadlocks… this haircut will become a fashion icon, trust us!
Taper Fade Man Bun
Instagram:manbun.lifestyle
And the last, but definitely not least - one of the most popular men's haircuts since 2014 till nowadays - the taper fade man bun style, which is loved for its simplicity. Indeed, you don't even need a hair gel for a casual everyday man bun. Just slick back all your hair and tie it in a tight knot at the back of your head.
In this case, a low taper on the sides helps to clean up the hairline from unruly baby hairs, which mess up the whole image. The only downside of this timeless hairstyle is that you have to grow out your hair for a long time to get a good knot.