Romantic Wedding Hairstyles For Short Hair
A beautiful hairstyle for short hair is well within your reach with a little planning. Short hair can help draw attention to your face and neckline which is something to consider when deciding what dress to buy. We think you will agree that what we have gathered here are some of the best wedding hairstyles for short hair.
Curly Chin Skimming Layers
This style is romantic yet casual and can be cut in more layers than what you see here if you want more definition or just a choppier look. This cut could be fabulous with a hair band, [easyazon_link identifier="B00N9P7ATC" locale="US" tag="hairstyleonpoint-20"]tiara[/easyazon_link], or crown. If you don't have a bob like this now, then you might consider this look for your daily look because it is so easy to maintain and goes well from the office to out on the town.
Asymmetrical Chin Length Bob With Braid
We love this silky straight bob. The sleek elegance of this look may require some smoothing treatment on your part. Color such as [easyazon_link identifier="B001J61T7M" locale="US" tag="hairstyleonpoint-20"]Redken Shades EQ can provide a glossy coat and help highlight[/easyazon_link]. There is also a clear version for those that just want a gloss treatment and are comfortable with their current color. The braid and lacy headband make this style ultra romantic and feminine. Let's not forget the fact that it has a retro feel to it that is hard not to admire. 
Half Up Half Down Volume
For those of us with fine hair, it can be a challenge to find short looks. This simple bob requires little in the way of styling beyond pulling back and[easyazon_link identifier="B01M2XBMNY" locale="US" tag="hairstyleonpoint-20"]teasing the front[/easyazon_link] for some extra volume. This keeps hair away from the face and ears so you can display fabulous eyes and stunning earrings if you like! If you don't want to pull hair just back, you could put it up in a higher pony and tease for more volume on top. 
Asymmetrical Pixie Cut & Braid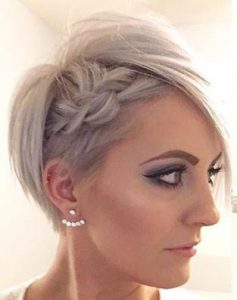 This is one of the most amazing pixie cut looks we have seen. The braid helps keep hair where it needs to be and adds some girly charm to a cut that can sometimes seem more androgynous. Since this look is very dependent on good layering techniques, you will want to get it cut fairly close to your wedding date. The braid can be done yourself, but you will want to practice a few times before your big day. 
Short Hairstyle Tips For Weddings
Short hair has its needs when it comes to style. One of the biggest mistakes short haired ladies make is using too much styling products which result in a flat and lackluster look. Make sure to use a clarifying scalp treatment or shampoo at times to prevent this. If you are new to short hair, then take the time to remind yourself that you need to use less of everything.