The 1980s electric decade of excess was like no other. Everything, from the 80s feathered hair and authentic 80s makeup, looks to unique music, clothes, and pop culture was so out-of-this-world, so novel, and so enjoyable. "All that neon! All that hair!" as a motto of the 80s era perfectly demonstrates the vibe.
Thus, it's so predictable to see the hairstyles from the 80s popping back up onto the scene. Demi Moore's ghost haircuts, disco hairstyles, side ponytails with a knitted scrunchie, and mullets are reconsidered and rediscovered by the present-day hairstylists in order to make them look better than ever.
In combination with modern trends and available styling tools, 1980s hairstyles have been bringing a distinctive accent to hair fashion over the last decade.
Common 80s Hairstyles With Long Hair
@a_man_called_fabz
No matter your cut, volume was in all popular 80s hairstyles, especially when it came to long hair. Huge, voluminous locks hair trend was present both in male and female styles. Huge hair and big volume represented loose curls, crimped hair, a feathered style, the perm, and whale spout half-ups.
No matter how challenging it was to treat and style long hair, most girls wanted to achieve this mindblowing big volume effect by all means.
Common 80s Hairstyle With Short Hair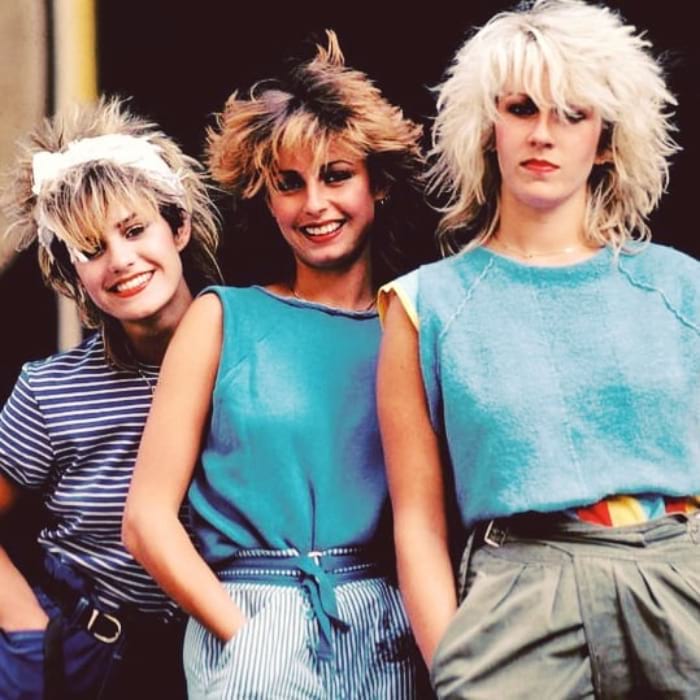 @christophe_springy
80s looks for short hair lengths were also extremely voluminous, with various textures, and chunky highlights. A lot of androgynous hairstyles from the previous decade were exaggerated and made more extreme during the 1980s.
The 80s hairstyles for short hair were accompanied by bows, headbands, and hair clips. Girls with naturally straight hair opted for the perm solution. A lot of experiments were made with asymmetrical cut variations, bobs, pixies, and shaved sides.
Today, 80s hairstyles with a modern twist feature more faded elements and bright colors.
80s Hairstyles for Women
@supermodel_zone
80's women's hairstyles were an exact reflection of the time. Film and music stars popularized big and eccentric 80s hairstyles and makeup among teenagers and adults. While early 80s hairstyles were often with straight hair, by the end of the decade the perm had changed the rules of the game.
There was generally an excessive amount of mousse used in styling, which resulted in an equally popular shiny look and greater volume. Some mousse even contained glitter.
In the late 80s, high ponytails, high side ponytails, half-ups, scrunchies, and headbands became common among schoolgirls, college students, and adult women equally.
We're here to help you get the hang of all this 80s hairstyles variety. Maybe, you're even gonna feel nostalgic while scrolling the gallery down. Probably, you'll save a couple of 80s hairstyles pictures to spice up your image. But there is one thing we know for sure: you have to buy a lot of hair spray to tame your hair in an 80s manner.
Half-Up, High, and Mighty
@glitterwave80s
This half-up half-down with bangs features all the key details of typical 80s hairstyles. This high and mighty half updo was made to look high and big, but still emphasize the length, and add some edge with a slight fringe settled in the front. To achieve that height, separate the crown section of the hair, comb it up with a brush, and fix it with hairpins or clips.
The Side High Tail
@christophe_springy
The Sunday mood of "banana & lightness" is flooding this go-to hairstyle from the 80s. A high-side pony turned from the workout and dance routine hairdo into a cool versatile style for everyone. Short thick bangs are another eightyshy detail in this updo. Thus, such tails got out from the category of teenager 80s hairstyles.
80s Pixie
@christophe_springy
No way such a bright era like the 80s could do without rebellious and edgy 80s short hairstyles. Apart from famous long hair 80s hairstyles, the 1980s were also full of spiky pixie haircuts with asymmetric bangs, messy texture, greasy hair effect, and even a rat tail. Yep, a rat tail, do you remember this trend really existed?
Low-to-High Beautiful Bobs
@leahsugruehair
Besides eccentric and mind-blowing styles, the 80s also had some elegant and classic styles. Angular bob hair cutting style for females with full bangs but without any twists might seem irrelevant concerning the era. However, this photo of a gorgeous long bob is taken from a fashion magazine published in the mid-80s.
Floral Accessories
@fashionista6373
Despite most of the popular hairstyles in the 1980s featured some edgy, crazy, or sporty elements, some of the 80s hairstyles were rather girly and romantic. Thus, floral accessories and braids were and still are a catchy supplement to a bob or a middle-length hairstyle.
Long Messy Hair
@findingloula
Oh, that makeup, accessories, and airy big curls! Performed with a round brush and a hair dryer, this hairstyle is awesome for straight thin hair types. Slight mess and disorder is brought to the hairstyle by means of that disconnected curly fringe.
Mullet
@toniandguycagliari
Initially, the mullet was a men's hairdo only, but in the 1980s women decided to adjust mullets to their daily style as well. And we must admit that mullets look amazing on women. looks better on women.
Ellen DeGeneres was one of those female mullet ambassadors before starting her career as a talk show host. A lot of famous women rock mullets from the 80s without taking away too much from this classic 'do.
Curly Bangs
@stelladalivoz
What's more '80s than a messy bob with bangs? Only a curly bob with curly bangs. Curly 80s hair was typically accompanied by a fringe or bangs that were also curly. No matter if those were natural curls, done with a curling iron, or the iconic 80s perm, this style was worn with confidence.
Shag Haircut
@christophe_springy
Whether or not the shag hairstyle comes from the 80s is still debatable. But there is no doubt this big hairstyle is really hot. Since the texture and the shape of the shag can be altered, this short hair cut is a flattering look for most face shapes and any hair type. Chunky highlights and layers will upgrade the style as well.
Bubble Ponytail
@cutycolorbymerceleonestilistas
Probably, the first image that comes to your mind when talking about the 80s hair ponytail is the high pony with a scrunchie. However, the bubble ponytail was also among popular girl 80's hairstyles. By segmenting the tail with hair elastics throughout the length, you'll achieve an easy, unique, and ingenious 80s look that 100% corresponds to the 80s concept of doing everything in a funky, irregular way.
Shaved Sides
@vintage.photo.books
Having bloomed with the punk movement, shaved sides undercut 80s hairstyles became an underground 80s staple. Alternative hair colors, side-swept bangs, upswept thick shape, and slightly greasy ends remind us that this hairstyle comes from the previous century, despite it's spiced up with a perfect modern fade in most up-to-date interpretations.
Banana Clips
@joannegambale
A lot of hairstyles from the 80s feature various add-ons such as headbands, bows, scrunchies, and clips, of course. Banana clips are the unique sign of the 80s women's hair updos. Besides looking cool and authentic, such clips are also very comfortable and versatile accessories, especially for long hair. Many prom eighties hairstyles were created with the help of banana clips.
Bow Headbands
@80sretrobeat
The next feature 80s hairstyles accessory is the bow headband. In this VOGUE magazine photo, the headband is slightly exaggerated, although, the spirit of the street style casual bow headbands was quite the same.
Sleek Bob With Bangs
@haventstoppeddancingyet
This greyish gently highlighted sleek bob with thick bangs is probably the most casual and basic hairstyle in this guide. Yes, such 80s hairstyles existed too… but, still, with disco at heart and with signature accessories on top.
High Bun With A Hair Bow
@fashionista6373
We can't decide what's more iconic: this photo from ELLE 1988 or Monica Bellucci style. Whatever, this classic retro high bow bun look was big in the '80s. The big-haired aspect prevails here, yet this hairstyle is classy as hell. This is a perfect 80s updo to tame long hair, especially for formal and classy outfits and events.
Funky Rock In Hairstyle
@iamthebarber132
Although funky rockabilly hairstyles originated in the 70s, the 80s took them to another level. The renaissance of these short undercuts and pixies implied the feature 80s volume and height, as well as extra curl texture.
Crimped High Side Ponytail
@laamofficiel
80s side ponytail is a legend, indeed. But with the 80s' literal rise of hairstyles, high-side ponytails were also often crimped to look wild enough and fit in the era's rules. This 80s ponytail is colorful, a whole lot eccentric, accessorized with scrunchies, volumized, crimped hair, and also has a short layered fringe. Probably, this one is the most fun version of self-expression seen throughout the decade.
Angular Afro with Undercut
@christophe_springy
80s black hairstyles were mostly represented with long voluminous curls that were going in line with the big hair trend. However, short and smooth 80s hairstyles for black hair existed as well. Just look at this asymmetric mushroom hairstyle that the 80s should have denied due to its "overnormality"… but they actually didn't.
The Perm
@lisa.dee.creates
We've mentioned the perm many times throughout the guide – no wonder, since this chemical curl method got the biggest popularity in the 80s. In fact, the perm 80s curly hair looks quite similar to natural-textured curls, but thanks to this breakthrough, even a girl with naturally straight hair could enjoy tight and defined ringlets that keep its shape and volume endlessly.
Side Swept Hair
@fashionista6373
Linda Evangelista in this photo breaks the system providing proof that hairstyles without curls and feathered looks also existed among the 80s long hairstyles. Still, we can't ignore the messiness of this side-swept hairstyle.
Shag with Curtain Bangs
@hollygirldoeshair
Shag and 80s bangs, slight waves, and a delicate pop of pink shade on the bleached blonde with dark roots. All these details make this shoulder-length hairstyle an undeniable representative of the 80s hairstyles fashion.
Feathered Like Farrah
@christophe_springy
It's Farrah Fawcett we're talking about, the icon by herself made the feathered hair an icon in itself. Can you remember the "Rachel" hair from the 90s and how obsessed women all over the world were about this 'do? So, the "Farrah" is the predecessor from the 80s. This exaggerated feminine silhouette of the feathered hairstyle is surprisingly low-maintenance and works for any hair length.
Slicked Back
@capsulenostalgia
Girls in the 1980s could barely wear a minimalist slicked-back hairstyle. That's why what you see is a cheat version of a slick back with unruly curly bangs that are swept forward from one side in a rather unexpected way.
Asymmetrical Hairstyle
@trangwinbi
The '80s fashion hair really had a great mix of grunge, teen, and class – that's why we see so much asymmetry and illogical solutions that became the 80s hair trends. This style is a mockery of the 80s pigtails that has gone too sophisticated and rather feminine.
Punk
@valarrys
Punk styles are an integral attribute of the 80s era: bold solutions, bright colors, funky textures, wet hair effect, and volume, more volume of course! This messy blonde bob is great for thin and fine hair. Dark roots make the haircut even more authentic and 80s-like.
Knit Scrunchies
@knittedbykee
Knitted, colorful, vibrant, and oversized scrunchies were the seasoning of the '80s hairstyles. Mostly, knit scrunches were tied around small sections of hair to create dramatic contrast on the head. Another cool thing about the scrunchies style is that a hair tie is a perfect way to deal with bad hair days.
Half Braided Updo
@samanthawilcoxhair
This short style has nothing to do with mainstream. Unlike most 80s hairdos, this teen spirit mohawk features shaved sides with tiny braids that ideally balance the fluffy top section of the head.
Whale Spout Hairdo
@amandatosh_
Ponytails and half-ups had been around for centuries before we started calling them a whale spout in the 1980s. With a large hair-tie or a scrunchie, this half-ponytail is so high that the "splashes" of the hair look like a fountain on top of this fun, carefree, and cute hairstyle.
Long Messy Hairdo
@laurenmacintoshmua
The 80s long hairstyles that were considered to be messy, in most cases implied curls as well. In this photo, you can see an awesome present-day replica of the vintage hairdo that perfectly fits the latest fashion trends.
Short Hair With Small Waves
@vintage.photo.books
Small waves will never hurt, especially when it's the 80s bob hairstyle we're talking about. If curls are not your cup of tea, the necessary eightish volume and texture can be achieved with a side part, waves, and some texturizing hairspray.
Madonna-Inspired Updo
@makeupbyshradzz__
The 80s updo style is often linked with Madonna's updo hairstyles of that period. Mostly, they are rather reserved (in comparison with most 80s hairstyles) and are unlikely to have that stunning effect on everyone around.
Upper Sleek With Bottom Crimpled Hairstyle
@oliviawisniewska_makeup
Everybody sported crimped hair in the '80s, including Demi Moor. So, all variations of the womens 80s hair can be adjusted and mixed up with the crimpled style.
Colorful Mohawk
@christophe_springy
The 80s mohawk is not your average bear as well. This spiky hairstyle features so pointed ends, an outstanding red color, and a dense hair texture, mixing the trends of that time in a very unusual way.
FAQ
What hairstyles were popular in the 80s?
The main element of most popular 80s hairstyles was volume, height, and texture. And all these elements were incorporated in all sorts of hairstyles: mullet hairstyle, bouncy curls, half-up with a high pony like a whale spout, crimpled hairstyles, hard rock pixie, Farrah Fawcett feathered styling, bows, and headbands typified the decade.
How do I style my hair like in the 80s?
Since hair in the 80s was bold and over the top in the best way possible, you'll definitely need a texturizing product, a stronghold hairspray, a brush, and a comb. Let's start by checking out this easy tutorial on how to do 80s hair.
How do I get 80s fluffy hair?
If you're into the fluffy hair trend but don't know where to start, here are some simple tips:
Make sure you have everything necessary: a round brush, a comb, a hairdryer, and a heat protectant spray to prevent frizzy and damaged strands.
Start with the heat protectant spraying it all over the hair.
Wrap each hair section around the brush and direct the blow-dryer to the roots. Next, gradually work the brush down, tucking the ends under.
Apply some texturizing product and brush your hair from the inside scooping it forward or just shaking your head up and down.
Finish with a generous touch of hairspray to fix your fluffy 80s hairstyle.
In this video, you'll find another cool tutorial on how to get fluffy 80s big hair.
Is 80s hair coming back?
Are you still doubting? The answer is YES! Totally yes, absolutely YES. The best part is that you are free to create. Today, the 80s hairstyles are mixed up with the present-day hair tendencies so that the results are just out-of-this-wold. Let the rebellious spirit and individuality seep through on your 80s-inspired look.
What inspired 80s hair?
An average 80s haircut is inspired by heavy metal and appropriately-named "Hair Bands", by the rock star fashion and bands like "Motley Crue", by Madonna, Farrah Fawcett, by the spirit of freedom, individuality, and creativity. Huge hair was everywhere like a statement.
So what's the secret, motto, and driving force behind the hair in the 80s? – The fluffier and bigger, the better!
With permed mullets, feathered 80s bangs, cotton candy airiness, chunky highlights, Jheri curls, fluffy blowouts, flawless perms, sharp layers, and hair-raising mohawk hairstyle magic, the 80s era has a lot to invest in the present-day fashion.
Get inspired with our gallery and embrace the 80s decade in your new style.