Sometimes, messy hairstyles for men are undervalued and underestimated as they may seem to be too sloppy, scruffy, or even disgusting. However, the truth is that messy haircuts can even look more elegant and eye-catching than a clean skin fade undercut or a traditional gentleman comb over.
Despite looking pretty disconnected, a good-looking bedhead hairstyle requires a high-quality styling product and a skill in creating that amazing movement all over your crown.
Don't have either of the mentioned above? No problem, as you're in the right place now! In this article, you'll find easy tips on how to create a lazy hairstyle, how to choose the ideal hair product, and how to find that balance between a messy hair do luxury and scruffy hair.
Short Messy Hairstyles for Guys
@certified_cuts_bristol
Messy Crop Top
@batts_barbering
Unpredictable combinations are exactly what works best with medium length men's messy hairstyles. Neat and edgy Caesar-inspired fringe and slightly disheveled thick hair on top will grab people's attention and won't take a lot of time to style.
Short Textured Spikes
@john_lionbarber
You can add some mess to every hairstyle you get. Have short spikes on top? Take some hair wax, rub it between the palms, and make those messy spikes by combing the hair through with fingers.
Messy Fade Haircut
@barbershopduartes
A combination of a clean fade, a long top hair with volume, and some mess makes up a win-win contrast that will highlight your masculinity, confidence, and brings a fresh vibe to your gentlemen look to wear for a number of occasions.
Short Spiky Hair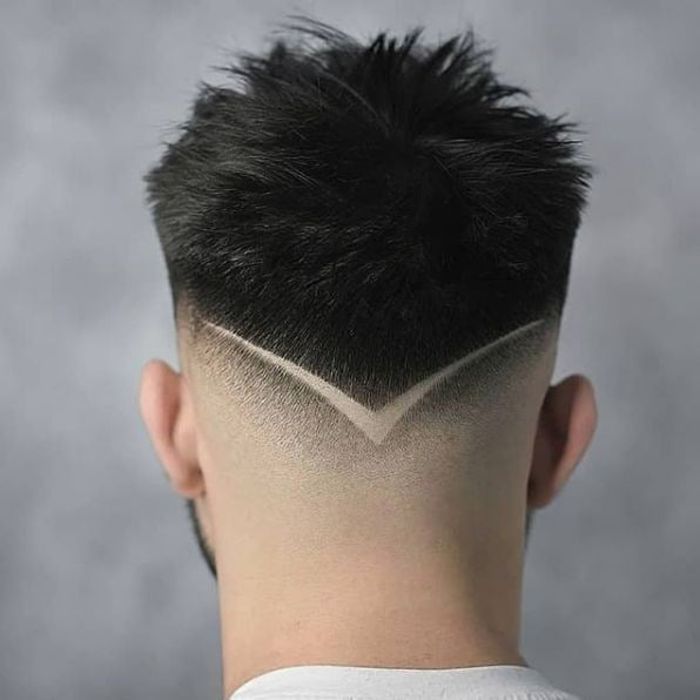 @curso_barbeiro_desucesso
Short spiky hair can look boring. But if you add a cool detail, it will be a complete game-changer – your messy boy hair will never look the same anymore. Save this V-line men messy hair photo to show your barber next time and copy it on the button.
Messy Crew Cut
@barbershopduartes
Short hair can show the texture and look pretty messy too. Thus, an ordinary crew cut with clean faded sides can be disconnected a bit with some gel. And the favorite part of guys: this hairdo is super easy in maintenance.
Messy Side Part
@aikafloreshair
This is the kind of medium messy hairstyles for guys that can be made with beach waves and wind only. But if you're not sunbathing and swimming in the ocean now, just grab some styling products to hold the locks relaxed like this.
Short Spiky Mullet
@forge_studio_az
Remember that good old mullet from the 80s? If you're looking for an extraordinary idea of an unkempt hairstyle, consider this shape, mess it up with a clay pomade, and add a modern twist like a temple fade or an edgy hairline.
Messy Medium Hair
@kuafor_selo.35
Messy Afro
@rj_the_barber_
All you need for rocking this medium length messy Afro hairstyle is to wash your hair, apply some cream for curly locks, and blow-dry it. Your black male messy thick hair will balance the skin fade on the sides and a geometric hairline on the forehead.
Messy Faux Hawk
@lagaleriebarbershop
It looks like it had to be a classic faux hawk hairstyle, but something went wrong (or right) and it turned into el-Classico messy hairstyle men enjoy.
The traditional smooth upswept wave is refreshed with an individual strand at the sideline area that floats to the forehead. The hard part itself is replaced to the middle section of the fade and copies the direction of the upper strand.
Taper Haircut
@harps_bhogal_
Long upswept straight strands are brushed up in a blow dryer technique. To achieve this airy flow effect, you should be picky on the hair product you use (opt for a sea salt spray or any other texturizing spray plus a stronghold pomade as a base.)
Also, bear your hair type in mind: this taper messy haircut is not for guys with wavy, curly, or thick hair.
Messy Fringe for Male
@slickgorilla
Look, how complex and sophisticated this medium-length men's messy haircut is. This effect is achieved thanks to three layers this men's messy hairstyle features.
The shortest, basic level is a low skin fade, the next step is a medium-length taper line, and the top stage is the unruly curly tousled hair men (and women!) love so much. The curls are swept forward, and the hairline features an outstanding blend going from the temple behind the ear.
Comb Over
@tobias.stulz
There are lots of types of combover hairstyles. And this men's messy hairstyle variation proves the idea that classic hairstyles for men can exist far beyond the traditional limits of style. Due to messy volumed bangs, such cuts enter the street style fashion.
Windblown Hair
@free2byoung
It may seem just a bedhead look, however, to keep your length hair messy in such a blowout way, you'll need some time, effort, a round brush, a blowdryer, and a hairspray. The mixture of simplicity and definition messy hairstyles for men elegant but relaxed, alluring but kind of alien.
Quiff
@mucha.ale
Long top hair is styled here in a typical quiff manner. But this fantastic mane of volume is slightly influenced by messy hairstyles men like so much. As for your hair type, it's better to have straight thick hair, but with thin hair, you can get the same style with texturizing products. As for the mustache… consider it only if you're absolutely experiments-ready.
Texture and Flow
@kudosnouvelle
Despite such disheveled messy hairstyles for men are not the latest fad in the world of hairdressing, it anyway doesn't loose its popularity up to these days. It suits everyone who has curly hair, it's convenient, requires minimum effort in styling, zero hair products, and, finally, it looks so hot!
Messy Hairstyles for Long Hair
@mans_hub_
Tousled Top And Short Sides
@bsharpbarber
Men's grunge hairstyles are not only about Kurt Cobain's styles but also about such retro long messy hairstyles that lie on the border of a hairdresser's nightmare and a messy hair trend.
But indeed, the best messy hair trends and styling ideas are born where the free spirit, no judgments, and no stereotypes exist.
Long Messy Hair with Low Fade
@menshairfashionn
This tousled and radiant messy style is for men with naturally curly and thick hair only. But creativity is the main key here. Add your unique touch and vibe to your appearance, for example, tie the front part of your messy haircuts into a ponytail to fix the curls away from the forehead and play with the faded neck and temples designs.
Tapered Back And Long Bangs
@vr.salon
Messy hairstyles for men are often faded back in a taper or skin fade manner. Use this trick to avoid your long or short messy hair look too scruffy. As for the long hair part, style the bangs up like a quiff with a comb or hands and some shine or matte hair product.
Disheveled Style
@buzzworthy_barberstudio
This messy chaotic look is reached by means of applying hair gel on damp hair and coming it under the flow of a hairdryer. After that, tousle your long hair with palms to get a messy hairstyle effect and let it dry naturally.
Choppy Parted Curls
@colors.bykim
Natural curly hair is perfect for different men's messy hairstyles. Short or long, choppy parted curls make the look more alluring, intriguing, and fresh. Also, such short messy hairstyles work great for unusual hair colors.
Bed Head Hairstyle
@whynot_byzeeba
Men's messy hairstyles always look sexy, and this natural wave-textured demonstrates this fact. The disconnection is upswept and thoroughly swept to one side.
Messy Pompadour
@thomas.barbeiro.rota77
It's just unbelievable how carelessly a luxury pompadour hairstyle can look! The front part of the hair is styled up and slightly back, and the rest of the hair is just reaching for the sky in a rather messy and disorganized manner. Is there a girl who can resist such brutal men's messy haircuts.
How To Get The Messy Hair Look For Guys
@nectarninetyseven
How to get the messy hair look?
Choose the Right Messy Hairstyles Men Products – Men messy hairstyles require proper hair care and hair fixation to look right. They should visually seem like they don't have any hair products on, so greasy hair gels are not appropriate for men messy hairstyles. To get a cool, light messy look, use clay, mousse, hairspray, or sea salt spray. For short messy hairstyles men prefer texturizing clays, for longer hair – lightweight sprays and mousses.
Wear Your Messy Hair Loose – Avoid tight ponytails, dreadlocks, or braids. Even if you wanna take your messy hair away from your face, better choose loose top knots or buns to keep that naturally careless look.
Break the Rules – The best thing about men messy hairstyle is that the more styling rules you break, the better your messy hair looks.
Choose the Right Hairstyle – It should suit your face shape and work great with your hair type, length, and texture.
You can also watch this men's messy hairstyle tutorial.
Check out how to apply hair products in the right way.
How to style messy hair?
Shampoo your hair and towel-dry it.
Blow-dry your hair and brush or comb your hair up to achieve the messy hair shape you want.
Grab a stronghold hair product to fix and control the shape throughout the day.
Conclusion
@ecuabarber.post
During these times, when fashion seeks for maximum comfort and versatility, messy hairstyles for men naturally become more and more popular, growing into low maintenance, relaxed trend. Try wearing messy hair once and you'll never forget that amazing feeling of freedom that doesn't contradict any fashion rules.