All you need to know about ever-trending blonde highlights for men is that this blonde dye carries an image of a confident man in its DNA. We can hardly say that men's hair highlights are making a major comeback because they've never actually been off-trend since the first boom on the men highlights.
Depending on hair lengths, natural hair colors, skin undertone, face shape, and facial features, men's hair highlights should be precisely chosen out of the endless variations below so that the highlights really flatter your appearance, create a touch of uniqueness, rather than looking an odd, wrong, or striking choice.
How to Get Blonde Highlights for Men
You'd better not consider getting those blonde highlights at home without a professional touch and book a hair salon appointment (which will make you block about 2-3 hours in your busy schedule).
Getting highlights is a multi-step process, every detail is crucial, and every step should be done under the watchful eye of your colorist. One wrong action can cost you your entire hair for years, leave you with a chemical burn, not to mention wasting a lot of time and money since it's way more difficult to remove a box hair color than a professional hair color.
Of course, if you're too stubborn and wanna make just a touch or two of blonde hair, you can try doing it yourself following a YouTube guide to your liking. In all other cases, just trust your hairstylist who is professionally trained in color theory and knows what levels of hair dye will give your hair that gorgeous shade and a desired outcome.
Popular Blonde Highlights for Men
Initially, hair highlights were invented as a method to enhance hair dimension to create a natural look of sunkissed light hair rather than hair with blonde vibrant colors in stark contrast.
Still, nowadays, both options of men's highlights exist starting from dark roots and frosted tips and ending with natural platinum blonde highlights for men that deepen the visual texture of hair.
Find all possible options of blonde highlights for guys in the guide below:
Dark Hair Blonde Highlights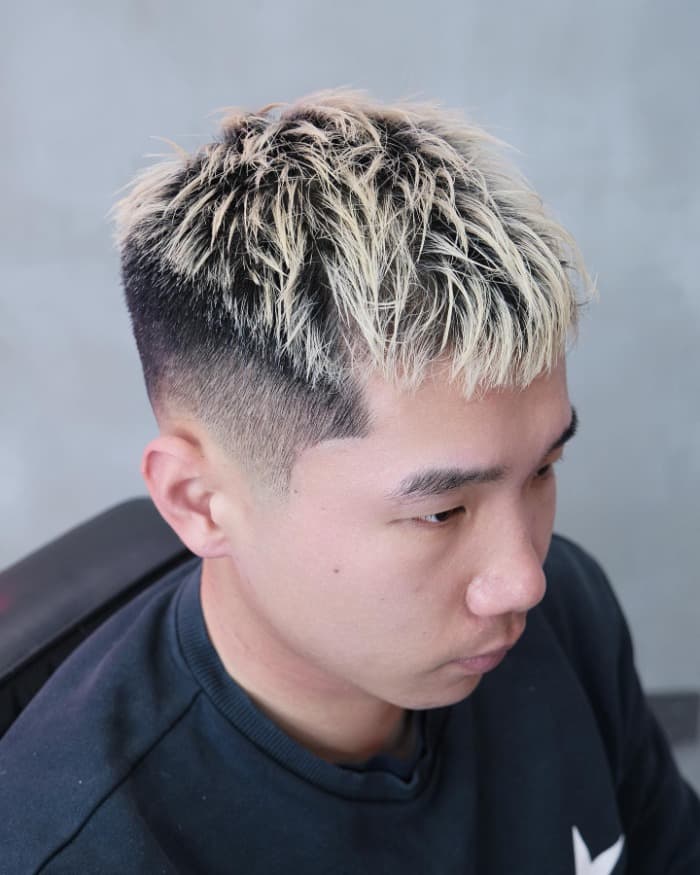 @danierthebarber
Blonde hair on top of dark hair gives a real boost to your complexion making others notice your vibrant color. Such hairstyle is refreshing and bright even though you haven't gone for extreme red highlights, for example. The two crucial things about this style are keeping the sides perfectly faded and leaving some inches apart from the roots and white highlights so that the natural black hair is visible too.
Flat Top

@tigrao_stylus_barber_
A real high flattop can work only for men with Afro naturally dark hair. Only this hair texture can keep that shape and height effortlessly without any styling products. The mission of caramel highlights in this high and tight hairstyle is to create the color fade on top in an asymmetrical pattern and "freeze" the top layer of that high angular construction. You should find a really skilled barber to get a hairstyle like in the photo.
Punk Rock Quiff

@tigrao_stylus_barber_
The popularity of platinum blonde, ash blonde, and silvery shades has skyrocketed. This blonde shade suits the guys with a naturally pale complexion. One more thing you need to be aware of before getting those fantastic platinum highlights is that they're extremely difficult to keep up: unless you use special shampoo and conditioner for platinum blonde hair color support, you'll end up very soon with disgusting yellow highlights that will ruin the whole hairstyle.
Ash Blonde Highlights

@tigrao_stylus_barber_
This ash blonde highlights hair color isn't meant to naturally texturize your hair or give extra depth to the look. Actually, striking ashy white and dark color contrast is supposed to make you stand out with your unique and eccentric hairstyle. Look, how integral this style looks thanks to the triple action of the dyed section, the natural hair section, and the skin fade section.
Short Blonde Highlights

@hairbymaggiebialek
These men's highlights don't cause much hair damage and don't look too striking. The golden highlights color slightly shades the natural light brown hair, thus the contrast is minimal but the texturizing effect is maximal. As a result, you get a versatile go-to hairstyle that's not gonna break any dress code but still have a chance to achieve the perfect visual shade and texture.
Frosted Tips

@danierthebarber
This dark hair faded haircut is all about little details that change the rules of the game. Firstly, the perfectly done high fade is torn apart with an unusually placed shaved-in side part line. Secondly, the hair highlights are hardly noticeable here as they sit at the very tips of the hair on top. Light brown highlights are the best color choice for a black and dark brown hair base.
Wavy Hairlights

@androgyny_tattoo_barber
Blonde highlights look great on anyone: no matter if your hair is thick or fine, straight or curly, caucasian, Asian or Afro. Wavy hair is no exception. Keep your hair slightly longer to emphasize your natural texture and let the caramel highlights alter your typical look.
In this haircut, the highlights start right from the roots, which means regular touch-ups will be a must to keep these wavy hair highlights fresh and juicy.
Messy High Mohawk

@blackwater_barber
Here is another example of how low-contrast light-brown highlights add thickness and volume to brown hair. This messy high mohawk looks extremely big not only due to texturizing hair products but also due to the properly chosen color of hair highlights for brown locks. The sides can be just faded. But if you're up to a double effect, add a minimalistic shaved-in design pattern to your liking.
Surfer Look

@fran.ws
Probably, surfers' natural curls and long hair are the first association that comes to mind when we say "hair with blonde highlights". Sun hits the hair of surfers while they practice, and the salty water creates that unique texture and messed-up effect. This is the case when no matter how dark locks you have, any shade of white highlights is gonna work magic.
Long Hair + Blonde Highlights

@fitbeny
Wow! Just look at that gorgeous long hair with blonde highlights for men. The blondish-light brown highlights stretch along the whole messy brown hair length to take this surfer hairstyle to an absolutely new level. The hair is full of air and movement thanks to the coloring technique and the usage of sea salt spray that singles out every careless strand on the head.
Black Man with Blonde Highlights

@tigrao_stylus_barber_
These hair highlights look like bleaches of sunshine getting through the shade of tree leaves in summer. Randomly placed, well-blended, and perfectly matched in color, these light brown highlights are the way to go for guys with naturally curly dark Afro hair.
Swedish Blonde

@blackwater_barber
This pompadour hairstyle is completely different from what you've seen in our guide so far. The highlights are not placed all over the head or top either randomly or in a structure. Blonde hair sticks out only at the front part of the pomp and it gradually blends into the guy's natural hair color. This transition works magic in the team with the skin fade on the sides, and a dramatic hard part adds more range to the style.
Boyband Blonde

@tigrao_stylus_barber_
Boyband-inspired hairstyles are meant to turn heads, and so is this edgy pompadour style with a snowy-white top, black hair at the roots, and the edgy angled shaved-in design on top of the skillfully faded sides.
Platinum Blonde Highlights

@blackwater_barber
These platinum highlights don't stand out too much and don't contradict the man's color type. These dark blonde platinum highlights make a visually thicker and textured hair effect rather than a hair-dyed effect.
Chestnut Bob

@tigrao_stylus_barber_
Let your stunning black hair curls grow a bit longer and get a bob-like or pot-inspired cut with a small undercut fade at the back and gorgeous random light brown highlights for men at the tips of some locks. Keep the domination of black hair and make sure that the hair highlights go in line with your skin color type.
Blonde Highlights for Men Over 50

@blackwater_barber
Guys over 50 like this trick so much: adding hair highlights to their haircut of any length is a go-to way to hide and balance out that salt-and-pepper hair that starts sticking out naturally. In this case, hair colors of highlights for men matter drastically: opt for trendy silver blonde hair shades – they'll look just fantastic!
Golden Walnut Ponytail

@ponytail.men
Highlights for men can either be spread evenly all over the hair or cover only the top hair section in an ombre-inspired manner. Here, Johnny's naturally dark brown hair fades into caramel hair colors of blonde highlights that are streamlined into a nice ponytail. A man bun can be a good alternative option here.
Messy Waves

@davidbodasvb
Mid-length messy waves win even more gradation with blonde hair highlights for men. With a good coloring technique, you're gonna wear your highlights without touch-ups for 8-10 weeks, depending on how quickly your hair grows. And as long as you use hair products for blonde hair regularly.
Dirty Blonde Highlights

@androgyny_tattoo_barber
This ash brown hair highlights solution looks dirty but cool. Besides, such hair highlights are a healthier option than scalp bleaching. Also, such hairstyles with highlights require less maintenance than full scalp coloring as the black hair or dark brown hair at the roots grows far less obvious.
Blonde Bangs

@phair030
Even straight-hair bangs will look less thin and flat if you give them a touch of blonde hair highlights. In this side-swept undercut the colors go into extreme contrast between black hair and blonde hair.
Brown Hair with Blonde Highlights

@danierthebarber
Dark brown hair with a delicate touch of light brown hair highlights makes an impression that you had spent the whole summer surfing at the ocean rather than slaving away at the office. This low-contrast brown color combo is meant to keep your look on the natural hairstyles side.
Blonde Fade with Taper Fade

@blackwater_barber
Here is another naturally-looking hair highlights idea for guys who prefer classic solutions but wanna refresh their good old taper slick back. Blonde highlights make the faded cut fresh and ripe without breaking any dress code rules.
Taper Fade with Blonde Curls

@tigrao_stylus_barber_
Enhance the cuteness and perfection of your natural black hair ringlets by adding lighter brown hair shades through tiny thin highlights throughout the hair. Add a temple fade to your liking to keep the hairstyle neat and perfectly suit your face shape.
Messy Wet Look

@barber_louvre_elua
And here you can see how blonde highlights illuminate and reinforce the wet hair effect you achieve by applying a hair gel on top of your hair. More details, more shine, more uniqueness to your hairstyles.
Blonde Medium Hair With Beard

@blackwater_barber
If you've run out of ideas on how to play with blonde highlights, this one is definitely gonna look new and unboring.
Copper Top

@peterthebarber91
Such ultimate blonde colors do stand out and make a statement. Such hairstyles are similar in their nature and spirit to extravagant mohawks and striking red highlights styles.
The Sophisticated Pompadour

@tigrao_stylus_barber_
If pompadour hairstyles are not excentric enough for you, blonde highlights for men in the front of your pomp in combination with a combed texture and a shaved-in design at the sides that echoes the effect on top will do all the job for you.
Silver Blonde Highlights

@blackwater_barber
Unlike most silver blonde highlights for men we've seen in this guide, this haircut features a rather natural-looking ash-brown variant of silver, which works in a totally different way and gives a natural-looking, smooth touch-up to the hair.
Macho Mogul

@vicenteruiz.oficial
Just perfect blonde hair highlights for a flawless man and his irresistible look.
Blonde Highlights for Thin Hair

@blackwater_barber
Since blonde highlights add visual depth, gradation, and texture to the hair, they're a go-to option for guys with thin hair. Opt for naturally-looking highlights techniques and they will thicken your hair of any length and texture.
FAQs
Do highlights look good on men?
Absolutely. As long as a skillful colorist chooses the shade of blonde and the type of highlights, such hairstyles will flatter guys with any hair texture, color, and length.
Which hair highlight is best for men?
If you've got some doubts and are in two minds, better go for a "safe" natural-looking low-contrast shade and not-so-intensive pattern.
Are highlights in style for men?
Definitely yes, especially the variations listed in our guide. Let alone the natural-looking variant of highlights for men that is hardly detectable but is meant to level up any haircut.