Oops!… I did it again!
The phrase you say when leaving your hairstylist's after getting your hair cut short again. But we bet you're not even sorry! And right you are.
Especially, if you end up with a kind of short inverted bob hairstyles, there is nothing to worry about. With a graduated bob, you get so many styling options for various states of mind, moods, and occasions – so that you can hardly find a reason to regret having rocked an A line bob.
Moreover, a cool inverted bob haircut is a perfect solution during some difficult periods in life: indeed, cutting your hair short is not only a trendy move that refreshes your appearance but also the first step to more significant changes in life.
Check out this brand new collection of short inverted bob haircuts from the best world's hairstylists:
Popular Inverted Bob Haircuts

@demetriusschool_eng
Short and Messy Wavy Inverted Bob

@guyannescissorhands
Probably, the easiest way to give a modern twist to classic styles like an inverted bob is to mess it up a little and add a color accent. This wavy inverted bob with bangs in ashy-lilac color is an exact and clean shot to the hair trends.
Modern Inverted Bob with Layers

@andre.does.hair
This is a short inverted bob for naturally straight hair with a dramatic and rapid gradation. The front part of this inverted blonde bob is significantly longer than the rear stacked section. This reverse bob will work great for young classy girls and for older women as well.
Dark Brown Textured Bob with Root Lift

@demetriusschool_eng
For an inverted bob with bangs to take on and keep the proper shape, it needs to be cut and styled to flip under. One of the best ways to achieve this voluminous effect is to use a hot airbrush and a texturizing product at the roots. A hot air brush makes far less damage to the hair than a flat iron.
Nape-Length Bob with Long Surface Layers

@lara_stelmashuk
A layered haircut will give extra texture to an extremely short angled bob, making it so unique and charismatic. Short layers can be styled in different ways, but here, you can see a rather unexpected solution – sweeping them to one side towards the face.
Wavy Bob in Auburn and Blonde

@salonnormandee
For relatively long hair, we can offer a long inverted bob variation with texture, color, and character. Wavy hairstyles like this always make a statement, and this wavy bob effect is easily-accessible with a curling iron. Another cool step you can take is to mix burning auburn with gold blonde in one shaggy inverted bob style.
Inverted Bob for Fine Hair

@kawaicat_salon
A slightly inverted bob for fine hair can be so much fun! If you replace the focus from the volume to the shapes and colors, you can get a win-win short hair solution. This one has nothing to do with a traditional bob – and it means you are the one making the rules: a blunt short fringe and an eye-catching lemon dye. Such an edgy inverted bob will not only emphasize your facial features but also your personality.
Romantic Wispy Bob With Honey-blonde Balayage

@guyannescissorhands
So lightweight, relaxed, charming, and feminine – this wispy inverted bob is meant to break hearts. With a slightly curved horseshoe shape, a honey-blonde balayage, a big wave, and blunt ends, this inverted bob cut effortlessly transforms and adjusts to a variety of outfits from a pastel summer dress to a leather jacket.
Twisty & Spiky Texture for Medium/Fine Hair

@guyannescissorhands
A medium-length inverted bob allows for a dozen of experiments. For example, you can completely disconnect those spiky and edgy layers, throw a couple of strands down the face carelessly – and voila: a great high-volume and textured medium inverted bob is here at your service.
Pink Inverted Bob

@funhaircolour
OMG! How hot this pink-blonde inverted bob is. On top of perfectly straight hair, these cold blonde and indecently pink shades look just mindblowing. However, it can be a challenge for girls with naturally dark hair since their inverted bob haircut has to be bleached first to achieve that outstanding color. As for the transition of colors, it's also an important detail of this graduated bob, so make sure your hairstylist is skilled enough and ready to copy that magical ombre effect.
Loose Curls

@zaorzoharisakov
How to make a short choppy inverted bob more romantic? Curls do change the rules of the game. Curly styles always look more win-win even if they're not groomed enough, and just look how beautiful this curly inverted bob is!
Wispy Inverted Bob With Accurate Edges

@demetriusschool_eng
Perfectly cut lines and edges always attract and take straight hair up to the next level. Thus, no wonder this simple A-line bob looks so killing! A gorgeous blonde inverted bob like this is easy to maintain and style with a hairdryer and a round brush.
Long Inverted Bob With Layers

@guyannescissorhands
A long layered inverted bob is a nice pick for ladies who make a decision to cut their hair short after years and years of wearing very long hair. A long inverted bob will be easier to get used to thanks to the fact the front strands can reach collarbones or even shoulders.
Inverted Bob With Rounded Back

@lara_stelmashuk
Inverted bob haircuts with stacked layers at the back always look fuller, with more volume. This natural brown short layered inverted bob will work especially well for girls with oval and oblong face shapes.
Short Inverted Bob with Undercut

@kawaicat_salon
Here is an example of how a super short inverted bob haircut combines with an undercut and an angular shaved-in design. No matter how short the graduated bob is, you can always spice it up with such an element.
Steeply Angled Inverted Bob

@demetriusschool_eng
Mix your blonde inverted bob with a slight touch of natural brown at the roots and underneath, ask your hairstylist to add some stacked layers at the back to make the shape of your graduated bob circled, and sweep the bangs a bit aside like in the photo above.
A Curly Inverted Bob

@guyannescissorhands
A curly inverted bob is more popular than a classic bob haircut. The thing is that layering is the key for curly and wavy hair. When you add some long and short layers, you let the naturally curly hair show off all its beauty and volume.
Twisty & Spiky Texture For Medium Bob

@sarahverityhair
A choppy inverted bob for shoulder-length hair is an effortless solution for young women. Such a messy inverted bob will solve an issue with a bad hair day as well as with your fine hair.
Chin-Length Blonde Inverted Stacked Bob

@gulevich.vladimir
The shorter you keep the front part of inverted bobs, the higher you have to climb at the back part. A short inverted bob, however, is a nice change to show your sophisticated neck and brighten up your facial features.
Disconnected Wavy Inverted Bob

@iconsalonct
To achieve this kind of wet hair effect on top of your sleek straight hair in a short layered bob, spread some texturizing product all over your wet hair after towel-drying it. Only after that, start styling the inverted bob with layers using a hairdryer and a curling iron.
Black Rounded Bob with V-Cut Layers

@demetriusschool_eng
This black inverted layered bob sends a flashback to the goths subculture era. It's incredible, though, how drastically the spirit of the haircut changes when we combine it with different outfits and make-up variations.
Uneven Inverted Bronde Bob

@ro.hsiqueira
Despite being uneven, this A-line bob haircut looks rather classy and versatile. Easily compatible with any sunglasses, hair accessories, and styles in clothes, a blonde angled bob is always a good idea.
Shattered Bob with Creative Coloring

@headrushdesigns
A shaggy inverted bob with bright creative coloring in peekaboo style will spice up a dull day. And will raise your mood as well. If you're fearless enough to dive into drastic image experiments, give life to a shattered thick hair inverted bob in bright colors like this one.
Inverted Bob with Side Bangs

@guyannescissorhands
Some people say that short hair styles limit us in terms of styling options. We respond that this is a true vision only for those who haven't learned to tame their bob haircuts and effortlessly give them a new vibe with a couple of small details. For instance, such a basic trick as sweeping your bangs to one side with a deep side part will completely alter the spirit of an inverted bob hairstyle.
Rounded Inverted Bob

@ro.hsiqueira
This rounded inverted bob cut with a disconnected side part and an elegant balayage touch-up is soaked with glory, luxury, and charm. Sweeping the hair to one side makes the reverse bob asymmetrical both in frontal and full profile. Add some sophisticated jewelry or accessories – and you're guaranteed to be the star of the evening,
Funky Inverted Bob

@kawaicat_salon
A funky inverted bob with layers, spiky ends, and thick bangs sounds like a challenge. This unboring angled bob will test how much color and fun you can bear when it comes to your hairstyle. Go for it if you wanna be on the bright side.
A Tousled Bob

@guyannescissorhands
And if you don't like single-color inverted haircut solutions, adjust a purple ombre effect on top of deep black at the roots.
Bold Copper-Red Bob With Single-Point Back

@bloodmoonhair
Another trending color is copper-red. This burning shade will also revive an extra short inverted bob. Extremely short baby bangs and a soft wave are other details to modernize the look.
Silky Bob Hair Style

@sergeyshapochka
No matter how cool those bright layered inverted bob hairstyles are, sometimes the only thing that lures you is a classic long inverted bob. Rounded at the back, it gradually spills down the shoulders creating. The silky straight texture makes a perfect match with that edgy curve.
Short Tousled Bob With Elongated Front

@owayorganics
This short layered inverted bob with bangs and a careless texture resembles a real fire. So warm, cozy, and playful.
Upside Down Bob Hairstyle

@kawaicat_salon
No matter if you call your inverted bob cut a reverse bob, an angled bob, or an upside-down bob, it keeps being a burning trend of the season. With this color gradation from yellow to deep burgundy, you're guaranteed to be noticed even in the space.
Textured Inverted Bob for Short Thin Hair

@headrushdesigns
This blonde inverted bob with stacked layers is perfect for short thin hair since it gives all the necessary volume, texture, shape, and movement. Also, it's an awesome pick for women over 50 – this inverted bob cut is exactly what going gray gracefully means.
Inverted Curly Lob with Highlights

@curlsbydashell
Oh those curly highlighted strands! They are meant to make everybody around crazy about them. Wanna shine bright and highlight the natural glory of your curly hair? Go for a long inverted bob with bangs and layers.
Modern Inverted Bob

@demetriusschool_eng
While one trends shout out layers and texture, other trends strive for minimalism and simplicity. If done skillfully and with precision, basic inverted bobs will never look boring or dull. Just take a look at this magnificent deep black A-line bob with a sophisticated curve and ideal smooth texture!
Cropped and Coiffed Bob

@sergeyshapochka
When you're a lucky unlucky owner of extremely thick hair, a bob hairstyle is your favorite one since the shorter your full hair, the easier it is to tame it. However, a classic bob hairstyle can make your thick hair look even fuller turning your hair into a huge balloon. Moreover, you can get bored of that trivial shape so soon. A stacked inverted bob like this will be a nice solution: on one hand, it helps to reduce the thickness, on another hand, it gives a new vibe to a good old inverted bob.
Shoulder Length Inverted Bob

@sergeyshapochka
A medium-length inverted bob is like a piece of a capsule wardrobe: reliable, low maintenance, and easily compatible with any accessories and clothes.
Easy-Care Natural Look With Trendy Layers

@kawaicat_salon
If you're lazybones and want your inverted bob hairstyle to live its life without your assistance, choose an initially messy inverted bob with careless layers and color pop.
Messy Medium A-Line Bobs

@thebrookederksen
A messy inverted bob doesn't always mean a shaggy unruly disorder. It can be also implemented on wavy and curly hair to create a romantic image.
Splash Of Color + Bob Haircut

@guyannescissorhands
If a layered inverted bob is your old good friend but you're still looking for an update, probably, it's high time to put colors into action. Can't choose only one? No need to do that. Get inspired with the stacked inverted bob in the picture above and go create your own version of a stacked inverted bob with bangs.
Raven Black Bob

@smsludhiana
Many hairstylists claim that the more basic the cut, the texture, and the hair color is, the more highlighted the facial features are. And this raven black simple long inverted bob is just another proof of the rule.
A Subtly Graduated Bob

@demetriusschool_eng
This subtly graduated stacked inverted bob will never be too much or over. It's just right, just enough.
Short Inverted Bob with Swoopy Layers

@demetriusschool_eng
This short inverted bob with bangs is similar to the previous one, but the difference is the way you style it: distinguish a couple of layers on the sides with a light hair product – and you get a completely different look.
Shoulder Length Asymmetrical Bob

@funhaircolour
This is a very long inverted bob, which is a super-safe option for girls who are trying a shorter style for the first time.
Side Part Closure Bob

@18exquisitelooks
Closure inverted bobs are a special category in this gallery since they are usually made on top of extremely curly natural Afro hair. But who can guess that when your inverted bob hairstyle with a side part is so smooth and sleek?
High Stacked Inverted Bob

@hairdesignbydanielle
A stacked inverted bob hairstyle can be extremely high – and it's great news for girls with thick hair.
Frequently Asked Questions
What is an Inverted Bob?
An inverted bob is a kind of short bob haircut with a shorter back and slightly longer front strands. Typically, the hair length increases gradually from the ears level to the chin. However, inverted bobs also often reach the collarbone or even shoulders and can be extremely short with an undercut at the back.
Are inverted bobs Still in Style?
The inverted bob hairstyle is totally in style!
Having adopted some fresh tendencies and trendy details, the iconic inverted bob keeps transcending time for women of all ages, personalities, and shapes. The secret of such long-term popularity of inverted bob styles is that they are versatile and classic styles. No matter if you have straight hair or coarse wavy hair, thin or thick locks, you will find an inverted bob for you.
What is the Difference Between a Stacked Bob and an Inverted bob?
The biggest difference between an inverted bob and a stacked bob is the technique used to cut the shortest hair at the back. In a stacked bob the rear part must be layered, with extra volume, while in an inverted bob it's not an issue and this section can be straight, with an undercut, or slightly rolled inward with a round brush.
Is Inverted Bob Good for Thin Hair?
Yes, inverted bob with sharp angles will give your hair a bit more dynamics and volume and will work magic for thin hair (unless it's a sleek inverted bob.)
So, how to style a short bob so that it flatters thin hair?
To create a visual effect of thick hair, consider a shaggy bob, a short layered bob, a wispy sliced bob. Asymmetry, wavy and curly hair texture will also give that necessary volume and body.
What Face Shape Does an Inverted Bob Suit?
All kinds of inverted bob hairstyles are really flattering for oval faces. Thanks to the volume of a layered inverted bob, the face looks slightly more rounded.
As for the round face shape, a straight medium inverted bob or a smooth long inverted bob will elongate the face. A wavy inverted bob will work well too. Avoid short stacked inverted bob hairstyles, any cut, which ends above your chin, inverted bob with bangs (full bangs), or central parting – all of these will make your face look fuller.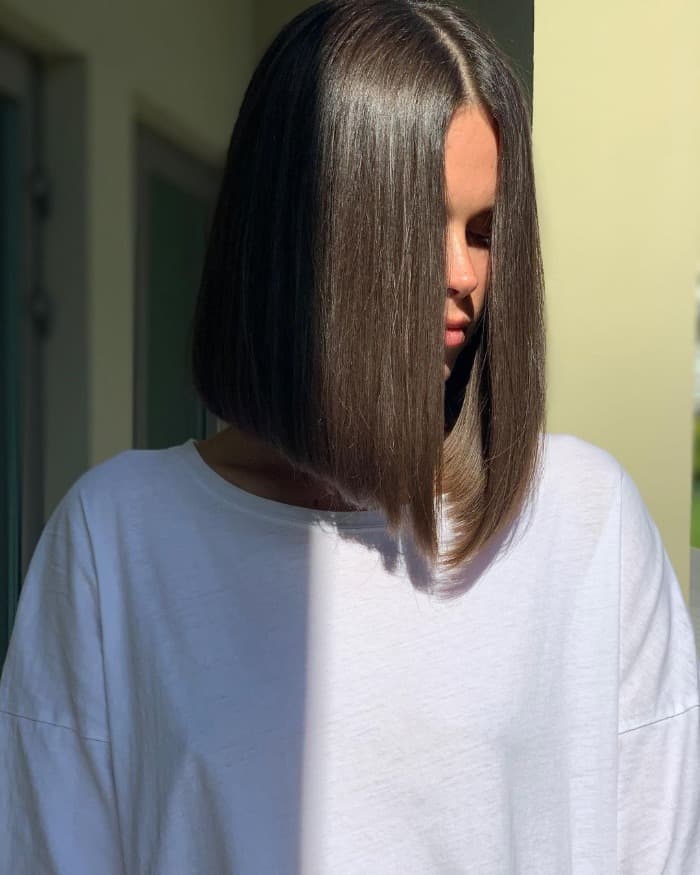 @sergeyshapochka
Hopefully, you've enjoyed our gallery of this year's best inverted bob hairstyles and haircuts.
Now, you know how do you cut an inverted bob and which kind of a slanted bob you should choose for different face shapes to flatter them.
Despite the traditional length is short, there are lots of gorgeous and low-maintenance options of a long inverted bob and a medium inverted bob. Girls with naturally curly hair, wavy hair, thick hair, and thin tresses will find their perfect inverted haircut solution too.
Look through the pictures of inverted bob haircuts front and back on this page once again and go for your bright and bold inverted bob.