A short classic bob cut is all about chic, charm, and classics. With choppy bangs or a smooth side-swept fringe, bob hairstyles are all-time favorites for women of different ages.
And with the currently exploding bangs trend, you're guaranteed to be noticed with bob hairstyles from this guide.
So, a present-day bob haircut with bangs will find its way to every heart – just find your perfect length, shape, and color… with the help of this gallery of the best bob haircuts with bangs for any taste:
Bob with Bangs Haircuts

@jennychohair
There is something magical about a jaw-length bob with bangs that almost screams that you woke up that perfect way. And, probably, it's all about the bangs – no matter whether it's angled bangs, extra short-cropped bangs, playful layered bangs, messy choppy bangs, side-swept bangs, or straight bangs without any twists.
Find your ideal solution here: we've collected all the best for you.
Inverted Bob with Swept Bangs

@pascalewidmer
Side-swept bangs are a simple way to upgrade your short hair, especially if we have in mind an inverted bob haircut. Not to mention all the charm it brings into your classic bob look on naturally brunette hair.
Long Bob with Parted Side Bangs

@bagriyaleksandr
When it comes to long straight hair, it's all about angles again. So, no wonder the next blonde bob on our list also features side bangs. The bangs don't melt with the cut seamlessly and stand out in a killing way. The flat hair look of this sleek bob is avoided due to the delicate balayage hair coloing without extreme contrasts.
Amazing Short Layered Bob with Bangs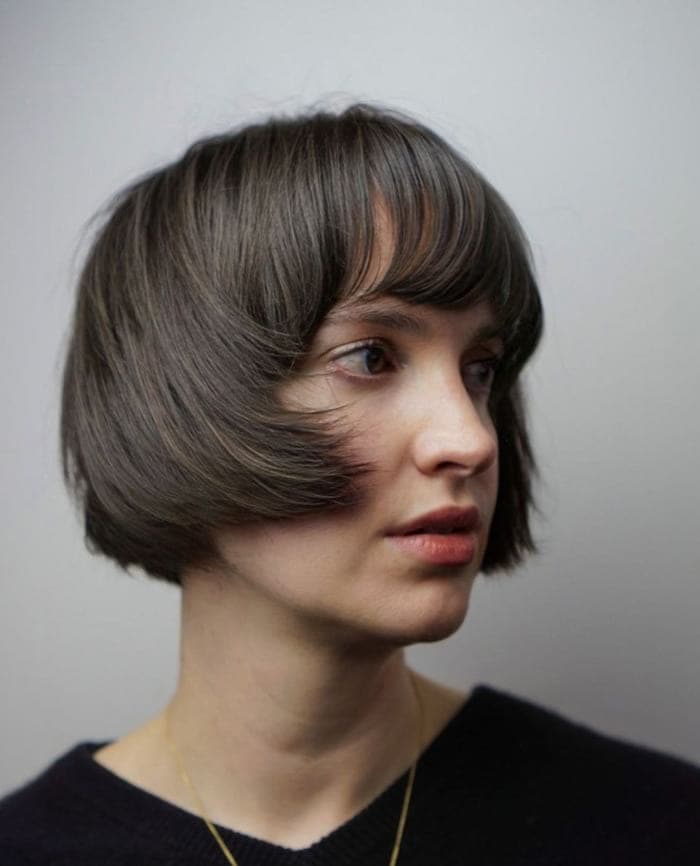 @joeprofita
Looking for a new way to style your bob with bangs? Then there is nothing better you can find to add a little swipe to your hair and thus transform your look dramatically. This amazing short layered bob with bangs looks so perfect and so carefree that you are bound to try it out at least once.
Beach Blonde Bob with Feathered Bangs

@haarwerkstattaustria
A wavy bob is always about relaxation and fun, especially if paired with feathered wispy bangs. A long blonde bob is a great base for creating a careless relaxed and shaggy bob like this one. However, a natural wave will work with any hair color if styled right.
Curly Bob With Bangs

@havenvonderhair
If you have natural hair and are looking for a short curly bob with baby bangs, this layered graduated bob with extremely short wispy bangs might be exactly what you want. The length is perfect for maintaining effortlessly this hair type, and the layers add volume and life to your gorgeous curls. A heavy baby fringe will tame your curls and frame your face for a flirty vibe.
Medium Messy Bob With Side Bangs

@jennychohair
Side bangs are a win-win way to add a visual angle to the face shape and keep the forehead and brows open at the same time. Side bangs can are rather flexible when you chose the length and texture, so you can easily adjust it to all bob haircuts. However, medium messy waves or a shoulder-length tousled bob will blend seamlessly with the side bangs.
Cute Tousled Short Brown Bob

@joyfff
Women who can't stop dreaming abou2t extra volume will enjoy this playful option very much. A layered haircut with tousled strands and a fringe. The more layers you add to this cute bob, the more voluminous your brown hair will look.
Blunt Bob With Bangs

@lindamandal
If you don't want an angled bob, you can ask for an extremely short bob with trendy baby bangs. This nose-length basic bob is chic, versatile, and stylish. That super short bangs will accentuate your facial features, visually opening the face. To get this style, blow-dry straight slightly curling the ends with a round brush (you can also achieve the look by running a flat iron through your hair, turning the ends slightly inwards.)
Blonde Bob with Straight Bangs

@joyfff
A straight bob cut is often paired with a smooth straight fringe, and it's a safe combination. To avoid sharp appearance, you should ask your hair stylist to give your bangs a slightly torn vibe. Generally, this chin-length style works great for blonde hair.
Classic Straight Blunt Bob with Long Bangs

@bagriyaleksandr
A classic straight blunt bob with long side bangs is a bit of an edgier style. This dramatic bob cut has long, heavy asymmetric bangs that give the whole style a playful, sexy look. A haircut like this is one of the trendiest styles for a medium bob with bangs.
Textured Fringe Bob

@salvofiletti_hairdesigner
Here comes another example of a layered shoulder length bob that follows the texture of its bangs, reaching harmony. This wispy bob features an airy layered texture and a soft blonde balayage – eventually, we get this lightweight finish for the whole look. It's a perfect solution for fine hair. To make your bob with bangs messy and tousled, apply some texturizing product.
Sharp A-line Bob with Bangs

@gallery00.artandhairstyle
A stacked rounded bob has come a long way over the years. This sassy short angled bob with bangs looks very stylish, especially in combination with this bright red hair color. Want to give it a unique vibe? Ask for stacked layers in the back and short blunt bangs. This sleek bob can be considered a variety of a French bob with a bit of mystery.
Dark Dusty Rose Pink Textured Bob With Choppy Layers

@wigs_and_sass
A dusty rose pink layered textured bob with choppy layers and casual bangs will make quite a statement for those who love pink and pastels in a twofer. Starting from darker natural roots and then blending into soft fuchsia shade, this simple bob with bangs has an abundance of style and uniqueness. Random long and short layers throughout the cut will do all the job.
Side-Parted Jagged Brown Bob

@pixiehair_girls
This chin length bob is all natural and simple. For those, who choose to keep their natural brown hair color, extra volume and texture will come in handy. If you sweep those face framing layers to the side with a side part, a classic short bob won't be classic anymore.
French Bob with Bangs

@itsawig
Blunt bangs might be not for everyone, but a French bob surely is. If you dare try this chin-length short bob with bangs out, you will totally agree that this hairstyle makes your thick hair look completely different. Is it what you've been seeking? So what are you waiting for?
Medium Layered Bob with Baby Bangs

@sinawiejohncena
A medium bob hairstyle can visually elongate your face shape if you combine it with super short baby bangs. As for the color, it can invest some fun into your image, and the baby bangs will be a trendy accent of this bob hairstyle.
Jaw Length Choppy Bob with Side Bangs
@candiepaynt
There's nothing like a jaw length bob with finely chopped edges and wispy bangs finishing the look. In fact, the bangs here act like an exclamation point giving more character to this short bob. Thus, to change the mood of the entire look and reveal the full potential of your stacked bob, opt for wispy side bangs.
Beautifully Stacked Bob with Bangs

@kmejia.hair
A stacked bob provides you with mind-blowing volume due to its special shape. The layers at the back allow to raise this section, making it fuller visually. A slight wave will also look good on a chin length bob with bangs.
Angled Bob With Side Bangs

@indramichelbeauty
Not all graduated bob haircuts need to be super short – and this long and smooth slightly rounded bob with bangs is the proof. It is ideal if you have straight and silky hair type and look for some balance of length in your bob hairstyle. With a choppy bob like this, you can pull your hair into a bun or a ponytail.
Sliced Lob with Eyebrow-Skimming Bangs

@gabriellebassett
Meet another short bob with bangs for thick hair in French style. Thanks to the perfectly crafted layers, this wispy bob needs only the right blow dry to be styled like this. Various hats and hair accessories will work magic with a short bob like this.
Short Razored Bob with a Fringe

@joeprofita
A curly bob is always about fun, lightness, and neglecting rules. Blow dry and enjoy – this is the motto of this flirty short bob.
Short Messy Brunette Bob with Curtain Bangs

@bescene
A shaggy bob like this brings a vibe of chaos to your life. But if you're in the right mood for playing bad, just add some hair texture with a texturizing spray, which will make a magic transformation to any hair type.
Super Short Bangs with Pink Highlights

@bescene
Have you imagined pink highlights differently before seeing this picture? Yep, you can go far beyond a typically highlighted wavy bob image. This dirty pink and yellow blend will look really outstanding both on straight and wavy bob.
Messy Lob with Side Layered Bangs

@bagriyaleksandr
A flat iron is all you'll need to style your side layered bangs this way. Go through the hair with a comb, next follow the same route with a flat iron, and slightly wrap the ends up.
Perfect Bob with Bangs for Fine Hair

@linethmm
A rounded bob with bangs for straight hair type is the short hairstyles classic that will never die. Strict and discreet but also powerful and alluring – just go through your short bob with bangs with a round brush while blow-drying.
Mod Middle Part Bob with Curtain Bangs

@clarissanya
This is another option for fine hair. If you have a layered bob without bangs, you'll hardly add a visual thickness to your hair. However, with short curtain bangs, you'll make the look more airy, lightweight, and full as well.
Lip-Length Bob with Swoopy Bangs

@cliodhna.murphy
A lip-length bob will look perfect on textured curly hair or a wavy bob. This length requires a regular trim, of course. But that French charm and carelessness of the look are definitely worth all the trouble.
Beachy Waves Bob with Fringe

@charlieathaus
Typically, beachy waves are associated with natural hair color, makeup, and a carefree vibe. Although, this beachy waves bob with a fringe is quite the opposite. This outlined color is not your average bear and it makes this extreme bob sexy and seductive.
Side-Parted Jagged Bob

@macavipeluquerias
The angular fringe in this side-parted jagged bob flows so harmonically with the rest of the hair. It drastically changes the way your hair and face look as well as enhances the prominent features of your layered bob.
Textured Bob with Bangs and Root Fade

@christinemacarthur_
Textured bobs are very popular right now – this messy layered bob with bangs is super cute. The specialty is that this blonde bob comes from dark roots, which gives this playful short bob a ton of depth and texture.
White Bob with Bangs and Pastel Pink Ends

@spalashbeautybar
If you want a short bob with bangs that has a bit more of a grungy feel, this choppy blonde bob with bangs, razored ends, and pink peekaboo highlights is super cute. Ask for long side bangs that will fall playfully onto your eyes. Why stick to a boring blonde bob with bangs if you can burst it with a totally girly pink vibe!
Two-Tone Bob with Undercut

@queue_hair
In this two-tone bob, the pink and natural colors interact as well, but it's not the hair color that makes the biggest wow effect. This short bob is so spicy and savory due to the edgy undercut that underlines the back section of the bob.
Tousled Hairstyle with Sweeping Fringe

@amandamoorehairstylist
Ask for a short bob with choppy layers to add volume. Also, ask for a long sweeping fringe so that you have several options of how to style it: pull them back away off your face, style them to the side or two sides, let the fringe fall over your eyes for a totally playful vibe.
Swing Bob With Bangs

@roseandshear
This angled bob comes from the class of sophisticated and graceful hairstyles. Long bangs make the whole cut integrated so that the front part naturally blends into the back part.
Sleek Bob with Bangs for Dark Skin

@bgm_hairmakeup.dz
This sleek bob is unique thanks to the fact the fringe is extremely thick, even fuller than the rest of the hair is. It doesn't look like disharmony, on the contrary, you should fearlessly implement this cool trick to give a new vibe to your black hair.
Shoulder-Length Straight Bob with Full Bangs

@tschanzfranziska
A shoulder-length blonde bob with face-framing full bangs is a win-win option both for young ladies and for senior women. Hide your grey hair and hair loss in this magnificent charming hairstyle.
Bob with Half-Moon Short Bangs

@kawaicat_salon
OMG! Your look is gonna shout WOW with a double-level unique bob like this. The top part features trendy pinky-grey blonde, while the bottom pops up with bright yellow temples. What else can we add to this one-of-a-kind choppy bob? Consider half-moon short bangs as the final killing detail for this look.
Inverted Bob with Ombrè

@hairbyamber_ree
Try a classic ombre hue for your slightly curly bob. With this coloring technique, you won't need to visit your hairstylist every 3 weeks to keep the roots colored – just let your natural color grow out.
Medium Bob with Heavy Bangs

@salvofiletti_hairdesigner
Heavy bangs don't always mean thick bangs. With texturizing products and the right styling, you can achieve incredible texture on your short bob with bangs that fall forward.
Edgy Short Bob with Bangs

@palaceflophousesalon
If you wanna emphasize your uneasy personality, an edgy short bob with bangs may come in handy. Combine those sharp lines of the cut with the noble blonde hair color, add some accessories for the mood – and voila: your hooligan image is ready to go.
Modern Bob with Middle Part Bangs

@adramaqueenhair
This short bob is done on naturally straight hair – that's why it looks so glossy and healthy. However, to get those random waves all over the cut, you'll need a regular flat iron. Just twist it slightly when pulling through the strands to get slight waves in the end.
Razor Cut Pastel Pink And Blonde Choppy Bob

@emmaraikas
A razor-cut choppy bob will live a brand new life if you try out a pastel pink color experiment on it. By the way, it's not an option for young girls only. Just look how juicy this color looks on women over 50.
Shaggy Bob with Bangs

@noisy_head_
And here is another short bob that doesn't require any complicated styling routine. Just wake up and go. And yeah, look at those grey hairs all over the black bob – don't they look like the pure style?
Wavy Bob with Bangs

@fine_n_wavy
If you have naturally curly or wavy tresses, you will enjoy this wavy bob with thin bangs. This longer wavy bob is so pretty with its warm honey and brown balayage hues. For styling this type of wavy bob, you'll need to spritz some curling spray or sea salt spray to damp hair and air dry your tresses, tousling them with fingers for a messier look.
Wispy Curtain Bangs Bob

@joyfff
This wispy curtain bangs bob will work magic for smooth Asian hair or naturally straight hair. With lightweight touches of honey blonde, this chin-length short bob with bangs will invest in a younger look of you.
Asymmetrical Bob with Bangs

@joyfff
Give your extremely short ear-length bob a new twist: with an angular asymmetric side-swept full fringe and playfully disorganized tresses at the sides.
Round Face Long Bob with Bangs

@bamhairsalon.gr
A long bob with relaxed curtain bangs is the way to go for women with round faces. Thanks to the double-layered construction of this bob, the upper part keeps it voluminous, and the bottom part elongates the face. Another trick that makes the face brighter is the blonde highlights, framing the face.
Side Part Swoop Bob

@hairby_angel__
A swoop bob is typically asymmetrical, with an extreme dynamic transition from chin length on one side to collarbone length on the other side. Another feature of this bob is that it's all slicked and parted around the base, with no fizzy effect, no extra volume.
Chin Length Bob with Side Swept Bangs

@tomasz_haircuts_and_hair_pics_
Is it a wig or something? Probably, this is the first question that springs to mind when you see this amazing authentic chin-length bob. This incredible color mix deserves to be copied, so save the pic and go get your hair cut and dyed.
Long Layered Bob with Bangs

@jennychohair
And who wouldn't fancy following in the stylish footsteps of Hoyeon Jung? Her feature long wavy bob with soft bangs is a hair fashion favorite of the girls worldwide.
Bob with Chinese Bangs

@hairchulture
Hey, sweetie, wanna taste a rainbow bob with China bangs? We've got something really unique and outstanding to finish this collection of the best short bob hairstyles with. This bob with bangs will contrast especially wonderful when paired with dark skin color.
Frequently asked questions
Do bobs look good with bangs?
Almost every bob haircut goes really well with bangs and flatters different face shapes. Bangs in a bob hairstyle frame the face, highlighting the outstanding facial features including eyes or cheekbones.
An angled bob, a stacked bob, a lob, an A-line bob, a blunt bob, and an inverted bob work magic with bangs. Basically, it's not the point what face shape you have – the key detail of a killer look is to find the right bob and the right bangs style.
How do you style bobs with bangs?
When it comes to a bob haircut with bangs, you always have several ways to go: keep it in a reserved classic short bob manner, add some texture to the layers along with extra volume, or just get a literally careless bob with beach hair texture.
Depending on which option you choose, you'll need to use appropriate hair products and styling techniques. To learn more about them, check out this step-by-step video tutorial.
Do bangs make you look younger?
Bangs do make you look younger.
According to hairstylists, side-swept bangs soften the look minimizing the wrinkles visibility, while straight bangs take years off your appearance. A layered bob with smooth bangs that gradually integrate into the hair is the best option for fine or thin hair of older women.
How far should bangs go?
It's necessary to control the length of bangs on the forehead. The best solution for smaller foreheads is to start two inches back from your hairline – this way, your forehead will look larger. In other cases, your bangs can go about half an inch to an inch back.


@jennychohair
Conclusion
When it comes to short hairstyles, a bob haircut with bangs is unquestionably the one that celebrities and trendsetters have loved over the recent years.
Bangs do instantly transform your face and make any kind of bob haircut look cooler. Face-framing side bangs will flatter everyone, so if it's your first bangs experiment, you'd better start with this one. While more sophisticated bangs lovers, hopefully, have managed to find the unique and mindblowing bangs idea in our guide.
Remember as well that any bob with bangs will require extra concerns:
The bangs type should flatter your face shape.
Bangs require regular trim, so you'll have to visit your hairstylist more often.
You'll have to style your bangs EVERY morning.
However, the amazingly fresh look of a bob with bangs is definitely worth all those extra issues.
If your hair is short and you are looking for some inspiring images, we hope to have helped you with the choice of the hottest bob with bangs for your next trim.