Neymar is a huge soccer superstar in Brazil and Europe. Aside from his amazing soccer skills, he's known for his crazy hairstyles, ranging from big mohawks and highlights to a complete blonde dye. Check out the best Neymar hair ideaswe've gathered for you today!
Neymar Hair Cuts and Hairstyles
Neymar da Silva Santos Júnior is one of the biggest icons in soccer – and in hair as well. He is always sporting a new cut and color on the field.
And, maybe, you'll be surprised right now… But Neymar actually has naturally curly hair, which is obvious from the hairstyles he gets during the recent years. However, we all remember those incredible spiky styles, the iconic Neymar mohawks, which were perfectly straight. And yes: Neymar used to straighten his hair a lot that offered him a huge range of hairstyles to shine on the soccer field. And most fans still remember Neymar's straight hairstyles, so we'll also include them in our gallery of the best Neymar haircuts and hairstyles.
Best Neymar Haircuts
Neymar Short Blonde Cut

@neymarjr
Short Curly Mohawk

@neymarjr
Short Sides Long Top Neymar Hair

@neymarjr
Neymar Buzz Cut

@neymarjrsiteoficial

@neymarjrsiteoficial
Spiky Neymar Hair
One of the most beloved Neymar hairstyles is the spiky look. When he grows his hair out, he tends to leave the sides short and leave the top long. His hair's coarse texture allows him to spike it up. It stays in place all day long even if he is playing a game. Though his hair achieves natural volume, he probably uses a hair wax or hair gel to help spike it up when he isn't in the middle of a soccer game.
Messy Spiky Hair
Long Spiky Hair with Beard
Spiky Reverse Mullet with Stubble
Short Spiky Hair

Modern Spiky Mullet
Neymar Mohawk
The Neymar Mohawk is the soccer player's most famous look. He always seems to be rocking a variation of the mohawk, but he changes it up from time to time. When he was first in the public eye, everyone knew him with a mohawk, but he has since tried new colors and cuts. We love this classic Neymar hairstyle. Check out a few of our favorites below.
Spiked Mohawk
Long Mohawk
Mohawk Mullet
Neymar Hair – Highlights
Neymar is also known for shocking his fans with a bleach blonde do. He is no stranger to highlights, and we can see why. Neymar's blonde hair looks great, whether he is working with his usual mohawk, an undercut, or a shaved-sides style. Keep in mind, if you decide to dye your hair blonde like Neymar's, you'll need to purchase the right products to maintain it. First, get a thick conditioner to ensure your hair doesn't break. You'll also need a purple shampoo or rinse to use once or twice a week. This will ensure that your hair does not turn orange or yellow as the color fades.
Also, be prepared to keep up with your new blonde. After your roots start to show, you'll want to either get a touch-up or go back to your natural color.
Neymar Blonde Hair
Long Blonde Hair
Neymar Copper Hair
Highlighted Tips

Ashy Blonde Neymar Hair
Neymar's Disconnected Undercut
We love Neymar's disconnected undercut, whether he's completely shaved on the sides or has a bit of growth. This haircut works especially well for his face shape because the height of the hair on top elongates his face, while the short, shaved sides make his face appear slimmer. Neymar's haircut also pairs well with a bit of stubble, but if you have the right face shape, you can rock it clean-shaven or with a beard.
Shaved Sides Undercut
Buzzed Undercut
Disconnected Undercut with Bangs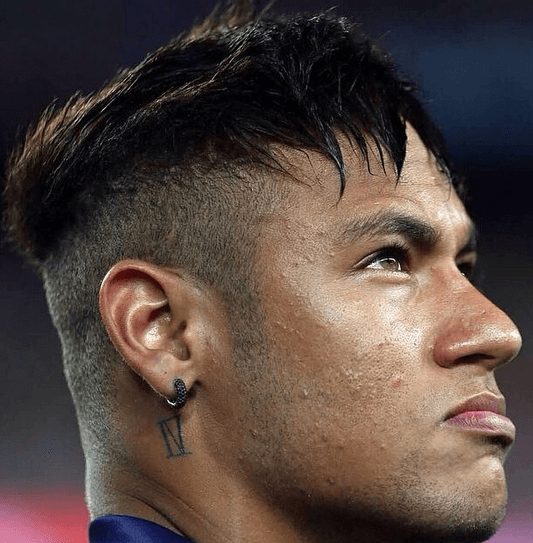 Neymar Blonde Undercut
Spiky Undercut
Bleached Blonde Undercut

Light Brown Disconnected Undercut

Long On Top Neymar Hair Cut
This Neymar haircut is one of his more grown-out looks. He typically wears this cut with a beard and shorter hair on the sides. It's a bit easier to maintain than his other hairstyles because as it grows out, you do not need to consistently visit the barber to have it touched up. This Neymar cut works best for guys who have thick, straight hair like he does, but it can also look good if you have curly or wavey hair.
If your hair is lacking texture, try using a hair clay or dry texturizing spray on damp hair and blow-dry.
Long On Top Mullet

Shaved Sides Long Top Neymar Haircut
Messy Haircut with Chinstrap
Cropped Sides Long Top Haircut
Spiky Long Top Haircut
Hard Part Long Top Haircut

Medium Length Neymar Haircut

People all over the world admire Neymar for his skills on the soccer field and his hair. So, which style is your favorite? From mullets to mohawks, undercuts, and platinum blonde fades, Neymar always keeps us on his toes with his hair. If you liked these cuts, then you're sure to enjoy Cristiano Ronaldo Hairstyles.