60 Popular Haircuts & Hairstyles For Women Over 60
Over the years, your beauty routine has grown with you. You've likely tested the waters with new hair cuts, colors, and products to figure out what works best for you. So, whether you're looking to chop off your long locks or simply freshen up your current style, there are plenty of hairstyles for women over 60 that are both gorgeous and age-appropriate.
Hairstyles for Women Over 60
Here are 60 hairstyles and haircuts for women over 60 to consider when you book your next visit to the stylist.
1. Asymmetrical Pixie
This hip and stylish cut is idea for busy ladies, and it does a lot to take years off the face. Pixie cuts come in a lot of different styles so be sure to let your stylist know that you want it quite a bit longer in the front if going with this particular look.
2. Before & After
We show this picture because it shows just how dramatic change you can get a cut and style. This lady looks at least ten years younger in little time. A light makeup application completed this look, and the model is almost unrecognizable from her before picture.
3. Blunt Razor Bob
This rounded bob with bangs sets off the eyes and frames a gorgeous smile. A bonus with this medium length hairstyle is that you have enough length for an updo.
4. Classic Updo
Long hair sometimes needs to be tucked away, and this look shows that you can look elegant at the same time. There are a lot of hair accessories that can make an updo a lot easier to get when you are in a hurry.
5. The Emmy Lou Layers
Emmy Lou Harris is a fashion and music icon. Her shaggy silvery cut truly brings out her beauty. This is a cut that can be done by any stylist with no hassle, and it grows out well if you want more length at times or just don't get to the stylist often.
6. The Fonda
Jane Fonda knows how to rock this textured short highlighted cut. This style will help get you through the work week without a lot of time spent on styling.
7. Grey Highlight Curls
A curly vintage look is classy, and we love the variation of color in this look.
8. Long Straight Low Pony
A low ponytail keeps hair back, and we love the natural flow of this mostly straight look. Braiding the hair is another pretty way to get a different look.
9. Dark Grey Tips Long Grey Waves
Big hair can be a lot of fun. This look is truly age-defying and fun. A great look for those with thicker hair and that like some edge to their style.
10. Major Chin Length Curls
Big well defined highlighted curls look simply elegant all the time.
11. Jenner Pixie
Kris Jenner's textured bob is one of our favorite hairstyles for women over 60. This mom knows a thing or two about hair and this well-done pixie does a lot for her face.
12. Kinky Natural Curls
Letting hair have some natural gray and white in it over the years can really set it off as you can see from this kinky curly look.
13. Long Fab White Blonde
This style is almost a titanium color and the slight curl at the bottom shows off the fantastic volume.
14. Long Silky Soft Gray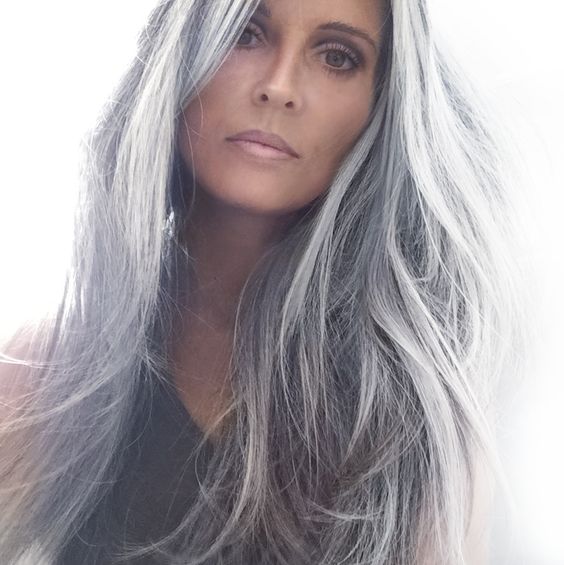 These layers are something you can just get lost in.
15. Natural Long Center Part
A basic yet gorgeous all the same look.
16. Long White Curly Elegance
The Hollywood bombshell look can be had at any age.
17. Lots of Layers Blunt Cut
Soft layers and bangs will frame your face in elegant style. This is one of the most suitable hairstyles for women over 60 with fine hair.
18. Marcel Wave
This is another old Hollywood look that is fabulous when worn by older ladies that want glamor.
19. Messy Layered Shoulder Length Curls
If you have a lot of natural waves it is sometimes best to just go with it and let your beauty shine.
20. Christie Brinkley's Long Side Sweep
It is hard to believe that Christie is over 60. Full, voluminous curls like these look especially beautiful with blonde hairstyles.
21. Helen Mirren's Bob
If you are over 60, it pays to keep up with Helen Mirren if only for her great hairstyle choices.
22. Ombre Layers
This well-done ombre shows that older ladies can rock this trend with no problems. This is one of the best hairstyles for round face women because the long layers will elongate your face.
23. Tousled Very Short Pixie
The pixie doesn't require a lot of maintenance, and it looks great on any face shape.
24. Razor Cut Red Pixie
A deep burgundy pixie cut with an edge looks good on a lot of women.
25. Faith Hill's Bob
Faith Hill has never been afraid of short hair that we love this mid-length layered bob and bangs on her.
26. Tapered At Nape Heavily Razored Bob
This cut has a bit more length to it than a lot of similar looks. The jagged lines create a youthful look for ladies over 60.
27. Round Asymmetrical Bob
A rounded short cut makes your smile truly shine. Rounded bobs are popular because they hug the face so closely.
28. Hip Bob
The overall look of this cut is super hip style. We love the sunglasses too! If you need to this style easily transitions to an updo.
29. Grey Curly Ombre
The curl pattern of this look and the contrast between brown and gray is lovely.
30. Opal Undercut
Opal hair is something those that are naturally gray or white haired should consider bringing their look up to date. Undercuts keep thick hair manageable.
31. Short Bob With Bangs
A good bob for those with thinning hair.
32. Short Blunt Bang Ear Length Bob
This superior face framing chin length cut with bangs does a good job being stylish yet manageable.
33. Super Thick Bob & Bangs

Very thick hair does well with a blunt cut bob like this one.
34. Heavily Layered Platinum Bob
This look is easy to style and stunning, and you get it all in one cute little cut! Just 5 minutes of styling in the morning is about all you need.
35. Shaggy Bob
Diane Keaton always seems to be wearing a cute bob these days. Here flared out layers are simply fun and pretty at the same time.
36. Rounded Sleek Bob
Sleek chin length hair that turns in to frame the face makes for a pretty youthful style.
37. Super Short Two Tone Red & Blonde Cut
This red and blonde look is hip and fun yet very flattering.
38. Tousled Side Swept Longer Pixie
It is hard not to love this longer and more textured take on the pixie cut.
39. Very Short Round Highlights
This Bob does well for ladies with fine hair.
41. Sharon Osbourne Hot Red Pixie
If you like the style that takes it to another level than look no further than Sharon. If red is not your color, then consider a deep black blue or dark burgundy color.
42. Short Texture & Volume
A cute little side sweeps for those that want to keep it simple.
43. Shoulder Length Choppy Layers & Blunt Bangs
The location of the layers sets off the beauty of the face. An occasional trim is all you need to keep this style up besides a good weekly conditioner.
44. Shaggy Layers & Feathered Bangs
Layers and bangs seem to be essential for a lot of stylish looks.
45. Stacked Side Swept Pixie Cut
This pixie cut combines more than one color of blonde for an outgoing look that is easy to manage.
46. Tousled Little Shaggy Bob With Bangs
The waves and shaggy texture of this cut combine with the bangs for a flattering and youthful cut.
47. Shoulder Length Violet Grey Lob
This color is just amazing. You can have a lot of fun with a more pastel look when it comes to your bob. Soft pink, violet, blue, and yellow tone are all possibilities.
48. Side Swept Soft Basic Bob
Soft contours and naturally gray hair are stunning together. This brings out gorgeous eyes and skin.
49. Just Above The Shoulders Side Sweep
This professional yet classy cut is long enough to give you the option of an updo or a half up style. If you are out in the working world still, this is a go-to look.
50. Long Layers & Side Swept Bangs
A classy side sweep and long layers make an ethereal look for long hair fans.
52. Short Spiky
Short and spiky cuts can be a lot of fun, and they are simple to maintain. For added drama, you can get some highlights added in. Styling is as simple as a little bit of hair balm or wax.
53. Stacked Layers & Highlights
This stacked bob has a lot of texture and sophistication. The asymmetrical lines are hip and stylish.
54. Ms. Welch Long Highlight Layers
Raquel Welch defies her age with impeccable style with this long and layered look. Ms. Welch has a lot of styles that are captured in her best-selling wig collection.
55. Tucked Bob
A cute tucked behind the ears bob is all a lot of ladies need for a great new style.
56. Face Framing Razor Bob With Bangs

This look means you will never have to worry about having a look that doesn't have a lot of texture and drama to it. Gorgeous highlights and well-cut bangs emphasize pretty eyes.
57. Very Long Silver Waves
Just because you are over 60 doesn't mean you cannot have long luxurious hair. Just be aware of the importance of conditioning regularly and getting ends trimmed to avoid a scraggly appearance.
58.Wavy Swept Away Chin Skimming Cut
A classy bob with waves and highlights should always be considered for your next look.
59. Platinum & Red Asymmetrical Bob

This is a cute bob is one of the most practical hairstyles for women over 60. A rock n roll inspired streaky look is gorgeous on older ladies if the right colors are used.
60. Silver Super Volume Silver Sheen Light Curl Bob
Silver hair is downright gorgeous when done well. This Bob has an insane amount of volume and the wavy swept over bangs make one think of old Hollywood.
Hairstyles for Women Over 60 - 5 Quick Tips
Over the years everyone's hair changes in some ways. Some styles may be better for thinner hair than others, or you may decide that you can't deal with very long hair anymore. Here are some tips on hairstyles for women over 60:
● Don't be afraid of fun and fabulous color. There is no reason older ladies cannot wear some of the hot color trends out there.
● Be open to change when in comes to your hair.
● Consider wigs and extensions for changing up your look with ease or combating thinning hair. There are so many wigs and extensions out there that are affordable.
● Visit your stylist at least a few times a year. Maintaining any look is going to require doing a little something once in awhile. A good stylist can also help you decide on different looks over the years.
● Use quality hair care products but not too much of any one thing. A lot of the looks described in this post are of a shorter length. There is a tendency to use too much product on short hair, and this can lead to building up that weighs hair down.