50 Top Short Hairstyles For Women
Short hairstyles for women can offer a lot of advantages. We have looked through hundreds of hairstyles to find the best short solutions for busy fashionistas and career women. These looks are right for women of all ages and are easy to style and maintain on a normal budget and trips to the salon.
1. Pixie Cut
Those that are not afraid to show off their face should consider the pixie cut. This is a classic go to for the fan of short hair and low maintenance.
2. Asymmetrical Chin Length Cut
These cuts were once popular in the 1990s but they are clearly here to stay. Ask your stylist to start at the chin and get shorter towards the back but be clear just how short to go.
Brown Balayage
This chocolate, caramel, and blonde look is gorgeous and adds a lot of beauty to shorter styles. While a good colorist goes above and beyond to avoid damage, shorter hair is always going to appear to be in better shape than if you had longer.
Blonde Balayage
It is a great thing when stylists realize that there is a whole world of blonde out there than can be made to look oh so much more natural than the bleach blonde of the past. 
Wild Color Ombre
There is not as much holding women back when it comes to wild colors now. Having two toned hair with one being a fun color can be majorly stylish.
Short Razor Cut
Choppy layers are key to this look. Your stylist might use what is called a razor comb to get a lot of the texture. This handy little device can help you keep the look at home and extend the time between visits.
Very Short Curls
If you don't like how much work you have to put into managing your curls, then this cut will be an awesome solution to your everyday styling woes. 
Undercut With Design
Having the ability to express your creativity and unique style regularly can be a great thing. The only thing you need to think about is what design fits you right now!
Marcel Waves
This old fashioned look screams vintage Hollywood glamor. If you start out with very short waves, you can keep the look as it grows out into longer yet still short waves. 
Wavy Chin Length Cut
This is a sassy cut that is seen a lot on celebrities such as Keira Knightly and Jennifer Lawrence. Younger and older women alike can pull this off.
Textured Side Swept Bangs
A side sweep adds sexy style and textured layers draw you in with this look.
The Marilyn Pin Up Above The Chin Cut & Body Wave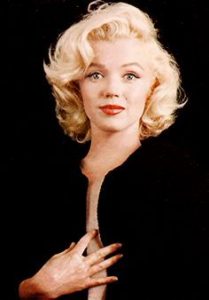 The ultimate sexy bombshell look is easier to achieve than you might think. A slightly layered cut and a body wave are what to ask for at the stylist.
Straight Ear Length Career Cut
Usually worn tucked behind the ears, this boyish cut is great for those that want practical style.
Rounded Face Framing Highlights
Face framing rounded layers with highlights have a big impact and are great for all face shapes.
Spiky Pixie
This is the pixie cut on wax. For this get a pixie cut that has some extra layers and maybe a bit extra length on top. Use wax or gel to get the spiky look you want.
The Faux Hawk
This is a good look for those transitioning from a pixie to a different look. For a lot of edges, add some color streaks with temporary color or colored styling products.
Curly Pompadour
We love how the curly pomp can be so eye-catching, and it helps out with those of us that are trying to control thick or more unruly curls.
Super Smooth Chin Length
Smooth is hot, and for those that are working long hours, this is a look that will make sure you can not look frazzled when it matters a lot. 
Two Tone Undercut
More than one color of hair is not as uncommon as it once was. If you can't make up your mind then why not go with both of the colors you like the most?
Wavy Wedge Cut
Wavy hair always gives you a just back from the beach look while a stacked back shows off layers. 
Bleached Out Pixie
This punk look is sure to stand out, and you can add fun color anytime. This is a daring look and not necessarily one you want to rush into unless you had short hair before. 
Tapered Neck Razor Cut
A short cut that covers the neck some gives you a look that while short, seems to have more coverage and texture.
Seeing Red Pixie Cut
Red hair is go-to for a lot of women over the years, and when combined with a well done Pixie, you have an artsy look that commands attention. 
The Barely There
If you want a clean slate with your hair, then this is an option. Those with great facial structure can wear this style easier than the rest of us.
Highlighted Tips
This is not quite ombre, but it does add a splash of color that can add a lot to a pretty basic short cut.
Streaky Highlights & Lowlights
A more streaky color look is trending at the moment. Just make sure you don't try to do too much of this at home because it requires more skill than you would think. 
Hot Color Short Cut
If you have ever been curious about blue or pink hair, then go for it because the stigma is largely gone. Older and younger women alike are seen a lot with edgy color. 
Short Locks
Dreadlocks are a commitment but not as much if they are just kept short. Keep in mind that you will have to cut hair very short to change out this look when you are through. 
Slicked Back Short Cut
Slicked back always makes you look more put together. This draws attention to the face front, and center so great makeup and facial features make the look easier to achieve. 
Bob With Pastel Color
Pastel shades are a good option for those with lighter hair that find bold punk colors to be a little too much for them. 
Side Swept Bob With Curled Ends
Make sure to ask for a bit of extra length to be left to accommodate the curls on the ends when you get this look.
Quick Retro Roll
Some vintage roll looks can take more skill and time. This quick and easy look for bobbed hair can be adorned with gems or a flower or anything else you can think of and it takes just a minute to achieve.
Spiked Up
Spiked up all over hair is fun and bold and you can make it your own with custom color.
 34.Medium Short Platinum Curls
Platinum hair is always striking, but the bleach can be hard on hair. It is easier to maintain bleached out short looks than longer ones. Medium short curls are elegant.
Red Dream Bob
If you have never considered going red, then this should be your inspiration. What a stunning take on red hair!
Two Tone Curly Ombre
While this particular look is very much on the long side of short hair, you could easily go a little shorter and still get a lovely look. The color is going to be fun to play with. 
Textured Tip Bob With Side Swept Bangs
 
The Mahogany Bob
There is a lot to love about this fabulous hair color and rounded bob cut. The volume created is fantastic, and the color shows how much red can do for dark hair.
Spiky All Over
This asymmetrical cut has some in common with the pixie but the layers are left longer, and there is many more of them. A stiff styling wax can give you all the hold you need. 
Short Flowing Honey Cut
This textured and tapered beauty is perfect for older ladies that want style and body. 
Bowl Two Tone Undercut
Rihanna's look is retro late 80s or 90s, and she has the face to pull it off. This short cut is very manageable to get with natural hair.
Faded Pink Ombre
This is a very pretty and slightly edgy look. If you like the mermaid style color you are seeing on a lot of women but want a more subtle look, then this is it. Leave this color to a professional if you want a true ombre look as the dye can be very intense on blonde hair if not applied correctly.
Red Short Curls
Redheads with gorgeous skin and eyes could do a lot worse than this look. The intense red shade will take some maintenance if you want to keep it that way for long. 
Best of Both Worlds
If you are daring and want a sexy new look then this short meets medium cut with dark red is sure to please. You can also add in an undercut with a hair tattoo stencil design for a look that is all you. 
Ladies High & Tight
This boy next door style look actually can be lovely on women with good facial structure, and that like to wear bolder makeup.
46. Black & Silver Stack
This gorgeous combination of color is a lot shorter in the back. While a lot of asymmetrical cuts only have a slight taper, this takes it to another level of style.
Short Curls With Super Short Square Cut Bangs
This is an interesting curly take on the pixie cut. The square cut fringe makes this a very different cut than the typical short women's looks you see. Those with square-shaped faces should avoid this look, but round faces could benefit a lot.
Platinum Blonde Big Curl Pomp
This is a breathtaking style that while short it looks like a finely done updo. If you want daring an are willing to go super short on the bottom, this is a unique hairstyle that will be on the cutting edge for awhile.
Brown & Strawberry Blond Super Layered Nape Cut
A skilled hairstylist can get this look for you, but the fine tapering at the bottom is going to take some time to get right. We love the honey tones of the highlights and how precisely they were applied.
Square Bob With Short Blunt Bangs
A low-maintenance bob that puts your face and neck on proud display. Some highlights or streaks of temporary color can help enliven this look for special occasions.
Short Style Savvy
These are just a few of the fabulous looks you can get with short hairstyles for women. If you are a fan of shorter locks, then you should make sure to try out a new look every once in awhile.
When it comes to coloring your hair, it is important to remember that there are a lot of shades out there beyond the common ones you see.
Short hair is also something to consider if you are a longer haired lady that wants to get rid of damage and grow out healthier natural hair.
Braids and other styles are still achievable with hair that is ear length or below so don't give up on the easier things you can do to change your look at times.
Visit our top 50 short hairstyles for men article