84 Sexy Hairstyles For Older Men
Your changing hairline and salt and pepper doesn't have to be a bad thing by any means. In fact, it might even play to your advantage as you explore the top hairstyles for older men.
Hairstyles for Older Men
As a man ages, he may have trouble finding a suitable hairstyle. Your hair may change color and texture. What worked in your 30s might not be an option anymore. Even your hairline might be a different shape. Most hairstyles for older men happen to be shorter. That's probably because about 65% of men have noticeable hair loss at age 60, according to Statistic Brain. Short haircuts create less of a contrast between bald areas and spots where hair is thick. Therefore, you'll end up with a smoother, more blended look.
However, that doesn't mean that you can't wear your hair long. If you're one of the lucky ones who moves past mid-life with lush, thick hair, you have some more options when it comes to hairstyles for older men. Here are some of our favorites.
Slicked-Back Widow's Peak
Slicking your hair back can make you look more distinguished. It's also one way to manage medium-texture hair. Don't try to slick long pieces over shiny scalp. If you have a bald spot that isn't well covered by the hair you do have, go for a different hairstyle altogether. If your hair is too fine, slicking it back could make it look thinner. Men who don't like the feel of stiff gel can try using a pomade to create this wet look.
Messy Caesar
The Caesar haircut brings the front layers down over the forehead. However, those pieces are too short to be called bangs. Keep them from looking too blunt and straight across by mussing up your hair with some clay or putty. Having the ends cut with a razor or vertically with scissors will also prevent your hair from creating a line across your forehead.
Ivy League Alumnus
It's no mistake that we have another photo of George Clooney here. He demonstrates the ideal haircuts for middle aged men. The Ivy League is a hairstyle for clean-cut coeds. It's marked by a side part and little texture. That haircut grows up when you turn 40. Keep it a little longer, and brush it up a little bit at the top of the head to disguise any thinning areas if you can.
Mussy, Not Fussy
When in doubt, do less. Let your hair air dry after running your fingers through it a few times. You can add some texture spray for a little hold once your hair dries. This style looks better when it's more windblown. It allows your natural texture and color to dictate the style. That's what middle age is all about, isn't it?
Spiky, Short And Smoky
Let your color speak for itself, even if you're going a little gray. Have the top cut a little longer than the sides, and spike it up with a soft-hold product, such as a mousse. Direct the sides of the hair towards the front of the head to blend everything together.
Curly Windblown
Curly hair usually looks thicker even if you're losing some of it. Flip the front layers back, and gradually cut the sides and back shorter than the top. Keep the sideburns long to balance out the movement and texture above.
James Dean
If your hair has some wave to it, try going even longer than you're used to. This style still looks professional and definitely doesn't border on long hair, but there's some longer length to it. This is an ideal haircut to get if your busy lifestyle doesn't let you get back to the barbershop very often.
Man Bun With Fade And Full Beard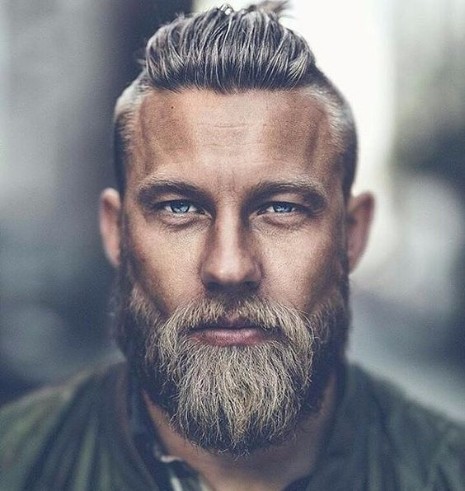 The hair on top is left long so that it can be pulled back into a high bun. The sides are faded into a very short crop. The beard is full, but it's tightly groomed by the cheekbones. You can let your hair out of the elastic for an even more rugged look.
The Brief
There's not much to this haircut. Have it trimmed with scissors so that the ends aren't too uniform. If you've already gone gray, this style will make the color stand out with confidence.
Frosty Temples
If you're going white at the hairline, comb your hair back at the sides. You'll exude wisdom and experience.
Silver Fox Facial Hair
Sometimes your facial hair betrays your age. Your head is the same solid color that it's been since you were born. You try to grow a beard, and it comes in like salt and pepper. This is not something to be afraid of.
Silver Fringe
Hair that goes in every direction looks great when it contains a tinge of every color, including white. If you leave it just a little long enough, you can pull the front forward, slick it back or get height with a brush up.
Surfer Cool
You don't have to ditch the favorite hairstyle from your heyday just because you're getting older. Just keep it a little shorter, and embrace the 5-o-clock shadow.
The Anderson Cooper
Anderson Cooper's hair always looks the same, and it always looks great. He keeps it short, with the front pushed up and to the side. This fills out a receding hairline without disguising it. Obviously, there's no disguising the fact that he has gone gray.
Stylish Texture
You have nothing to hide when you have silver hair and a receding hairline. Just get a short/medium-length cut, and bring out the texture with some hair clay.
Short And Curly
Keep super thick, curly hair shorn close to the head. A stubbly beard doesn't hurt this look at all.
The Vintage Wave
Patrick Dempsey's hairstyle hasn't changed much in the past few decades. That's ok, because it works for him at any age.
The Barber Cut
This is a play on the Ivy League haircut, with a longer top and faded side. Have the part shaved in for a style that stays even when you've just woken up. The beard adds a sense of ruggedness to this clean-cut style.
Funky Pompadour
Middle aged men can still be hip. A pompadour with short sides and a medium-length beard gives you some urban appeal.
Surfer Shag
Keep your hair long all around. You don't have to chop it off just because you've hit middle age. Lop it off just below the ears, and add some layers. Part it just off center.
Totally Buzzed With Short Beard
Dark hair is striking even if it's thinning when it's buzzed close to the head. Add a short beard for an intense look.
Long Top With Glasses
You'll ooze a mixture of hip and smart when you keep your hair floppy on top and set of the look with thick glasses. With a shaved face, you'll look boyish. With some stubble, you'll look like you've been around a bit.
Medium Waved Top
This haircut has some structure, with short hair at the nape and by the ears that grows into a modified wedge shape as it goes up. The long top flops over to highlight the eyes.
French Braid
Don't be afraid to braid your long hair. When everyone has it in a bun, you'll stand out. You're old enough to be secure with your hairstyle choices anyway.
Silver Bearded Fauxhawk
Grow a fauxhawk by keeping the top long and styled toward the center. Fade the sides down. If you have a beard, you'll need to blend it into the short sideburns.
The Mob
Can a man really have a bob? Sure, as long as you cut it correctly. Keep it layered and ragged at the edges, and have the shortest lengths hit just below the ear. A beard keeps this cut from looking too perfect.
The Brush Up
Emphasize the dark hair at the top of your head by brushing it up. Give it lots of movement by staying away from the sticky styling products.
Isolated Author
This is reminiscent of a writer who spends a lot of time alone in his loft. It's a gentlemanly style that's a little rough around the edges.
The Lumberjack
Show off your burliness by going long with the beard. You may want to stay away from this look if your head is very long and narrow.
Blond Bangs
You don't have to pull your hair away from your face, especially if your hairline is receding. Keep your hair long and choppy for a look that's somewhat adventurous.
Messy With A Goatee
A tousled look with a short goatee, like Robert Downey Jr's style, is charming at any age.
Short Crop
Cut hair shorter than an inch long to enhance its thickness and make it look like you're not trying to hide your bald spots.
Clean Style
This is the same hairstyle that you've probably had for a long time. It's a traditional men's haircut that looks good no matter how old you are.
Mohawk With Fade
Long on top and in the back, with a fade at the ears and temple, this Mohawk shows that you're not afraid to show off your style as you age.
Curly Mop
Lots of long curls on top create height and width on a narrow head. This relaxed look shows that you're not taking life too seriously.
Lots Of Hair
If are lucky enough to have a full head of thick hair, let it grow to a medium length. This classic style will take you through the next few decades.
Long Top Wave
This classy haircut is longer on top. You can part it in the middle or to the side. Alternatively, just run your fingers through it for a casual look with no distinct part.
Well Groomed
You can be casual but clean cut with a thick, well-trimmed beard and a tidy haircut. Add a little edge by spiking up the top with some texture.
Throwback Vintage
A single-length long haircut and a full, '70s-style beard can look laid back in today's environment of overly styled hair. It won't look sloppy if your style of dress is pulled together.
Perked Up
A wide, masculine jawline is balanced out with thick hair on top of your head. Keep it about two inches long, and direct it upwards as it dries.
Pulled Back With Sunglasses
Hair that's pulled back into a bun can disguise thinning areas. Pop on some sunglasses to up your cool factor. A slightly unruly beard makes this look even more casual.
Wispy Ends
This is another look that's ideal for thinner hair. Keep the top and sides slightly long, and blow it all dry in one direction. Don't use a product that will weigh it down. Instead, work a texturizer into the scalp for volume.
Upward Curls
Keep your curly hair slightly long without making it floppy. If it's thick, a length of 1 to 2 inches will help it stand on end well. Taper the sides down to the ears.
Reach Great Heights
Dark hair can be parted on the side, with texturizer worked into the top. Dry hair upside down for maximum height, but don't use a gel that will make it spiky.
White, Long, Pulled Back
White hair may appear thinner as you get older. You can keep the top long, with the front strands even longer than those in the back. Direct the hair away from your face. Have the sides chopped shorter, and grow out your white beard to blend everything together.
Two-Toned
As your hair turns gray or white, it can get wiry. This can be hard to handle at first, but it creates texture even in straight hair. Keep it short, with the top slightly longer. Some white at the sides and the temples looks stately. So does some salt-and-pepper scruff on the face.
Rugged And Beachy
If you spend a lot of time outdoors, you don't want to worry about what your hair is doing in the wind. Keep it about an inch long at the top and the sides, and have it shaped to complement your face. Messy texture always looks easygoing. Spraying salt water in your hair can help you maintain some spikiness without the stiffness of gel.
Long Hair
You can still have long locks after 50. Focus on keeping your hair healthy, and have it cut to create volume. If it starts thinning too much or looks too flat, you might consider cutting it shorter so that it's not weighed down.
The Neat Pompadour
It seems like many millennials are getting a pompadour nowadays. However, you won't look out of place if you want to try this classic style. Keep it neat, and limit the undercutting if you're just not that hip anymore.
Textured Layers
If you have fairly thick hair, you can have lots of layers cut in with some significant length. Use a matte paste to mess up the strands and keep them from looking too perfect.
The Long Ponytail
If your long hair hasn't fallen out, you might as well flaunt it. Pull it back into a rugged ponytail like Sean Connery. It's a classic for older men that will never go out of style.
Long Wavy Texture
As you get more grays and added texture, your hair may fall differently. Grow it to the nape of your neck, and flip the front away from your face. You'll look like a philosopher.
Long Layers
Mick Jagger knows what's up when styling older hair. He realizes that he might not be able to get away with an extreme rock-star look. However, he retains some edge by keeping a relaxed look. The ends are thinned out, the waves are allowed to flow in whatever direction they choose, and the haircut matches his sense of fashion.
Traditional Caesar
This is the same haircut that George Clooney put his mark on for quite a long time. It's short, and the top is styled flat and directed towards the front. This style tends to be neat and refined. However, you can give it some edge by spiking it up with some hair product.
Straight Chop
Stick-straight hair looks great when it's cut the same length all around. Give it a soft part, and have the ends thinned out so that they're not too blunt. Keep the style flat all around your head.
Undercut
If you want some more edge to your style, you can have the sides undercut. Keep the top longer, and spike it up or wear it back as a pompadour. Trim your beard to match the length of the hair at the sides and back of your head.
Short Spikes
Many mens' haircuts retain some length at the top. This isn't ideal for you if you have a long, narrow face with a prominent chin. If you do, keep your hair shorter. You can create interest by working wax into the ends and spiking them in different directions.
Tidy Undercut
This style is perfectly groomed. There is plenty of thick hair at the top of the head, and it's cut to a medium length. The edge of that contrasts sharply with the fade on the sides. Even though the beard is long, it's meticulously shaped to maintain that neat look. You have to make sure that the beard is tapered well into the sideburns so that it doesn't look too wild.
Short And Tousled With Sharp Moustache
We see so many beards on older men these days. However, you can go clean shaven with just a moustache above the lip. A relatively short 'stache looks good with short, tousled hair. There are many trendy styles for moustaches in 2017.
The Buzz
Buzzing your hair is easy to do. You can go to the barber shop, or do it at home. If you're already balding, you can try keeping your hair cropped close to the head to just go with it.
Slick Cropped Curls
If you crop curls close to your head, you'll have a textured look that can appear thicker than it actually is. Keep your curls tamed with a moisturizing hair product that adds some gloss.
Blown Back
Give your hair volume by blowing short/medium-length strands up and away from your face. You can even do this if you have a receding hairline. It's best to show it off instead of trying to disguise the obvious.
Choppy Taper
The traditional mens' haircut gets a short take with a thick top and well-blended sides. This style is balanced, so it grows out nicely in between cuts.
Keeping It Real
If you have lush, thick hair, keep it longer while you still can. Style it away from your face to show off the salt-and-pepper color at the temples.
One Wave
If your wavy hair is thinning, you might not have a lot of texture. Give the top some body with a slight wave.
Lots Of Crop
Significant choppiness on the top of the head can create an aura of thickness. Work hair powder or dry shampoo into the roots to prevent this hairstyle from falling flat.
Center Part And Long Layers
Dark hair stands out from the crowd as you get older, so you might as well make the most of it. Long layers frame the face and look great with a beard or goatee. This is one of the trendiest hairstyles for older men.
Thin And Refined
Your thin, soft strands look laid-back when you just let them be. Keep them super clean, and they won't lie flat on your head.
Tanned And Gray
Kevin Costner has an easy-to-maintain men's haircut. It's short, and there's a subtle part. The front is directed upwards, and the rest of it is textured for a low-key look. His glowing skin makes him look even more rugged.
White Dreadlocks
African Americans with long hair are stunning with graying dreadlocks. You'll have the most unique hairstyles for older men.
Dark And Sleek
Not every older man has gray or white hair. Maybe you still have that thick shock of a black mane. Enhance it by slicking it back gently with a pomade. You can leave some height at the top. This looks dapper with a smooth shave or a short beard.
The Gentleman
A traditional tapered cut that's parted on the side and brushed slightly to the back works with almost every hair type and color. It's a gentlemanly look that's traditional but not boring - definitely one of our favorite hairstyles for older men.
The Groomed Beard
Notice how this guy's beard stands out? His hair is nondescript. The short cut is shaped nicely to his head, and he's not trying to hide his hairline. The short, gray-and-white beard looks sharp with his tailored suit.
The Bun
Don't be afraid to wear a man bun at any age. It can still be a professional, business casual hairstyle, and it can make you look younger. It's extremely masculine when paired with a thick, textured beard that's a little rough around the edges.
Short And Natural
Denzel Washington wears his curly hair cropped short. It's thick, so it has great texture even as he gets older.
Peppery Texture
Richard Gere may have stopped aging sometime in the '90s. His look is one of the best hairstyles for older men. Maybe it's because he has such great hair. To replicate this style, cut it short. Have the ends of the hair textured. Don't wash it too much, or it might stick straight out. Hair that's slightly dirty will hold its bedhead style better. You can add mousse or texturizing spray if it starts to look too feathery.
Round And Undulating
This hairstyle shape hugs the curves of the head. It's great for framing a square face or rounding out a narrow one. The sides aren't too short, and the texture is allowed to do its own thing. Lots of layers prevent it from getting flat. This haircut is not tapered as it gets closer to the neck.
Boyish Lop
You've probably had a haircut like this at some point in your life. The lucky thing is that you can have it back. This is one of the most traditional hairstyles for older men. Longer fringe in the front is worn to the side. If it's not too thin, it will cover some of your receding hairline.
Tall, Dark And Handsome
This handsome look emphasizes dark hair. Lots of layers are cut into the thick top, and the sides are shorter but not faded. A little sprinkling of gray hair actually prevents this style from looking too uniform.
Short, Shiny Shave
If you've gone bald and you have a shiny dome, there's not much you can do about it. Don't let the hair around the edges grow too long. The thicker it is, the more it will contrast from your scalp. Cut it close to the head for a refined look that's easy to maintain.
Curly, Off-Center Part
Curly, thin hair has an off-center part to give the illusion of volume. If you part the hair too far to the side, the top will look flat. A slight taper and sideburns that come to the center of the ear balance out this style.
Soft And Relaxed
Soft hairstyles for older men with a little taper works for thick hair that has lots of different colors in it.
Modern Spikes
Lots of texture works for hairstyles for older men. Get the ends razored for this spiky effect.
Distinguished Mane
A medium-length cut is styled at a diagonal to bring out the distinguished widow's peak and lighter temples. It's a classic look that retains its youthfulness with a little bit of messiness.
Hairstyles for Older Men - Tips For Thinning Hair
What can you do to prevent thinning hair as you age? WebMD explains that there are some treatments that can help prevent hair loss. Others may even help hair grow back. You should probably get advice from a medical professional if you choose to go this route. You can avoid having to mess with hair growth products simply by getting the best hairstyles for older men.
And if you're not over the hill yet, why are you reading this article? Find out what are the best hairstyles for millennial men. If you're over 35, don't stress. Focus on Style claims that 50 is the new 30. When you've hit middle age, you don't need to concentrate so much on what's trendy. Instead, focus on what works with your hair type. As long as you have confidence, you can rock just about any hairstyle.