A wedding is a cause for great joy and celebration, but if you've ever been a bride-to-be, you know all the little details can be stressful.
From finding the perfect wedding dresses and shoes to choosing the right black wedding hairstyles. We're here to help make the planning process a bit easier with these stunning wedding hairstyle ideas for black women.
From long loose curls to short hair pixie cuts and weaves, from a box braids updo hairstyle to a low bun elegant style – there's some wedding inspiration for every bride, bridesmaid, or wedding guest.
Wedding Hairstyles for Black Women
Here we have 43 wedding hairstyles for a black woman that will ensure your African hair looks its best.
1. Barely There & Veil
@afrobridecleveland
Plenty of ladies chooses to shave all the hair very short at one time or another. This look can be attractive with contrasting hair color and a veil of your choosing. A stylish hat and veil combination is another option that is easy to do.
2. Big Bun & Braid
@solis.hairs
This huge low bun makes the ultimate curly updo for a wedding. The large braid wrapped around hides anything that is helping hold all the curls in the bun.
The result is an almost impossibly perfect bun for a black woman that will hold up throughout a long day and evening.
3. Big Luscious Shoulder Touching Curls
@_e3sh
These cascading curls have some fabulous volume and are super glamorous. To get this long hair, you can use a weave or extensions or even a wig if you don't have the natural volume.
This might just be a look that you want to keep after the wedding day.
4. Big Curls & Smooth Side Sweep Updo
@weddingsonpoint
This sweet updo is so lovely for a bride. The well-defined curls, side sweep, veil, and a ribbon hair accessory make for a stunning wedding photo. All eyes will be on you with this look.
5. Full Braid Updo
@kaiyinbeauty
A braid is one of the most basic and beautiful things you can do to get a hot wedding hairstyle. This side-swept big braid is romantic, and although this braid is somewhat plain, you can braid a lot of different ways and incorporate all types of gems, pearls, etc. into your look. A bridal tiara can also be used to add major sparkle.
6. Braided Pompadour Updo
@kaiyinbeauty
This elegant take on the pompadour keeps natural hair beautiful and in place. You can add in some pearl or gem tipped pins for a more sparkling effect. This look might seem a bit complicated, but it is not, and you can easily add in some hair to get the volume needed.
7. Cornrows To Curly Updo
@wellglambeauty
Cornrows can be a gorgeous take on an updo and help hair stay together. This is a pretty look that is ideal for any special occasion. There is also room for a crown or tiara veil if that is the look you ultimately want.
8. Slicked Back Hair With Crystal Crown Veil
@su.reina.bridal
Those with natural hair cropped short may see that this is a good solution to their bridal look. For this hair is slicked back and a dramatic crown and veil is used. While this crown is quite high, there are plenty of more delicate options out there in a variety of patterns.
9. Side Swept Curl Bob
@noivanegra
This cute bob can go anywhere. Super smooth waves and a side sweep results in a vintage look that can be worn no matter if you are the bride or a lucky guest. We love that this look is short enough to be manageable but long enough that you can change it up a bit when desired.
10. Curl Chignon
@chatelnoire_bridal
This stunning and smooth take on the chignon bun is elegant on a lot of levels. The defined flow to the back is captivating, and it does a lot to open up the face and show off eyes.
11. Curly Locks
@arquimidesg
Curls are hot when combined with elegant accessories. This shoulder-skimming look is just oh so pretty.
12. Long With Curly Ends & Rhinestone Chain Head Piece
This ultimate princess look is stunning in so many ways. The headpiece is a fantastic alternative to a traditional tiara and the long straight hair to the waist is as feminine as it gets. This is one of the most simple yet beautiful long hair looks for your big day.
@glammbyirene
For a look that calls back to the 1920s and 30s, there is this easy-to-do Afro hair loose braids bun with absolutely gorgeous gemstone adornment.
There are a lot of hair jewelry types that can be used. For an elaborate look, you can use white gemstones hair accessories or even some that are dyed whatever color you desire.
14. Hat & Lace Veil With Natural Hair
@theblackflower92
African American brides with naturally textured curls will love this look. Ultra-feminine hat hair accessory with lace in combination with a low elegant updo is a downright beautiful bridal hairstyle that is also very budget friendly and not at all time-consuming to put together.
15. Major Flower Power
@theblackbridetobe
If you love flowers then why not show them off in your beautiful black wedding hairstyle? Ladies with lovely natural texture will not have a hard time pulling off this African American women look.
You can let your creativity flow with this natural black hair look. If you don't want to use large floral accessories, then a series of smaller ones can be majorly beautiful.
16. Dutch Braid Updo
@noivanegra
Can we just say this is such an amazing and intricate wedding hairstyle? Dutch and french braids always turn a relaxed hair updo hairstyle into a work of art in itself.
Braided hair takes some more talent to get compared to just incorporating popular hair accessories, so make sure you go to a very good stylist if you want this wedding hairstyle.
This is not a loose buttery curls kind of style that you can get quickly so be prepared to spend a little time in the chair for this one.
17. Natural Kinky Curls & Flowers
@bianca_danielle
The way the flowers are concentrated around the face makes for a stunning wedding theme. If you want to let your beautiful curls shine naturally, then this is one of the best beautiful wedding hairstyles that can do it for you.
18. Gold & Curls
@theblackbridetobe
This ethereal wedding hairstyle is simple but very lovely. Wearing hair in a high bun but natural can be a little tame for a special occasion like a wedding but those unique gold hair accessories draped around the pin curls high bun makes it special.
If gold is not your color, then silver would work great for a wedding day high updo as well.
19. Half Up Half Down
@noivanegra
A pretty yet basic perfect wedding hairstyle that you can adorn any way you want – that is what characterizes this loose curls half-up bridal hairstyle.
20. Long Curly Sideswept Dreadlocks
@tanayajmakeup
Black brides with short hair, medium length hair or long hair dreadlocks may consider getting loose curls for their big day. We love how this wedding hairstyle involves a big side sweep and the maroon highlights set off this black wedding hairstyle.
21. Long Straight Hair & Sequined Band Veil
@malikadanae_photography
Here is another simple yet stunning princess wavy hair wedding style that will make heads turn towards you for sure and allow for some pictures to treasure.
22. Loose Waves With Side Swept Bangs & Snow Flake
@a.wilks_beautycollective
Long loose waves are romantic and pretty. The large snowflake style hair comb adds some wedding day elegance to this perfect hairstyle.
And if long hair is just in your dreams, don't worry and opt for sleek hair extensions that will make this absolutely gorgeous black wedding hairstyle your reality.
23. Natural Curls & Star Flowers
This simple messy look is pretty and bohemian. Just put hair up however you want and use some extra pins with flowers or other pretty adornment on the top of them.
24. Natural Pulled Back Tight Curls
Going natural is easy and gorgeous. This is a good look if you are choosing to wear a headpiece of any sort. The options are pretty limitless.
25. Braided Bun With Orchid
This big braid is curled into a bun, and a pretty orchid is all that is needed to send this style over the top with charm and beauty.
26. Smooth Pixie Cut & Encrusted Headband
Sometimes all you need is a basic look and the right accessory to look good. This pixie cut is simplicity and beauty all in one. It's one of the best wedding hairstyles for black women with round faces!
27. Chin Length Burgundy Bob
The reason why so many ladies love this hair color is that it is flattering on a lot of different complexions. The multifaceted color and well-defined curls are a look that you might want to wear for a long time. This is a great hairstyle for medium length hair.
28. Auburn Curl Updo With Large Crown
Your wedding day is one of the few days where you are going to have a great excuse to wear a sparkly crown so why not go with it and have some fun?
29. Retro Inspired Natural Pompadour
This style for natural hair combines cornrows and a retro roll style that is different and very appealing. A pretty hair comb or a few jeweled pins can add some sparkle effect.
30. Low Smooth Elegant Double Bun With Rhinestone Comb
This double bun effect is different, and we love how the rhinestone comb is shaped like a bow. This style offers a pretty and sophisticated wedding day updo.
31. Roses Updo
This beautiful updo has a lot of rose detail to it in the back and a smooth side part. A pretty flower sets it off. This is a somewhat time-consuming look, but it is well worth it overall.
32. Shoulder Curls
Big, medium curls that are allowed to lay loose are pretty, and they are a look that anyone can wear well. When it comes to curls, keeping down the frizz factor is one of the most important things to keeping things looking good so using the right products should be a priority.
33. Side Curl Bun
This take on the bun is just cool. Instead of a traditional back of the head bun, this bun is rolled to the side while bangs are swept in the same direction.
34. Curly Ringlets With Subtle Highlights
Another classic swept to the side look that looks outstanding, is curly ringlets with just a hint of highlights in them. You will look out of this world with this hairstyle.
35. Silver Flower Crown Braid & Braided Bun Updo
This updo with silver flower crown is braiding at its best. Braiding makes an easy wedding style choice and always turns out to be a fab choice.
36. The Smooth 'N" Low With Veil
A low bun can be very elegant when the flow of the hair is this great. We suggest a keratin treatment get this level of smoothness to coarse hair. This treatment will work for months at keeping hair smooth. A small veil is a solid choice for ladies that love the traditional but don't want a long veil that hides a lot or gets in the way.
37. The Forward Swept Updo
Plenty of updo hairstyles is oriented towards the back or exactly on top of the head. This straight to curly look is purposely pushed towards the front. The size of the curl is up to you but we love this medium curl look.
38. Classic Locks Updo
Shiny and sleek dreadlocks can make an eye-catching updo. This look is so neat and pretty and the side sweep achieved is phenomenally good looking.
39. Box Braid Updo
These beautiful box braids are taken to another level of style when put into an updo with a glittery hairpiece. We love how the braids are so artfully draped to form this style.
This updo has a lot of height centered on the top of the head. The pics above show the different looks you can get by simply changing out accessories. The versatility of this style makes it worthy of any list.
41. The Up Tuck
Rolling and tucking hair under is a beautiful alternative to a bun. A long and lovely adornment adds fashionable glamor to the up tuck. Side-swept bangs look fab with this style.
42. Very Short Natural Curls & Flower Head Band
These short curls combined with the flowery head band makes this a fresh and youthful look that shows off natural beauty.
43. Twin Victory Rolls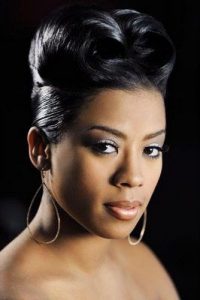 If you love the vintage jazz queen hairstyles, then the twin victory roll is the style for you. Smooth hair is rolled with care and secured. The smooth lower sides could allow for some jeweled pins or another adornment.
Tips For Narrowing Down Wedding Hairstyles for Black Women
Picking out just one bridal hairstyle means considering a lot of factors. Having your wedding outdoors may influence your natural hair wedding style choices.
Getting a few good friends together to help you pick out several most appropriate beautiful black wedding hairstyles for your unruly African hair can be a major help.
We hope this list of Wedding Hairstyles for Black Women will guide you towards a gorgeous wedding day choice and help your wedding preparations.