37 Cute Curly Hairstyles for Women
Curly hair can be a challenge for some, but it is worth it for the beauty it has to offer. These cute curly hairstyles for women offer up a whole world of style options you may not have realized there. No matter if your hair is naturally curly or you have given it some help over the years, these looks are going to get you thinking about your next style for the whole year.
1. Asymmetrical Curly Bob
This simple yet lovely bob is ideal for those that want a feminine look that is achievable with just a cut and rollers. A permanent body wave is an option for those that don't want the hassle of everyday heat styling or sleeping in rollers.
2. Super Messy Light Tipped Dark Curls
This just got out of bed look is good for those that have a lot of curl volume to deal with and want a wash and wear style they can wear anywhere. There is still enough hair for an updo as well if you want to get dressed up for a special occasion or contain hair at the gym.
3. Golden Shoulder Length Volume Curls
There is so much more to blonde than the light shades. Golden shades with a hint of darker color look good on olive and darker skin tones.
4. Blonde Waves And Sideswept Bangs
This is a classy curly look that while it could work for younger women, really does well with older ladies that still want to be stylish. The bangs could be parted various ways if you prefer a different part.
5. Shoulder Length Brown Balayage Waves
Balayage color is one of the best color trends to happen to hair in a long time. Balayage has the advantage of being a color that is custom applied for you and also lasts a long time with not starkly visible roots. Hair is often styled in a wavy or curly fashion to enhance the flow of the look.
6. Tight Long Curls With Hot Color Tips
Curly hair can be taken to a different level with fun colored tips. If you want permanent color, you may have to lighten first or use hair gels or chalk that washes out. Semi-permanent color works well on some hair colors depending on how bright an effect you want.
7. Long Copper Curls
Red hair is truly beautiful, and this style is one that long hair fans should look to. This style would look good with other hair colors of course, but the copper color stands out and makes a statement.
8. Undercut Pompadour
What list of hairstyles is complete without Rihanna's style making an appearance? This short undercut super curly pompadour is simply gorgeous and perfect for those that want a daring short curly look.
9. Very Dark Balayage
All too often people think that highlights mean blonde highlights. While there is some blonde in this look, there is also good use of darker tones to create a much more natural looking and beautiful scene of highlights on dark hair.
10. Big Curls and Flower
This look is a stunning example of a very feminine look that can be used for everyday wear or a special occasion. This style requires a large barrel curling iron or rollers and looks best if you have fairly long hair. A loose ponytail at the base of the neck could help keep it under control.
11. Big Curl Major Volume Flower Updo
While this is not a look you are going to want for everyday wear, for a wedding or other special event this is going to turn heads. The model has a lot of flowers in your hair, but you could easily limit the amount more than what is seen here.
12. Ginger Wedge Cut
This curly wedge cut relies on side swept bangs to complete the look. This is a face-framing cut that will also show off the shoulders and neck when you are wearing dresses or low neck shirts.
13. Half Up Half Down Loose Curls
This somewhat messy look is pretty and good for women that want a style that is a little wild, but that can be styled a lot of different ways when the occasion calls for it.
14. Hollywood Glamour Long Curls
This style recalls old film glamour that is hard to beat. This look is an amazing go to for a romantic evening or those that have to dress well for work.
15. Big Blonde Wild Waves
This style is a very voluminous look that utilizes the power of the side sweep to add some mysterious charm. For a look that appears more natural, you may have your stylist create a custom blonde color that matches your skin tone better than the super light bleached shades. Plus you can avoid very visible roots if balayage style color is used.
16. Super Smooth Long Dreadlocks
While dreadlocks are not technically curly, they can work well for those that have curly hair they want to tame down. The model above has some very smooth locks compared to many.
17. Light Brown Below Shoulder Waves
A classic look for curly haired women. This is a medium curl that benefits from a curl defining shampoo and lotion.
18. Braid To Back Loose Waves
This is a smooth curl look that keeps hair away from the face enough to get through the day, and it looks like you put more effort into it than the time it takes to braid and curl hair. For naturally curly girls just pull back some hair on the sides and braid for a lovely look.
19. Long Deep Red Layered Curls and Fringe Bangs
This color of red is simply stunning and shows that there are a lot more shades of red than you probably ever realized.
20. Medium Ash Blonde Bob Curls
This look does an amazing job of controlling curls and putting them on fabulous display. The length is plenty long enough that you can do a lot of other styles or put hair up in a wonderful updo.
21. Piled High Big Curly Casual Bun
For those with a lot of curly hair, you are lucky because you can just pile hair on top of your head with a big hair elastic and have a super sexy style that will get attention.
22. Messy Stack Of Short Curls
Layering curls a lot is popular because it shows their beauty without having to manage a huge amount of hair on a daily basis. This look is perfect for the busy woman that wants to keep it simple and pretty.
23. Strawberry Blonde Long Loose Curl Waves
The rose gold color is really hot right now and with good reason. Not only is the hint of pink fun, but it also flatters a wide range of skin tones making it a more approachable color than some.
24. Violet Bob
This is a bold color but not as over the top as some of the neon colors. Layers play a role in this look but mostly in the area of the bangs.
25. Solid Country Gold Curls
Carrie Underwood has some truly fabulous hair. This side swept Goldilocks look is worth going after. To get this color make sure to opt for a blonde that has a lot of highlights in it. This cut looks attractive with any hair color so don't feel that you have to be locked into the blonde for this one.
26. The Big Spiral
A big hair spiral look is hard to miss. To get the look the model has you are going to need to start out with some very long hair if you are currently a straight-haired gal. There are extensions if you can't wait for the length.
27. Pinned Up Faux Pompadour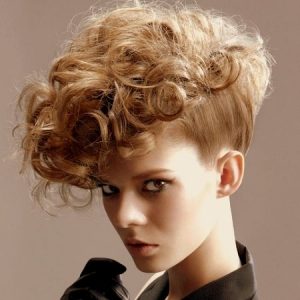 While a pompadour usually entails a short undercut, this does an amazing job of mimicking he look without having to lose any hair in the process. If you have been curious what a pomp would look like, then try this out before booking a short undercut with your stylist.
28. Short Pixie Cut
For ultimate manageability there is the pixie cut. The amount of curl you have left depends on the shape of your curl and just how short you go. This look draws a lot of attention to your face so be ready for that. Short pixies can be an option for ladies that like to use wigs a lot and change styles without using chemical treatments.
29. Purple Burgundy Side Swept Bob With Big Curl Pattern
This dark burgundy tone is so beautiful and still not so bright that it is going to get more attention than you want at work. If you have thick hair, then you might consider a more substantial undercut.
30. Short Corkscrew Curls & Hair Band
This is a cute natural curl look for those that have a very tight curl pattern and want manageability. The headband choice is all yours and can be fun to change up. Tight curls benefit from heavy conditioning once a week.
31. Loose Curl Above The Shoulders Side Swept Bob
This is a fabulous length for those that want a lot of options but not the everyday hassle and weight of very long hair. Above the shoulders keeps hair out of the way during the day and is good for those that work out a lot but want some length.
32. The Lady High & Tight
This very short and daring look keeps it simple and shows off your face. If you have this cut and want to change up your style, it is so easy to use wigs. In fact, if you are one of those women that like to change up your style a lot, a short cut and wigs can be less expensive, and you don't have to deal with hair damage.
33. Tight Kinky Curls
This look means your hair is going to get a lot of attention. If you have a lot of natural curls, though, it is sometimes best to just go with it and let your natural beauty shine through.
34. Two-Tone Undercut
Honey blonde curls with a dark undercut section provide remarkable contrast and look very feminine. While this style is swept to the side, this could easily be turned into a pompadour look.
35. Vintage Red Wedge
This deep red hair color is beautiful, and the unique wedge shape and volume of the side swept bangs gives this look a very glamorous look.
36. Wavy Layered Side Swept Bob
This look is good for the girls that are somewhat in between curly, and straight hair looks. Super easy to maintain and long enough to style many different ways, the Bob has a lot to offer.
37. Platinum Marilyn
A short yet bold, big curl look, make sure to get a good toner applied if you are bleaching hair and use shampoo that will keep brassiness at bay. This is not a low maintenance look if you choose a very light hair color due to the appearance of roots. Balayage color may be a better option for those that are not fans of bleach.
Tips For The Best Curly Hair
Using products that are made for curly hairstyles for women are going to give you the best overall style results. Curls can have a tendency to tangle or become frizzy. Curl defining lotions and conditioners can dramatically improve the look of your curls.
If you are going from straight hair to curly, be prepared for the loss of length and increase in volume. The tighter the curl pattern you are trying to achieve, the more length you can expect to lose. 1/3 to a ½ reduction in hair length is not uncommon with some styles.
Perms and waves are best applied by a professional. There is a method to winding hair around rollers, and if you do it wrong, you can get some strange looking curls that can be hard to fix.