Dig up the bobby pins, fancy hair accessories, the clear elastics, and the strongest hair spray you own — it's time for stunning prom updos, ladies. Whether you're rocking a high neck dress, or you don't want to worry about your curls falling flat all night, you can't go wrong with one of these 35 trendy prom updos.
In this prom guide, you'll find ideas of an elegant look for all sorts of special occasions apart from the big night. Prom hairstyles for long hair, medium hair, short hair, braided chignon hairdos, prom updo hairstyles with French braids, a waterfall braid, a fishtail braid, natural wave, a low pony, a high ponytail, half-up hairstyle solutions, a high bun with a statement pin, straight hair classic style variations for a prom queen, romantic boho-chic crown braid prom hair, and a unique sophisticated style for a heartbreaker who's gonna keep her night long.
Besides stunning prom updos for inspiration, check some styling tips for a prom night that will help adding instant chic and keep the perfect prom hair all day, all night.
Cute Updo with a Messy Bun
@thelovelyhairclass
We'd wear this prom hairstyle to a picnic. We'd wear it to the grocery store. Heck, we'd wear this purposefully messy style just about anywhere.
Vintage Bun Classic Hairstyle
@monamieweddinghair
Moment of truth — there's a certain level of confidence you must have to rock a retro classic updo for prom. But if you choose to perform a low chignon pictured above, we'd be oh-so-proud.
Fishtail Crown for Longer Hair
@svitlana.mutsa
A basic fishtail braid is spiced up with pull-through sections in this long hair prom idea. If adding flowers, this messy braid turns into a wreath indeed. However, all free-spirited ladies can get the flower crown out, and leave just the fishtail crown along with loose curls.
Medium Hair Prom Stunning Style
@luhyna_elena
Sometimes an updo can be a piece of art all by itself. If you want to get creative, try something intricate and ornate like this stunning classic look with a twist. How gorgeous would this look with an open back dress?
Low Knot Loose Bun
@thelovelyhairclass
If your hair doesn't hold a curl or you're worried about it falling flat, this prom updo is for you. Play around with a little texturizing spray and dry shampoo to get the course, wavy texture, and some root lifting powder to create volume.
Curly Low Bun
@thelovelyhairclass
In a few easy steps, you'll be rocking this romantic low bun. Simply curl your hair with a curling iron or a wand, spritz with hairspray (the strong-hold kind!), and bobby pin into place. If you have heavy, thick hair, you may need to pull hair into a loose, low pony first before pinning.
Fishtail Low Bun
@bridalhairbyrhian
Boho is back, ladies. You'll be seeing loose fishtails and braids everywhere this season, but don't worry — not everyone will look this good.
A quick tip: It's all in the thickness of the braid or fishtail. Check out this video to maximize volume.
High Pony with Braids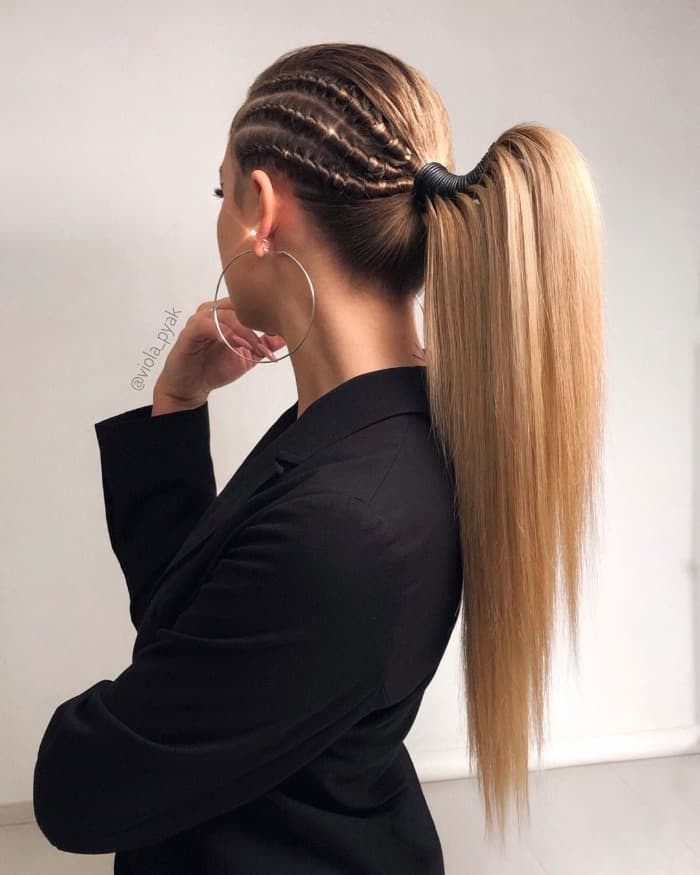 @viola_pyak
Flaunt this flirty pony, and you won't have to think twice about your hair all night. A high ponytail with a few strands braided into cornrows, and a statement iron construction to keep even thick hair up is a win-win prom solution for long locks.
Fishtail with a Low Pony
@viola_pyak
There's that fishtail again. But it's definitely not your average fishtail. That extra construction make a small braid voluminous and outstanding, while the long hair pony is classy and feminine
Wrap-Around French Braid
This messy bun is classy without being overdone. Just be prepared to pull 200 bobby pins out of your head on prom night. But prom hairstyles like this are definitely worth it. A high bun with undone curly locks will emphasize your tender neck and slender shoulders.
Messy Bun Delightful Prom Updos
This messy bun is classy without being overdone. Just be prepared to pull 200 bobby pins out of your head on prom night.
Braid into a Low Pony
Maybe you're not into the fancy updo — we're not judging. We love a simple style, too, and we think this one's calling your name. Who cares it's a formal occasion – you are the queen of the prom and you make the updo rules.
Thick, Loose Braid Updo
This effortless mermaid braid is breathtaking, and if you have short hair and don't have the length or volume to replicate it, fake it. It's nothing a few clip-in extensions can't handle. Thus, hairstyles for long hair are not a taboo fo you, girl.
Thick, Side Fishtail
We'd love to see this side fishtail on ladies with open-back dresses. It's a little beachy and a little boho. However, the more unexpected styles you choose to combine, the braver styling steps you take, the more stunning style you get eventually – and this is exactly what you need when it comes to prom hairstyles.
Slicked-Back Pony High Updo
Nothing screams confidence more than a slicked-back pony. Healthy, sleek, glossy long hair is guaranteed to make a statement. Why not channel your inner Selena at prom?
Loose Braided Bun Updo
This poised prom hairstyle tucks your hair neatly away for the night, but it's still loose enough to look feminine and romantic. For ladies who look for comfort, versatility, and sophistication, such prom hairstyles are the way to go.
Classic Chignon with Jewel
Long hair rarely stays neat and well-groomed till the end of the prom if it's loose. That's why girls tend to prefer updo hairstyles for long hair. You can keep your long locks rather simple – just spice up the simplest prom hairstyle with a jeweled clip or flower hairpiece.
Low Bun with Curls
Transform low bun updo hairstyles with lustrous, face-framing curls. Unlike high updo prom hairstyles, low buns and chignons can't frame the face or visually correct the head or face shape, thus curly strands near the face are a great addition to a low prom hair style.
Prom Hair Messy Updo with Hairpiece
Adding a dainty hairpiece to your undone prom hairstyles is a game-changer. For naturally dark brown hair, try a gold hair accessory with shimmering gold eyeshadow – you'll look like a goddess.
Ballerina Bun Prom Hair
We know we have some minimalists out there, and we love you all. No need to fuss with a complicated prom hairstyle when you can rock a simple and chic ballerina bun for a classic look.
Super-High Half Updo
We know it's not technically an updo, but can you blame us for including it? This spunky style allows you to show off bold eye makeup and those fake lashes you spent too much money on. Besides, long hair looks so damn gorgeous when styled into a high ponytail prom hair with curly locks.
Braided Low Bun
An elegant braided bun updo will drop jaws on the dance floor. Try pairing it with a dainty necklace and dangling earrings to complete the look. This is one of those luxurious prom hairstyles for long and medium hair that do stand out.
Braided Top Knot
A slicked-back style is one of the top trends this prom season and gives you the freedom to play around with funky makeup and statement jewelry. Such formal style will work wonders for ladies with outstanding facial features like big eyes or highlighted angled cheekbones.
Double Braid with a Low Bun
These dainty braids don't require thick tresses and can be accomplished with nearly any hair type. We're totally picturing this style with a flowy boho dress.
Undone Curly Bun
The "undone" look is supposed to look a bit messy… like everything's out of place but exactly where it should be at the same time. Also, pay attention to the fact such a high updo with a lot of movement and volume can add extra inches of height to the tiny girls.
Ballerina Bun with Braided Crown
If you want to take the everyday ballerina bun up a notch, try adding a chunky braided crown. It's a perfect chance to show off blunt bangs.
 Double Braided Updo with a Twist
What happens when twists, teasing, and braids make a baby? See above. The cool thing about such prom hairstyles is that you don't need to care about them at all throughout the prom – if it gets messier then it's supposed to be, nobody notices anyway.
Tucked-In Dutch Braid
If your hair isn't long enough to achieve one of the other styles, don't sweat it. With this Dutch braid, the ends of the hair are tucked under and secured with bobby pins for a flirty, fun updo.
Low Elegant Twists
You're probably wondering how on earth her bun is that thick? Us, too. If you love the look of a gently twisted bun, but you want a little more going on, try out this bombshell look with the help of some clip-in extensions.
Windswept French Twist
A traditional French twist could be too sleek and stuffy for prom, but this windblown variation is a perfect compromise. Wanna some French vibe on your prom hair? – Say no more!
Soft, Twisted, and Slightly Messy
This low bun looks slightly tousled, a bit messy, and totally perfect if it's paired with the right prom dress. Think: less glitz, more flower child. A good texturizing spray will come in handy when giving this prom hair that puff.
Milkmaid Braids
To modernize and simplify milkmaid braids, part hair down the center and braid into a low messy bun.
Grecian Fishtail Updo
Another gorgeous look with a bit of Greek flare is this fishtail crown braid updo.  The addition of the delicate gold leaf hair jewelry completes the style.
Romantic Bun with Crystals
Another way to incorporate a little sparkle into your romantic style is with a crystal hair pin. These days, almost every hairstylist has their collection of unique and sophisticated prom hair accessories to offer, so you're guaranteed to find a perfect match to your prom dress.
Thick Braided Updo
This braided updo for prom is the perfect match for any dress or style, and your woven strands will stay put until the last dance.
Did you finally find the right hairstyle for prom? If so, tag us @hairstyleonpoint on Instagram or Facebook — we'd love to see you rocking one of these looks on your special night.