30 Popular Hairstyles for Black Women
Anything goes, from Beyonce's blonde to waist-length braids. Whether you're looking for new ways to style your curls, long waves, or braids, these are 30 of the most popular hairstyles for black women. Be warned, you might be convinced to get a cropped pixie or finally let those curls run wild and free.
Would that be so bad?
Disclosure: there are some products we feel so strongly about, that we can't help but promote them with affiliate links. This blog post contains some of those fantastic products, and we may receive a small monetary compensation – at no extra cost to you – if you decide to check out these products we love.
Big, Tight Curls
You know these curls have been waiting patiently to hit the red carpet. If you were blessed enough to be born with a head of hair like this -- rock it 'til the day you die.
Thick Corn Rows
Posted on Instagram by @trlhairgrowthsystem
Celebs from Nikki Manaj to Kim K to Cara Delevigne have pulled off these thick braids. We're picturing this summer style with giant-framed sunglasses.
Blonde Afro
How can you not smile big when you look at these sunny curls? It's a hard look to pull off, and it's even harder on your hair. To keep bleached locks looking fresh and hydrated, use a conditioning product like [easyazon_link identifier="B00FKUSPMU" locale="US" tag="hairstyleonpoint-20"]Andre Walker TKO Ultimate Moisture Conditioner[/easyazon_link].
Short Braids with Metal Cuffs
Posted on Instagram by @trlhairgrowthsystem
Bronze, gold, or silver [easyazon_link identifier="B012V3FRJC" locale="US" tag="hairstyleonpoint-20"]cuffs[/easyazon_link] are the grown-up way to accent your braids. But, if you choose hot pink and lime green ones, we won't judge.
Long Box Braids

There's no reason to pull your hair back when you have braids that look this striking. To maximize shine, try [easyazon_link identifier="B0052EF7RA" locale="US" tag="hairstyleonpoint-20"]Klorane Leave-In Spray with Magnolia[/easyazon_link].
Sleek High Pony
We can always count on Zendaya to give us hair inspiration. But, we're convinced no one has a pony that is naturally that thick. Easy fix: ponytail hair extensions.
Platinum Pixie
Out of hair ideas? Chop it all off and go platinum.
Textured Pixie
Halle's sweet and stunning cut looks angelic. To get her piecey locks, use a small-barrel curling iron and some [easyazon_link identifier="B076VLDPWR" locale="US" tag="hairstyleonpoint-20"]texturizing spray[/easyazon_link].
Voluminous Tight Curls

Kelly's curls always come back for more. From her Destiny's Child years to marriage and motherhood, no look comes close to topping this one.
Drop-Dead Gorgeous Dreadlocks

Zendaya has never been afraid to do what she wants, wear what she wants, and style her hair how she wants. That's probably why we featured her hair four times with no shame.
Face-Framing Pixie with Bangs
Usually,  J-Hud's hair is as big as her personality, but we love this tailored trim. To get a glossy bob, lightly spray your do with [easyazon_link identifier="B002DVHTFI" locale="US" tag="hairstyleonpoint-20"]It's a 10 Miracle Shine Spray with Noni Oil[/easyazon_link].
Multicolored Mohawk

This cut is trending all over Pinterest lately, for women and men. The shaved sides give all the attention to the long layers, and it is equal parts edgy and feminine.
Angled Bob

A cute and classy cut like this looks sleek when straight and sassy when curly. It's the best of both worlds. To tame unruly baby hairs, use an edge control product.
Cropped Bob with Cornrows

Just when we thought the half-up bun lost all originality, someone throws in cornrows and changes the game.
Braided Bun

Tamera Mowrey is never afraid to show off her long, braided locks.
Dainty Braids with Natural Waves

Victoria's Secret Model Chanel Iman lets her hair loose every now and then, but these delicate french braids keep her locks from getting in her face.
Long and Sleek

Rihanna's no stranger to wigs and hair extensions. We're all about whatever it takes to get long locks.
Half-Up High Pony

Beyonce's blonde may not be natural, but we like it better than Becky's.
Pulled-Back Updo
Lupita could have easily just come from the red carpet or the tennis courts with this sporty-chic do. Get the look with a [easyazon_link identifier="B003N8SK8A" locale="US" tag="hairstyleonpoint-20"]multi-strand headband[/easyazon_link], or slip on several headbands at once.
Double Dutch Braids

Get the London look. We (bleeding) love Leona Lewis' gelled double dutch braids.
Straight-Back Cornrows

These Instagram-worthy braids will make you look like a goddess. To diminish frizz and define braids, try Oscar Blandi Pronto Braid Paste.
Curly Pixie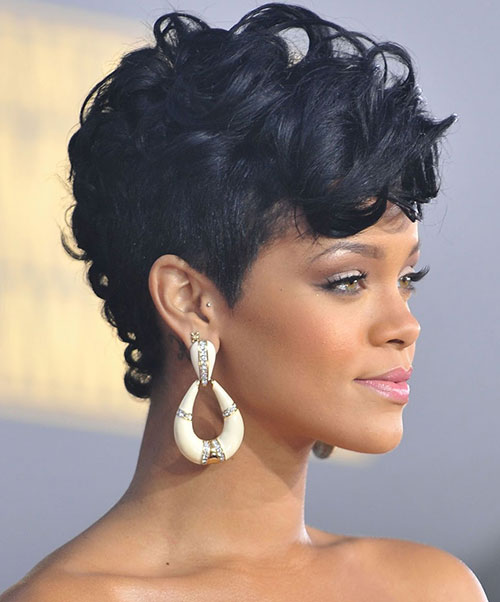 One of Rihanna's most famous looks is her cropped mohawk with voluminous curls on top and shaved sides. For added body, use a [easyazon_link identifier="B007D4SD0K" locale="US" tag="hairstyleonpoint-20"] roller set [/easyazon_link] and a [easyazon_link identifier="B0009OMNQQ" locale="US" tag="hairstyleonpoint-20"]sculpting product[/easyazon_link].
Half-Up Box Braids

Box braids can get heavy, especially if you have hair this long. Pulling into an elegant half-up style shows off the braids without worrying about them falling in your face.
Slicked-Back Pony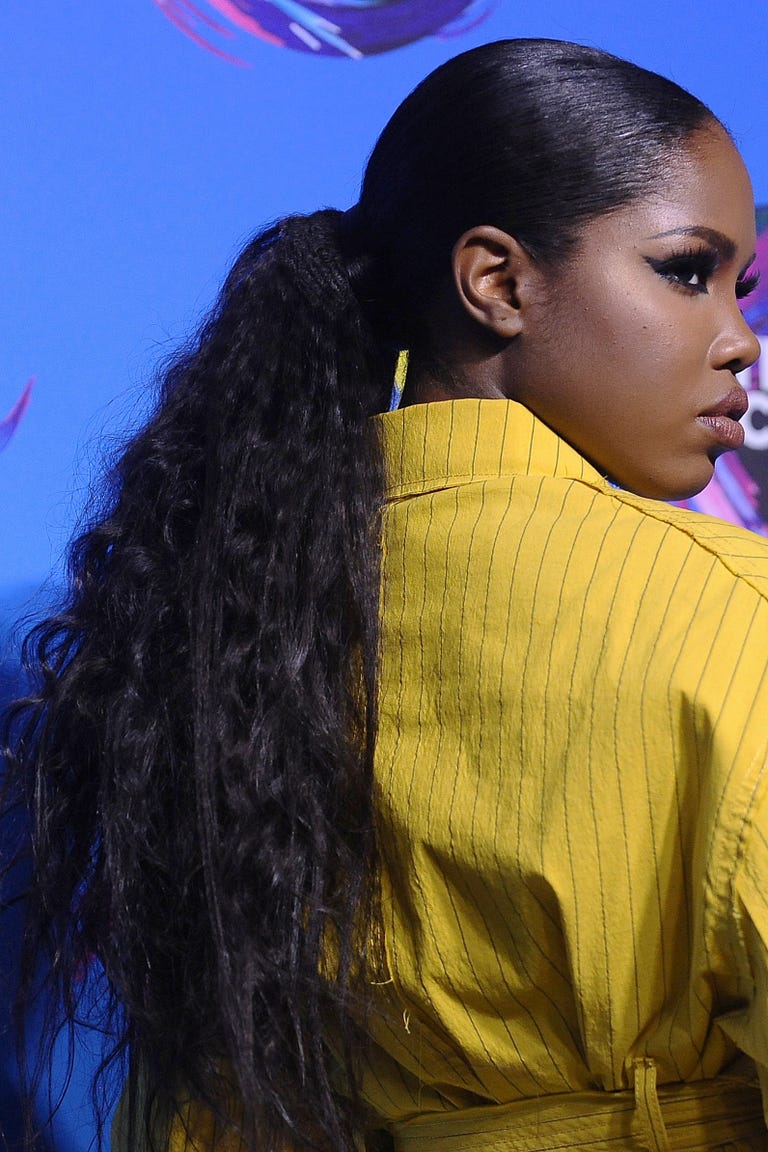 Show off your natural texture with a slicked-back pony. Since it's smooth and sleek in the front, there's no need to tame the back.
Wispy Curls with Bangs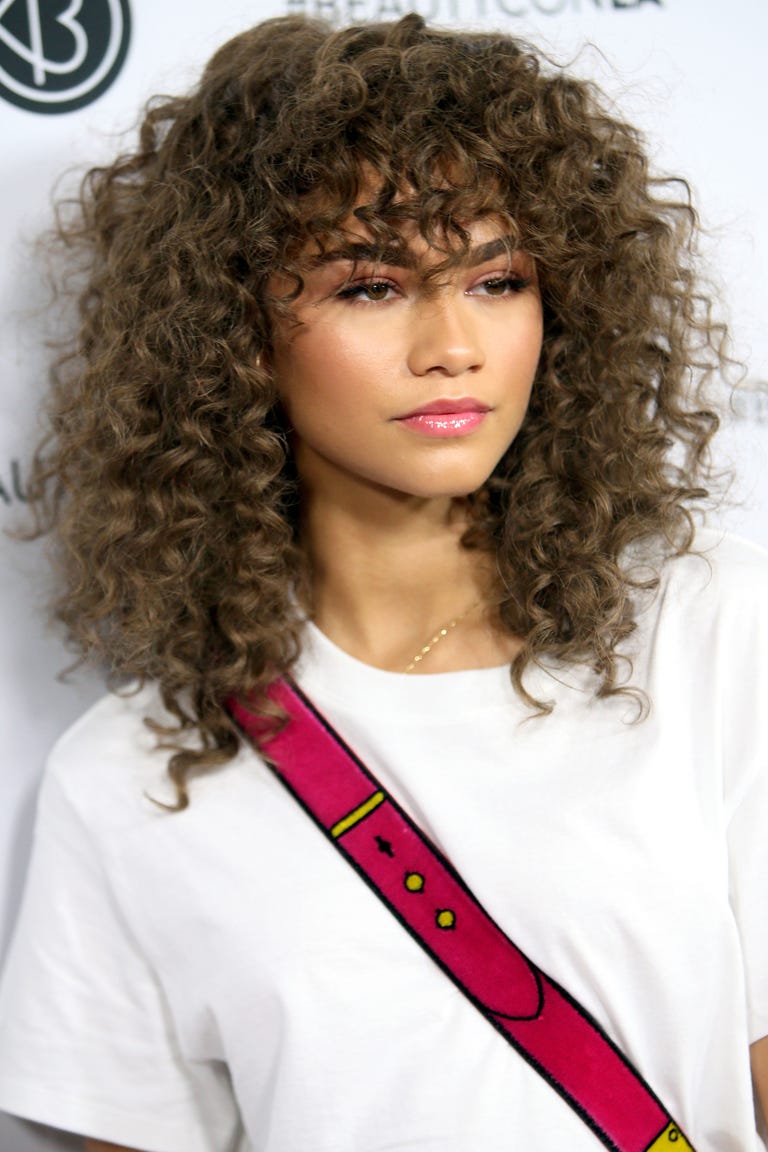 Bangs and curls don't usually go together -- until now. Zendaya's lightweight, bouncy curls are playful and chic, but long enough to pin back. To ensure curls stay defined and smooth, try a product like [easyazon_link identifier="B002SKUFOQ" locale="US" tag="hairstyleonpoint-20"]Miss Jessie's Quick Curls[/easyazon_link].
Cropped Curls
If you have natural curls and course texture, this cropped cut requires virtually no upkeep.
Close Crop
If you are feeling particularly daring, you can also try this no-nonsense look. The hair is cut as close to the head as possible without rendering it bald, but the kinks still give it character.
Voluminous Curls
Fourth times a charm, right Zendaya? Rock these sexy, lucious curls on a night out. To get smooth, bouncy curls, straighten your hair with a flat iron first, and then use a large-barrel wand to curl.
Layered Waves

Whether you're styling your natural hair, a wig, or extensions, layered waves are extremely versatile.
Small Braids, Medium Length
These braids are low-maintenance, lightweight, and super flattering. Watch this quick tutorial to learn how to best maintain braids and twists.
If you're thinking about testing the waters with a bob or pixie, check out these 15 Adorable Short Haircuts You'll Actually Want To Try.